We LOVE dinosaurs at Mommy University! From books to toys to museums, we love sharing everything about this prehistoric creature. That is why we are so excited to partner with the Academy of Natural Sciences in Philadelphia to bring you an amazing family giveaway. One lucky winner will receive 4 passes to the Academy including entrance into Dinosaurs Unearthed, a dino-mite exhibit the entire family will LOVE!
The Academy of Natural Sciences is proud to present Dinosaurs Unearthed for the 2nd time. It first debuted in 2013, and due to its popularity, it has returned to thrill even more dinosaur loving families. Offering a true interactive approach to learning, this exhibit will offer an unforgettable experience for all that walk through its doors. From realistic dinosaurs to giant bones to even fossilized poop, guests will have a dino-mite time exploring the exhibit.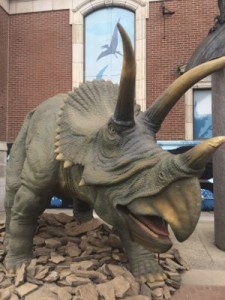 Dinosaurs Unearthed offers a variety of scientifically accurate, custom designed and hand-crafted animatronic dinosaurs that allow families to discover, explore and learn all day at The Academy of Natural Sciences. The amount of craftsmanship, effort and time that went into making these engineering marvels is inspiring. It is no surprise that you would find these scientific masterpieces at The Academy as it is THE dinosaur museum of Philadelphia! In fact, in 1858, The Academy completed the scientific studies on the first dinosaur ever collected, Hadrosaurus, and it was the first museum to display a dinosaur skeleton!
Dinosaurs Unearthed offers a hands-on learning adventure that engages all the senses. Guests will be able to push buttons that control the movement of select dinosaurs, touch dinosaur fossils, answer trivia questions and even play dino games. The interactive stations found throughout the museum help kids (and adults) truly understand these massive prehistoric creatures. It is the ultimate learning adventure. Dinosaurs Unearthed captivates young minds and introduces them to the STEM/STEAM world.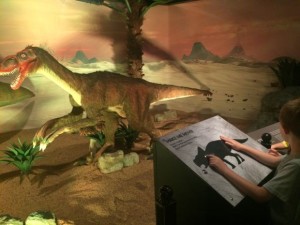 Dinosaurs Unearthed will be thrilling guests through January 17, 2017. You can learn more about the museum in our review here. Tickets are an additional $7/nonmembers and $4/members on top of museum admission. But you can WIN your passes right here!
Here are the rules and conditions for this dino-mite giveaway:
Participants MUST live in the United States.
The winner will be chosen by Rafflecopter.
The contest will run from August 15, 2016 through 12am on August 30, 2016.
The winner will be announced on August 30, 2016.
The winner will receive the passes from the Academy of Natural Sciences.
The winner must respond within 2 days or another winner will be chosen.
To enter, participants can earn entries by: visiting the Mommy University Facebook page (likes are appreciated but not required), following Mommy University on Twitter, sharing the contest with friends, providing an email address and commenting on this blog post by answering the required question.
No purchase is necessary to win.
Your chances of winning are dependent on the number of entries received.
Enter here: a Rafflecopter giveaway