Mommy University is excited to partner with Bixbee to provide this review of their backpacks. The opinions expressed are honest and belong to Mommy University.  See below for a special code to receive a discount on Bixbee website.
Does your child dream of soaring into outer space?
Is your child captivated with butterflies?
It seems as though a week after our kids finish school, the buzz begins on "Back to School." Our perceptions can be influenced by the fact the summer moves so quickly. For kids, it can be the small things that get them excited about starting a new year. It can be the stylish kicks or the outfit on the first day, however, Bixbee encourages children to become enthusiastic by the ultimate academic accessory: the backpack!
Bixbee is a company that I have recently fallen in love with because they have a belief that children should embrace their imagination. They make quality backpacks that have creative designs. While they have zombie and emoji patterns, the designs that captured my eye had an additional dimension to encourage children to promote their imagination. Personally, the Animal Collection, which has a fox, elephant, and owl to name a few, has backpacks that are impressive. The other collection that caught my eye was the Flyers set which include Rocketflyer and the Butterflyer which have wings and some of these have LED lights. Bixbee has so many options, I imagine there is one that will be perfect for your child.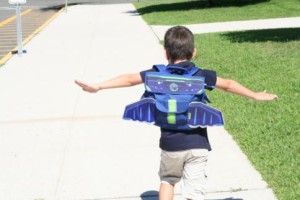 Mommy University Presents
Why Bixbee Has Our Ears Buzzing
Embraces Your Imagination
If your child dreams of flying, then the butterfly backpacks will give them wings. If they dream of launching into outer space, then the Rocketflyer may be more your child's style. My son was absolutely thrilled with his Space Racer that has LED lights lining the perimeter of the wings. After we put in the two AA batteries, we tested out the three settings (Steady, Slow Flashing, Fast Flashing). My son's personal favorite was the slow flashing. He loved this backpack so much that he began running with his arms outstretched as though he was going to take off!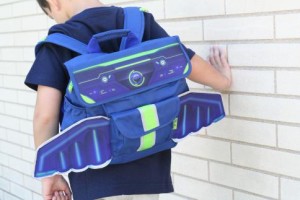 My daughter received the Owl backpack from the Animal Collection, and it fits her personality perfectly. With bright and beautiful colors, it will coordinate with so much of what she wears but the design is what she loved the most.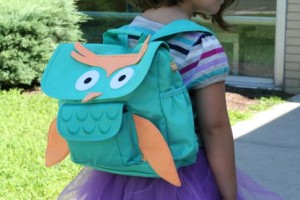 Quality Product
Bixbee backpacks have a horizontal design which makes it stand out. The handle is padded and the straps are contoured which makes it comfortable for small hands to carry. The Lifetime Warranty also reinforces that this is a quality made product. While the design of these backpacks are fun and engaging what I really appreciate is that these backpacks are lightweight which is perfect for my children entering Pre-K.
One Here. One There.
Bixbee has a phenomenal philosophy of One Here and One There. For each backpack purchase, Bixbee donates a schoolbag with supplies to a kid in need. This is not only an admirable philosophy but it is also a wonderful conversation to have with your kids about giving back to the community.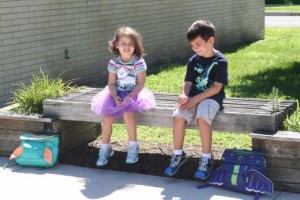 As Back to School goes into full swing, we highly encourage you to visit the Bixbee website to see the designs available. From the sparkling purple one with wings to the one that looks like a dinosaur, young children will adore these backpacks.  They also sell lunch boxes and duffle bags. Now Mommy University readers can get a 20% discount on all purchases on bixbee.com using discount code SWEET2016 which is valid through September 2016.
*Bixbee Backpacks can also be found on Amazon using our affiliate link.