I am so proud to be chosen as a Ragu Ambassador to help spread the word about the rich, bold flavors of the new Ragu Homestyle Pasta Sauce. Made from vine-ripened tomatoes, onions and herbs from California, this sauce has a made-from-scratch taste that brings me right back to my childhood which was full of love, laughter and family traditions.
The delicious aroma of gravy as it simmers on the stove, the sound of my grandmother singing an Italian love song as she makes her homemade meatballs and watching my dad sneak a taste of the gravy as he dips his bread in the pot. These are the memories I hold dear to my heart and they are what I think of when I hear the word "homestyle." Sunday dinners with my family were moments I cherished as a kid and look back on fondly as an adult. Although Sunday dinner has changed over the years as our lives have taken different twists and turns, one thing remains the same, it is always full of love. I am reminded of this love when I cook with Ragu Homestyle Pasta Sauce.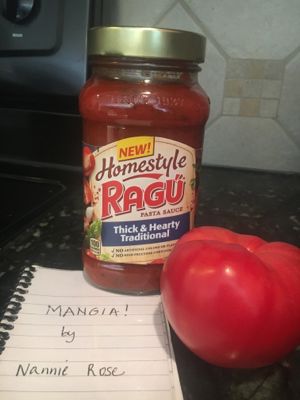 As a child, we were always a very busy family. We didn't have much time for family meals during the week, but my mom made sure we all sat down together for Sunday dinner. It was a meal we all looked forward to. After my parents divorced and my mom remarried, many things changed but Sunday dinners remained an important family tradition. We continued to come together on Sundays no matter what was happening in our lives. It was a time to share stories, laugh and learn a little bit more about each other.
As a teenager, my stepdad began making his homemade gravy as well which was sometimes just as good as my grandmother's. In college, the Sunday tradition stayed strong as I traveled to my Aunt and Uncle's house not far from campus for a delicious homestyle meal. It helped me forget about being away from home and gave me the sense of family even though I lived on my own. When I returned home from college, I continued to enjoy Sunday dinner with my family but that soon extended to Sunday dinners with my fiance's family as well. We sat around a big table and shared stories and laughed as they welcomed me into their family and their traditions.
I am now a parent myself, and I do my best to continue this family tradition that I hold so dear to my heart. My dad, grandmother and uncle have since passed away, but their spirit and love for a homestyle meal lives on in me. As a full-time working mom, I look for quick but delicious ways to bring my love of homestyle cooking to my kids. That is why I am so happy Ragu has created their line of homestyle sauces. The amazing flavors make it quick and easy to put together a delicious meal while leaving plenty of time to spend with my boys.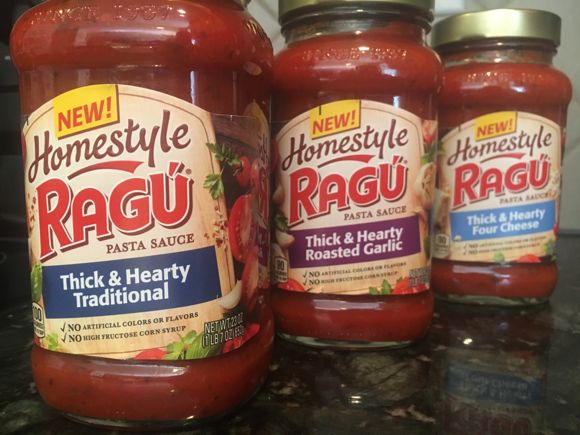 Ragu Homestyle Sauce comes in 5 flavors: Traditional, Roasted Garlic, Four Cheese, Meat and Mushroom. It is perfect for putting over meatballs and pasta as well as adding to other meals such as lasagna and stuffed shells. We recently used Ragu Homestyle Pasta Sauce to make eggplant parmesan. This was a meal my grandmother taught me how to make before she passed away, and now I can teach my son.
For our meal, we chose the Roasted Garlic sauce. I have always loved the rich flavor and aroma garlic brought to homemade sauce, and that is exactly what Ragu has accomplished with this sauce. It is thick and hearty with chunks of peeled vine-ripened tomatoes that add richness and texture to the sauce. What I also love is that Ragu Homestyle Pasta Sauce does not use any artificial flavors or colors and does not include any high fructose corn syrup.
My grandmother had her own unique way of making eggplant parmesan. She would layer it which made it an even heartier meal especially when served with pasta. With the help of my mini chefs, I made my own version of this delicious meal using Ragu Homestyle Pasta Sauce.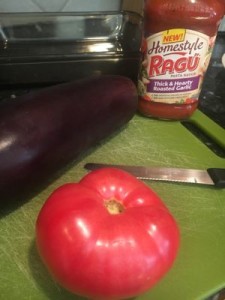 Grandma's Eggplant Parmesan with Pasta
Ingredients
1 eggplant
1 jar of Ragu Homestyle Pasta Sauce
2 eggs
2 cups of Italian style breadcrumbs
Garlic Seasoning
Olive Oil
2 cups of shredded mozzarella cheese
1 box of your favorite pasta
Directions
Heat the sauce in a pot on low while preparing the eggplant.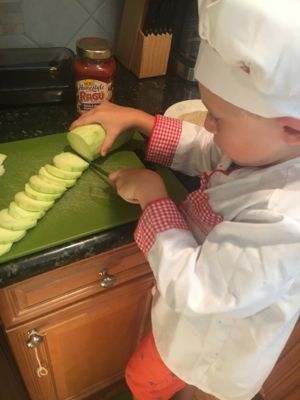 Peel and slice the eggplant into thin discs.
Heat some oil in a pan while coating the eggplant.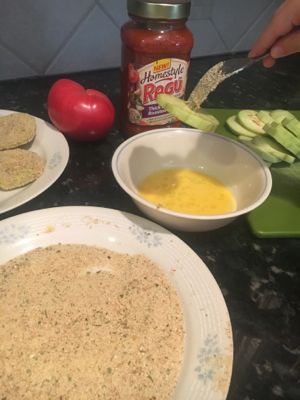 Coat each side of the eggplant with egg then breadcrumbs. I mixed some garlic seasoning with the breadcrumbs to add even more flavor.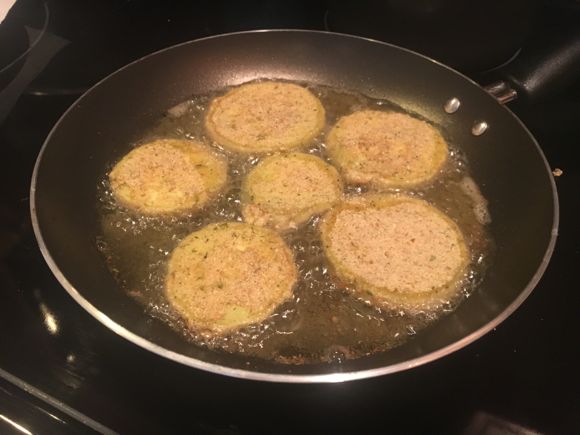 Fry the eggplant until golden brown on each side. (I like to place the cooked eggplant on paper towels to soak up some of the oil.)
Once all the pieces are fried, take out a baking dish and coat the bottom with Ragu Homestyle Pasta Sauce.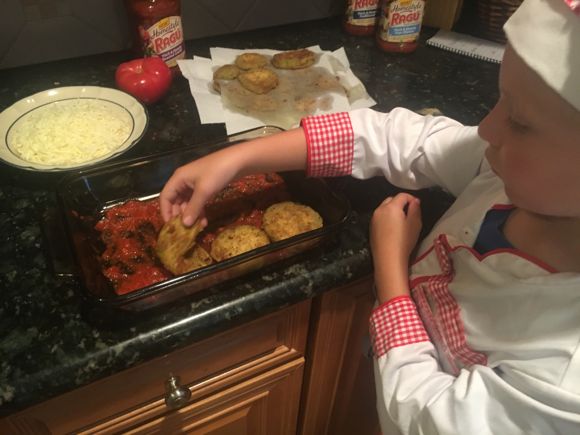 Layer the bottom of the pan with eggplant.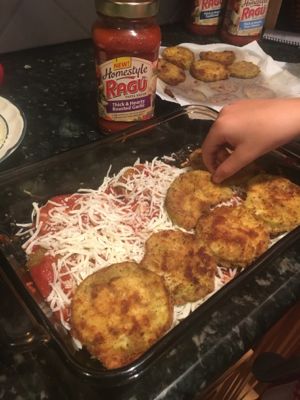 Cover the eggplant with Ragu Homestyle Pasta sauce then sprinkle on some cheese.
Continue making layers until you run out of eggplant. I was able to make 3 layers with one eggplant.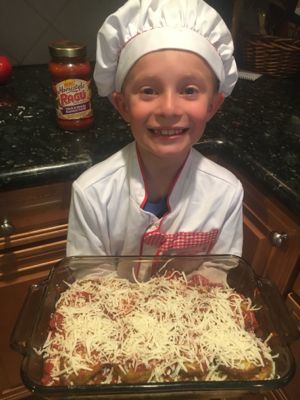 Make sure the top is covered with sauce and cheese.
Place in the oven at 350 degrees for 30 minutes.
While baking, cook your pasta as directed on the box.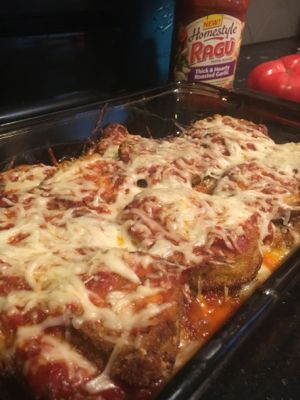 When done, let the eggplant sit for a few minutes before cutting into it. This allows all the flavors to come together.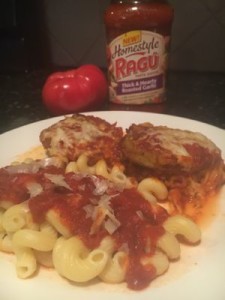 Serve with a side of pasta topped with Ragu Homestyle Pasta Sauce and parmesan cheese. Another option is to serve the eggplant on top of the pasta. You can also cut up the eggplant and mix it with pasta for an even heartier meal.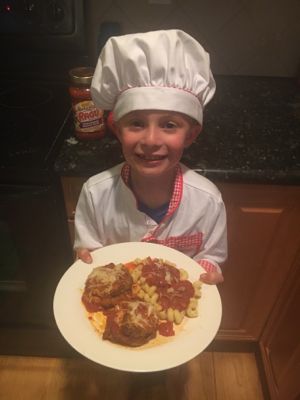 The word homestyle is often used when describing delicious recipes or home-cooked meals such as my family's Sunday dinner. When I think of a homestyle meal, I think of being together as a family. Just as its definition states, homestyle cooking invokes a feeling of home. It reminds me of being a child growing up with my grandmother as she filled the kitchen with amazing aromas. It brings me back to the hundreds of family dinners I enjoyed with my father before he became ill. It reminds me of how my husband's family became my family as we ate around the kitchen table. It inspires me to continue with the old and start new traditions with my kids!
What does homestyle mean to you?
For more delicious recipes using Ragu Homestyle Pasta Sauce visit their website!