I am so unbelievably excited to share that Mommy University has partnered with Hersheypark Camping Resort and Hershey, PA to share with you all their sweet learning adventures.
We LOVE visiting Hershey, PA. It is a family adventure we look forward to every summer. We have been visiting since our kids were babies but it was just 3 years ago that we decided to try something a little different from our usual hotel stay. We booked the deluxe cabin at Hersheypark Camping Resort. The deluxe cabin offers you all the luxuries of home while still providing the excitement and atmosphere of camping. Let me explain…
The Hersheypark Camping Resort is located just minutes from Hershey, PA attractions making it the ideal location to stay. It also offers discounted tickets to Hersheypark, the Hershey Story Museum and Hershey Gardens as well as free shuttle service to Hersheypark and Chocolate World. Families can camp three ways at the resort: tents, trailers and cabins. Each site, no matter the camping preference you choose, includes a fire pit and access to all the resort activities and amenities. So if you choose to stay at a cabin you still get to explore nature, make s'mores over a fire and play outside.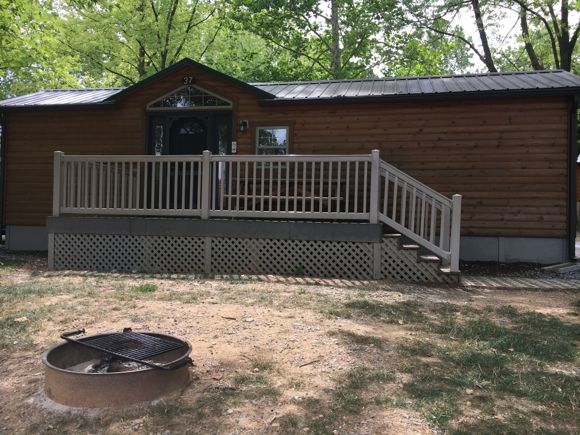 The deluxe cabin at Hersheypark Camping Resort is the perfect family getaway experience. We rent the 2-bedroom cabin since we travel with our family of 4 and my parents. The 2-bedroom cabin sleeps up to 7 people as it has one bedroom with a queen bed and another bedroom with 2 sets of bunkbeds with one having a double bed on the bottom. The cabin also features a full bathroom with a stall shower, sink and toilet.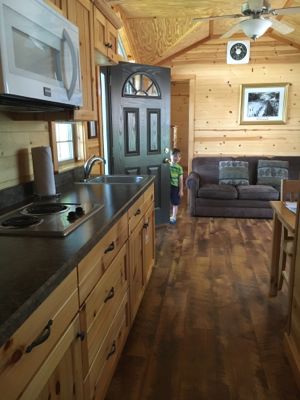 Families can relax after a day at the park or exploring the grounds in the living room which has a comfortable couch and flat screen TV. There is also a full kitchen with a fridge, microwave, sink and 2-burner stove. The cabin comes equipped with all the cooking supplies you will need as well. Families can enjoy home cooked meals at the kitchen table or picnic table located on the front deck. The cabin also has air conditioning which was a life-saver during our visit since it was close to 100 degrees outside!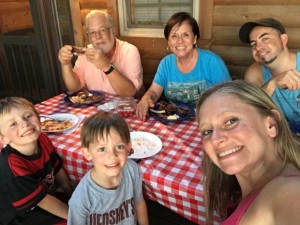 Check out our YouTube video with our full tour of the cabin:
The cabin is amazing, of course, but what we really love is the experience. The outdoor adventures are endless at Hersheypark Camping Resort. From fishing to catching fireflies to rolling down the grassy hill, there is so much family fun to be had for all ages. What I really love is that my family not only has fun, but learns valuable skills and life lessons in the process!
Our Brain Boosting Adventures at Hersheypark Camping Resort
Swimming
During the summer, Hersheypark Camping Resort has 2 pools and one kiddie pool for guests to enjoy. The pool complex offers a wonderful space to cool off, relax and unwind. There are lounge chairs, table and chairs and a small pavilion with picnic tables. What I love the most though is that they offer life vests for kids to wear. This keeps the kids safe while having fun!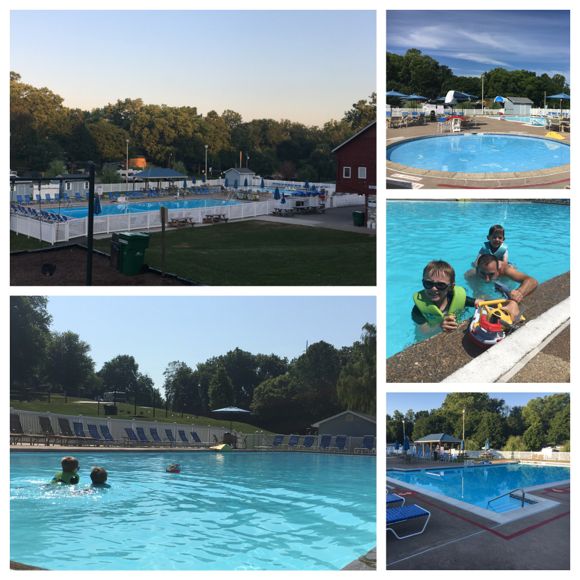 Cooking
A great way to learn while camping is cooking over a campfire. First, parents can teach their children how to make a fire. Then they learn what cooking tools are needed to make a meal over an open fire. At Hersheypark Camping Resort, each cabin and campsite has a metal firepit with a grate. You can bring wood or purchase it at the general store. We cooked dinner over the campfire 2 out of the 4 nights we stayed at the resort. My son loved helping his father cook burgers, hot dogs, steak and ribs. Another fun cooking activity is making s'mores, of course! No camping trip is complete without roasting marshmallows over a fire.
Arts and Crafts
Hersheypark Camping Resort offers fun recreation activities throughout the week. One of our favorites is arts and crafts. Each day, sometimes 3 times a day, kids can make various crafts at the Recreation Center located in a house on the campgrounds. This year my boys made sun catchers and butterfly mobiles. In the past, they have also made rocket ships and painted ceramic turtles. Other experiences include coloring, toilet paper roll crafts, making magnets and much more!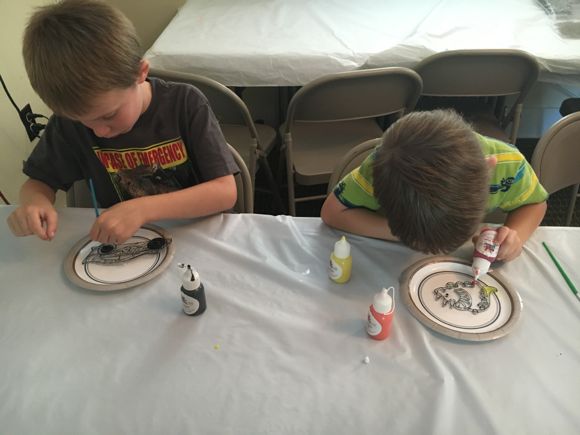 Fishing
Families can enjoy an hour or even all day fishing at Hersheypark Camping Resort. My boys and their dad had fun casting their lines into the river to see what they could find. They may not have caught anything this time but they did learn the art of patience. They also enhanced their fine and gross motor skills and gained some independence. We can't wait to go fishing again the next time we visit!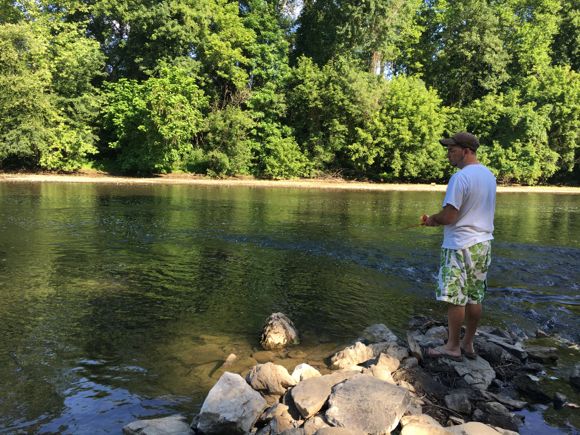 Exploring
There is so much to see, do and discover at Hersheypark Camping Resort. My favorite morning was when we walked down to the river as a family and explored nature. It was a beautiful view when looking in either direction which added to the intrigue of the day. My kids had so much fun walking in the water, finding shells and helping their dad catch crayfish. It was a fun way to get my kids to unplug and gain an appreciation for nature. It also introduced them to the world of science!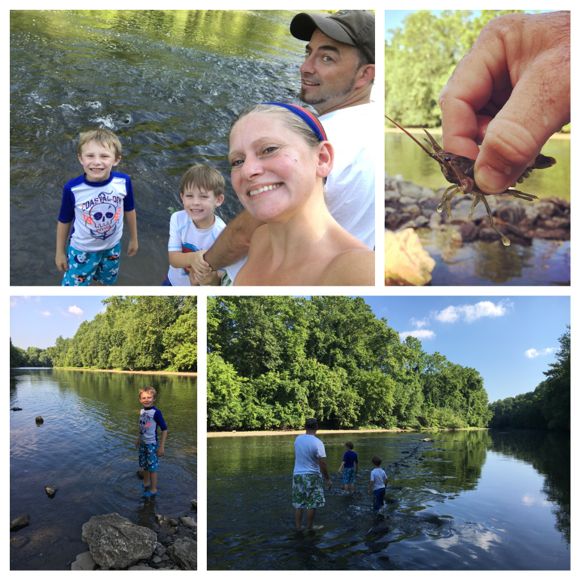 Climb, Swing and Slide at the Playground
One of my kids' favorite activities at Hersheypark Camping Resort is to play at the playground. There are 2 playgrounds but we gravitate towards the one by the pool. I enjoy it because there is a beautfiful tree that offers a picturesque view and ample shade. Every time my boys play there they make new friends and create new games. I love watching them use their imaginations as they create grande adventures and stories. I also love watching them get stronger each year we visit. This was the first year my oldest son was able to get across the monkey bars all by himself. It was a proud mom moment when I saw the confidence in his face!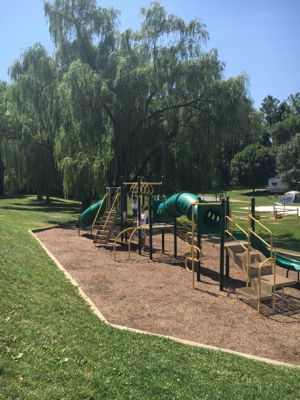 Horseshoes
Who doesn't love a good game of horseshoes especially while camping? Hersheypark Camping Resort offers horseshoe pits next to the playground and volleyball court. You can borrow horseshoes at the general store by leaving a refundable $10 deposit. It was a whole family affair this summer, grandparents included. We all tested our skills which turned into a heated competition at times. I love that horseshoes helps build motor planning, hand-eye coordination, gross motor strength and problem solving skills. It's also really fun!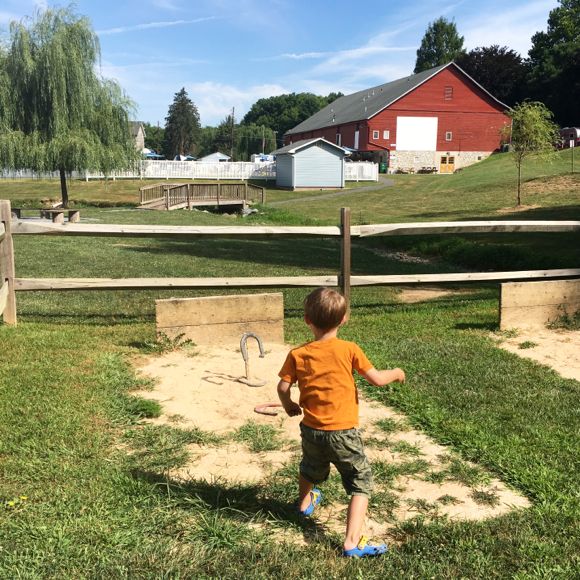 Magic Show
Hersheypark Camping Resort offers shows on certain days of the week. During our last 2 visits we were able to catch a magic show. Nothing gets kids thinking quite like magic! It sparks their imaginations and enhances their critical thinking skills. It also teaches them to look at the world through a different lens. This summer we saw the amazing Eddy Ray. He was a talented magician who knew how to entertain guests of all ages. My son even volunteered to be a part of one of the acts which was the highlight of his stay. When we came back to our cabin, he immediately began performing his own magic tricks for the family.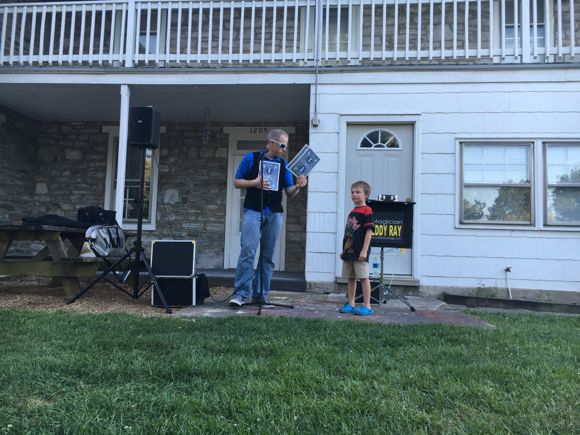 This is our third summer in a row staying at Hersheypark Camping Resort and we are already looking forward to our next visit. Since the deluxe cabins are available all year, we would love to stay during the fall to see the beautiful changing leaves. You can learn more about the resort by visiting their website.
*In full disclosure, we were provided one night stay at Hersheypark Camping Resort in exchange for our honest review.
You may also enjoy:
5 Must Do Summer Experiences at Hersheypark
5 Brain Boosting Reasons to Visit Hersheypark
10 Tips for Visiting Hersheypark with Kids
Brain Boosting Cabin Camping Activities