Since its inception, GoldieBlox has maintained inspiring messages for young girls that resonate with me as a parent. I was committed that my daughter would not focus her value on beauty, but raised to believe in her ability, intelligence and morals. GoldieBlox promotes a positive message of female empowerment not only in their advertising but in the design of their toys. Having the opportunity to receive The Craft-Struction Box from GoldieBlox to review for Mommy University was great since we are already fans!
Launched through a powerful Kickstarter campaign, GoldieBlox grabbed national attention with their Super Bowl commercial. The toys focus on introducing engineering skills to young girls in an industry that is predominantly male. While the toys are offered in bright colors that is not the only reason girls are attracted to this collection. they also focus on the element of storytelling which young girls enjoy by including quirky and adorable characters.
There are GoldieBlox kits that are designed to build a specific product which utilizes STEM skills; however, children can ignore the rules and also make their own creations. When children combine different kits they can actually make larger creations. As fans of GoldieBlox, we received the Craft-Struction Box to review the benefits of this innovative toy. Unlike the kits, Craft-Struction is geared towards more open-ended play and building fun.
Mommy University Presents
5 Benefits of Playing with Craft-Struction
Improves Fine Motor Skills
Craft-Struction has many small pieces. Tiny pieces which in some instances will require children to focus and develop their fine motor skills to put together. Don't be surprised if your child asks for some assistance as some pieces are a little more difficult to put together but eventually they will tackle all tasks independently.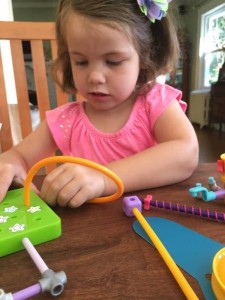 Encourages Problem Solving
When my daughter originally opened The Craft-Struction Box she wanted to make the car pictured on the outside. As opposed to other GoldieBlox kits, this one does not come with instructions. There is a double-sided poster which offers several suggestions of items that can be created with a list of pieces needed to make the design but this doesn't have the storytelling element. My daughter had a puzzle that she needed to solve. She experimented with different combinations and eventually created her own version of the car.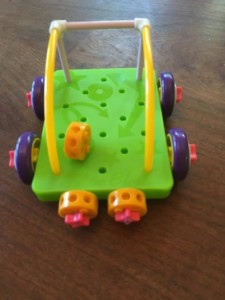 Inspires Creativity
Although it is designed for girls, don't be surprised if your son wants to play with it too. My son opened up the box and decided he wanted to make a spaceship. The box is filled with so many different parts that children can create whatever they imagine. On two separate occasions he has made spaceships, and in each instance, they have had a different look and feel. Craft-Struction invites children to play and create.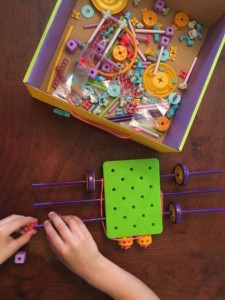 Promotes Engineering Skills
Even though my son built two rocket ships neither moved. Included in Craft-Struction is a double-sided poster which contains on one side all the pieces with names of pieces and on the other side are suggested builds for children. Children can also use the poster to write goals and keep track of dates and notes for their creations. Don't worry if they get stuck as GoldieBlox has videos on BloxTown.com if they need inspiration!
Enjoy Open-Ended Play
As mentioned, a lot of the GoldieBlox kits do have an intended project to make; however, the Craft-Struction Box is all about open-ended play. Open-ended play is letting children learn through play with what is present and through their own initiative and imagination. The Craft-Struction Box contains pieces that are accessible to young children's creativity and exploration. I have found when my kids find the right toy, open-ended play can last longer than project-based play and that is the case with GoldieBlox.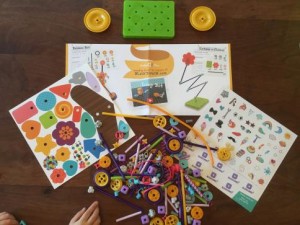 The Craft-Struction Box has been added to our collection which includes the Dunk Tank, The Parade Float and The Spinning Machine. If you already have a GoldieBlox kit, this is a great addition because it expands the opportunity to build whole new creations. While we rotate building sets, it is not uncommon to find my daughter taking GoldieBlox out independently. This is a young company and we look forward to seeing how it will grow and develop the quality products they make to promote STEM skills.
The Craft-Struction Box from GoldieBlox contains Includes 1 pegboard, 14 wheel hubs, 2 wheel ends, 8 Blox, 44 joints, 2 star couplers, 18 pegs, 16 mini axles, 12 short axles, 8 long axles, 8 flexi-axles, 8 washers, 12 spacers, 1 cranks, 10 star stoppers, 2 suction cups, 4 tires, 1 noodle belt, 1 rubber band, 2 long springs, 2 short springs, 40 crafting pieces, 50 stickers, and 10 pom poms. It is available on our Amazon affiliate link for less than $35.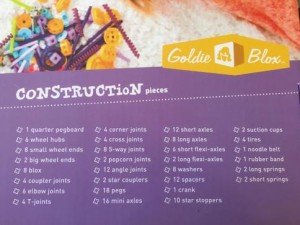 *In full disclosure, Mommy University received the Craft-Struction Box from GoldieBlox in exchange for an honest review.  The opinions expressed in this post belong to Mommy University.
You may also enjoy: