I am so unbelievably excited for the Summer Games. It is an event I look forward to every 4 years. I will plant myself in front of the television as often as I can even if that means watching a 1am swimming heat. I am sure you are wondering why I love this event so much. Let me explain…
Since the time I was 3 years old I knew I was going to be a gymnast. As soon as I was old enough, I was competing all over the state and later all over the country. Gymnastics was my life; therefore, anything related to the sport became a passion for me including the Olympics. As a young gymnast, I longed to be an Olympian, but it was not to be. I continued, however, to faithfully follow the sport. In fact, I even went as a spectator at a gymnastics event during the 1996 Summer Games in Atlanta, Georgia.
As a mom, I am happy to instill my love of competitive sports in my kids. During the 2012 Games, I had my son watch as many events as he could (he was only 3 after all). For the 2014 Winter Games, however, we had fun watching more events and engaging in more activities. As the 2016 games approach, I am excited to expose my boys to even more fun and excitement.
5 Ways to Celebrate the Summer Games
Crafts
There are so many fun crafts you can make to celebrate the biggest sporting event of the summer. In fact, there are entire Pinterest boards dedicated to just that. There are crafts of all kinds that will get kids excited about each event. Here are some my kids have made at home and at camp: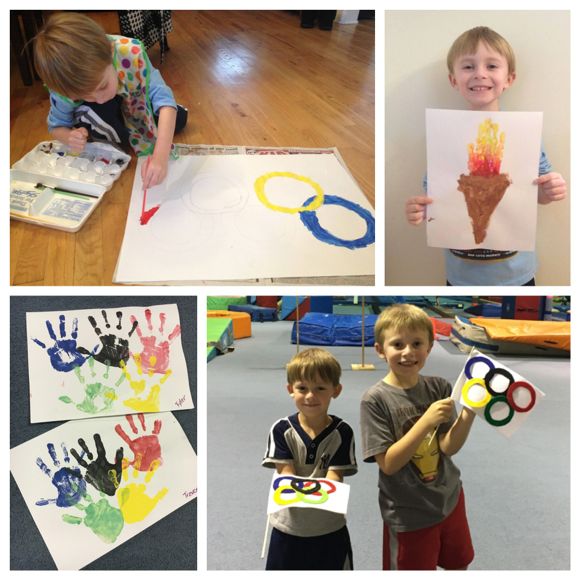 Family Competition
This summer, get the entire family involved in the fun! Have each family member pick a country they will root for. Make the flag for that country and learn more about it. You can even make a poster about the country and put on a presentation for the family. Find out which events each country will participate in then keep track of how many medals they earn. Create family rankings each day based on how your country does. At the end, the family member whose country had the most medals can be awarded a medal or trophy.
Learn a New Sport
This summer sign the kids up to learn a new sport. Swimming, gymnastics, diving, volleyball, there are so many sports to choose from. Whether it's a class, camp or one day event, kids will have a blast learning a new sport this summer. Some camps and programs even offer specific themes where participants can learn a variety of sports. So far this summer, my boys have enjoyed gymnastics camp and recently started swimming lessons!
Backyard Games
This summer, create your own Games right in your backyard. Invite family and friends over for a day full of fun and friendly competition. Start by having each family (or team) come up with their own name and design their own flag. You can set up activities in the yard for everyone to participate in. They can be team events or activities where only one member from each team is chosen to compete. Here are some ideas:
Obstacle course
Swimming races (if you have a pool)
Potato sack races
Handstand contest
Egg and spoon relay race
Soccer games
Tricycle races
Ring toss or horseshoes
Slip-n-Slide races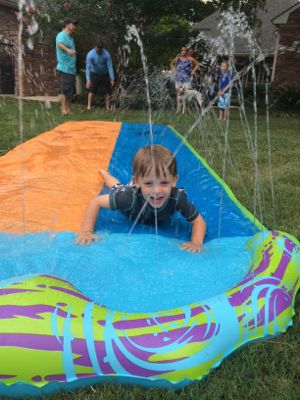 The possibilities are really endless for the activities you can do. Keep track of the teams that win each event then hold an awards ceremony at the end.
Have an Opening or Closing Ceremonies Party
I absolutely love watching the opening and closing ceremonies. It is always so magical and inspiring. This summer, invite some friends and family over to enjoy the ceremonies together. You can offer themed snacks and treats, have the kids make crafts and put up some fun decorations. You can even do your own torch run around your house or neighborhood. I recommend using the torch from Uncle Milton. It even lights up! We received our own torch from Uncle Milton and my kids loved using it to light up their way at night, and we cannot wait to use it to celebrate the Summer Games!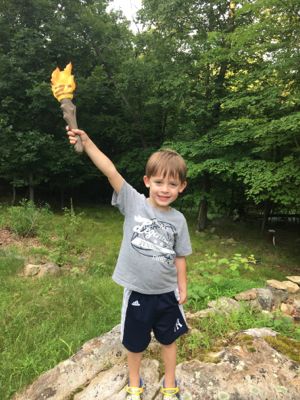 Have fun watching the sporting event of the summer! What's your favorite way to celebrate?
You may also enjoy: