Horsing Around is How We Learned Anywhere's a Playground
Mommy University is a Schleich Blogger Ambassador. This post is part of a sponsored campaign. Mommy University received compensation for our participation, but the review and opinions belong to Mommy University.
As one of Germany's largest toy manufacturers, Schleich is considered a leader in imaginative toys. Promoting the belief that "Anywhere's a Playground" their toys invite children to play; however, specific collections can also be used to help promote academic learning. They have released The Horse Club which is a collection of horse figurines that has been widely popular throughout the world. In 2016, this collection expanded to include playsets such as the horse feeding playset and the horse riding centre. Many more are being released as well!
Upon first glance at Horse Club, you will be impressed with the diversity of horses represented as well as figurine options. As a native of suburban New Jersey that is familiar with Arabian horses only because of movies, it is amazing to see how many different horses exist. Immediately, I began to think of all the possible learning opportunities. And while the Schleich figures can be collected, I wanted to see how my daughter plays with this toy without my guidance.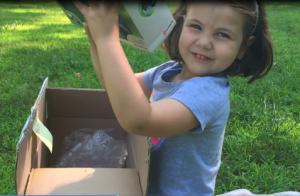 We had the pleasure of watching my daughter unbox and play with the Horse Feeding Playset as well as the Frisian Horse Care Set. Within the Horse Feeding Playset is a Trahkehner stallion and foal as well as carrots, hay, young child holding a carrot and a corral. The Frisian Horse Care Set includes a black Frisian, thermal blanket, feed and halter. The collection is designed for children ages 5-12 years old, and the prices range from $3.29-99.99 based on the item.
Opening the Schleich horse set, which is called an unboxing, my daughter had the privilege of exploring these two new playsets released in 2016. As parents, part of our challenge is allowing our children to learn through play. Once we identified the pieces within the box, we let her play independently. You can watch our video below!
Exploring Familial Roles
My daughter assigned each horse a familial role and began to pretend that it was naptime for the foal also known as the baby horse. The Frisian was named "Ben", the mama horse (which is actually male) was named "Stripes", and the baby was named "Baby Kira."  For her at this time, her play revolved around familial roles and how each member helps each other.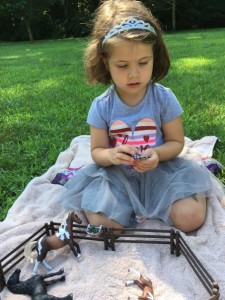 Discovering What Horses Eat (Reality vs. Pretend)
As she continued playing with the horses, the goal of the play changed from family roles to feeding them. While she identified all the vegetables and we talked about what horses eat, she decided that carrots became macaroni and cheese and the feed became pizza. In my daughter's imagination, horses have an appreciation of the finest human cuisine.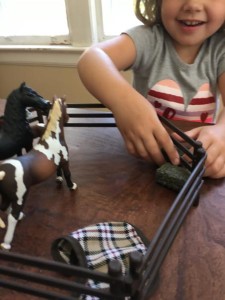 Traveling the World
Witnessing the third shift in playing with the Schleich Horse Club was taking them on journeys to different lands. While the trip began with the land of New Jersey, it began to expand as she physically positioned the horses throughout the house and named places they were visiting. It was interesting to see how they traveled and what they accomplished once they got there.
My daughter focused on playing with The Horse Club using her imagination to create roles and experiences for her family of horses, feeding them, and letting them travel. If your children appreciate horses or even nature, how might they play with Schleich's Horse Club? Here are some examples of how other kids played this toy.
For more information or to see photos of Schleich products you can go to:
Mommy University received the Horse Feeding Playset and the Frisian Horse Care Set from Schleich as well as compensation in exchange for this post.  All opinions expressed in this post are honest and belong to Mommy University.