Being a Sussex County resident, we frequently visit the Poconos. We have stayed at several resorts and have experienced the beauty of the Pocono Mountains many times. We absolutely love visiting this picturesque family destination which is why I was so excited to receive an invitation for my family to be guests for a night at the historic Shawnee Inn. Located in Shawnee on Delaware, the Shawnee Inn offers breathtaking views of the Pocono Mountains as it resides right on the banks of the Delaware River. It is not only provides a relaxing space for couples, families and large groups, it is also boasts a wide variety of fun and exciting activities and adventures.
Each day, Shawnee Inn provides a list of free activities to experience on property. This is on top of the other on-site experiences such as the small arcade, playground and indoor pool and hot tub. Shawnee also offers adventures you can purchase such as raft rides, canoe trips and their latest addition, river boat tours. Each adventure and activity are wonderful learning experiences for the entire family. At Shawnee Inn, guests have the opportunity to explore, play and learn!
5 Must Do Educational Tours at Shawnee Inn
Golf Cart Tour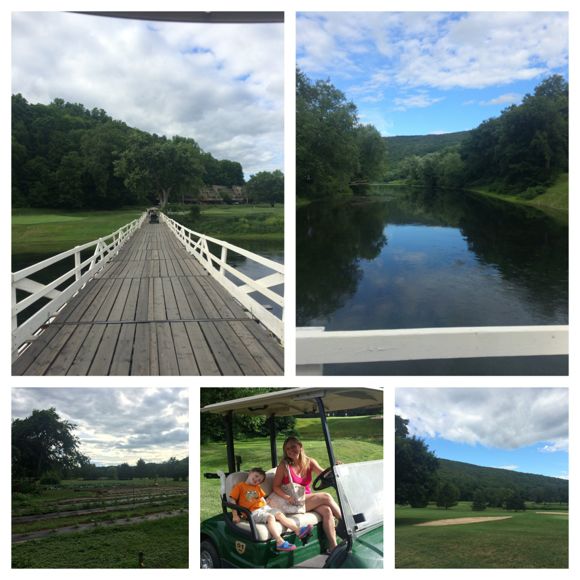 My favorite tour at Shawnee Inn was the Golf Cart Tour. There are 2 guests per cart and children are welcome. It was my first time driving a golf cart, and I loved every second of it. It was a fun and exhilarating experience. The tour took guests through the historic golf course and around the grounds. The views of each tee with the backdrop of the Pocono Mountains was breathtaking.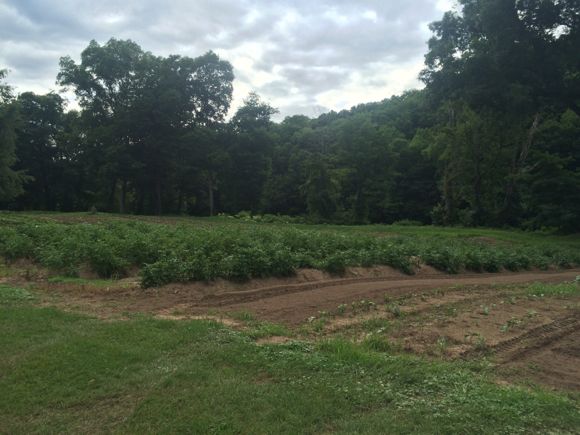 Along the way, we learned all about the history of the course and who once played there. I had no idea Jackie Gleason learned to play golf at the Shawnee Inn. Our amazing tour guide also taught us about the nature surrounding the course including the types of trees and wildlife in the area. We even saw a fox, groundhog and an Eagle's nest! What was also fascinating to learn is that the Shawnee Inn maintains gardens throughout the golf course. The food grown is used to make the meals at their restaurants and sold at local farmer's markets. There is also a pumpkin patch! The pumpkins are used to make the seasonal craft beer at ShawneeCraft Brewery.
Nature Walk/Historic Tour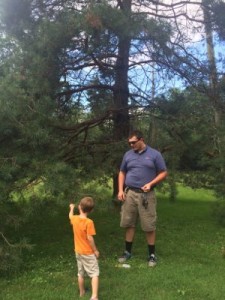 Like I said above, the nature that surrounds Shawnee Inn is inspiring. To learn more about it, my family took a free nature/historic walk around the hotel and beyond. Our amazing guide Tyler was incredibly knowledgable about the local plant life and trees. We learned about how to tell the difference between certain trees and bushes and how they look during different seasons. It was a hands-on learning experience as Tyler allowed us to touch, feel and smell the plants to learn more about them.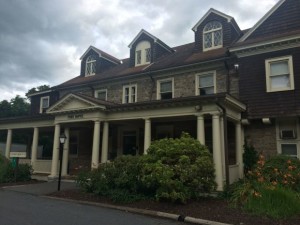 This was also a historical tour. We learned about the Shawnee and Lenape Indians and how they once ruled the land the inn stands on. We were also able to see Fort DePuy, a structure built in the 1930s. Tyler also discussed the importance of the river and shared stories about the rising of the river and how it impacted those that lived on the banks including its impact on the hotel.
ShawneeCraft Brewery Tour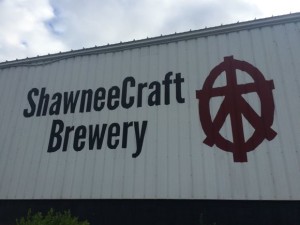 My husband's favorite tour on our trip was at ShawneeCraft Brewery which is on the Shawnee Inn grounds. Tours are available Wednesday – Saturday at 4pm, and at 12pm on Saturday and Sunday. Did I mention guests of the tour also get a free beer sample? During our tour, we learned all about how beer is made which involves a great deal of science (especially chemistry) to get it just right. ShawneeCraft beer is made in-house from ingredients grown on property and from local farms. They make 25 craft beers per year as well as a few specialty beers. One of the coolest things I learned is that some beer is aged in barrels, and some barrels were first used for wine!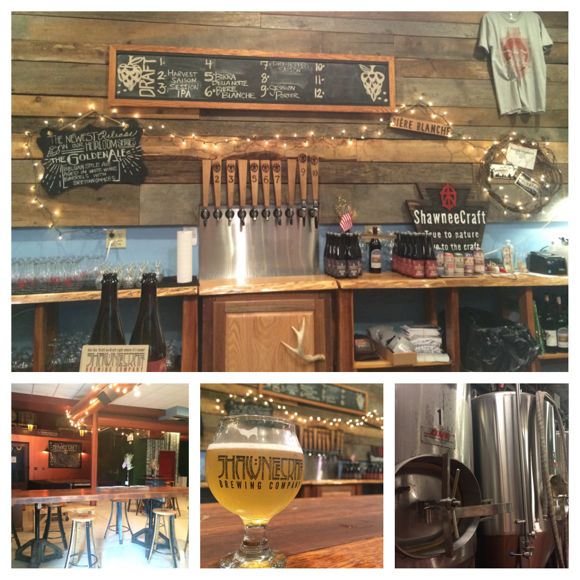 ShawneeCraft beer can only be purchased at the Shawnee Inn, some bars in Pennsylvania and local liquor stores. In other words, if you live in any other state, you have to grab some to go before you head home. The Tap Room is located in the brewery and offers a fun and relaxing environment. It is open Thursday – Friday 5pm-10pm, Saturday 1pm-10pm and Sunday 1pm-5pm.
River Boat Tour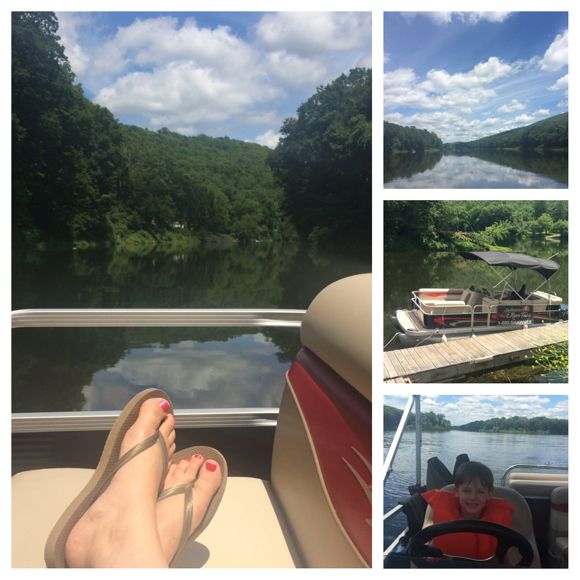 The Shawnee Inn is proud to offer their new river boat tours on the beautiful Delaware River. It is a private pontoon boat ride for up to 6 people. The midweek cost is $35/adult and $20/child under the age of 12. (On the weekends, each price increases by $5.) The tours take place every 2 hours from 9am-5pm. The boat Captain was very friendly and knowledgable. He taught us about the river and the creatures that live beneath the surface as we took in the stunning views. He offered a very relaxing ride making it a perfect adventure for families AND couples. My kids even got to "drive" the boat which was the highlight of their trip!
Self-Guided Tour of the Hotel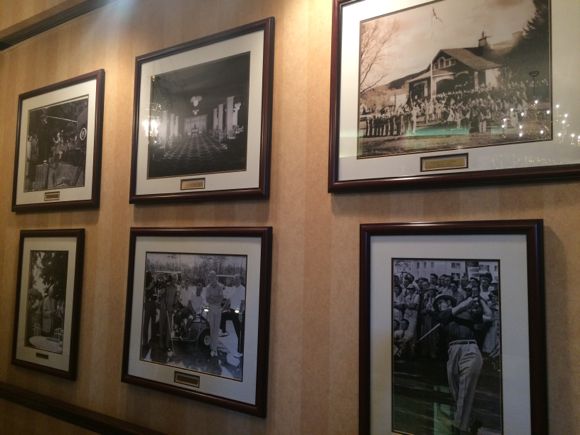 As you walk around the interior of the resort, you will find framed photographs lining the walls of past guests and events. There is so much rich history at the Shawnee Inn and reminders of the past are everywhere. It is amazing to see what the resort looked like 105 years ago when it opened in 1911. I loved seeing pictures of all the legends that walked through the halls and played on the golf course like Dwight Eisenhower, Bob Hope, Jackie Gleason and Mickey Mantle (just to name a few). Each picture is a window into the past. They are also symbols of the love and care that has gone into this resort and will continue to be present for years to come!
As you can see, there is so much to see, do and learn about at Shawnee Inn. These are only 5 out of many other adventures families and couples can enjoy at this beautiful historic resort. You can learn more at ShawneeInn.com.
You can read more about our Shawnee Inn adventure here.
You may also enjoy: