We are so excited to partner with Peaceable Kingdom to bring you their brain boosting games.
When given the opportunity to review another amazing game by Peaceable Kingdom, I was very excited. I enjoy playing cooperative games with my kids as the concepts of the games are always fun and unique, and they offer an amazing learning experience. From the moment we received, The Memory Palace Game, we were all excited to play. This game is all about memory and story telling, and since my son really enjoys storytelling, I knew this game would be perfect for him.
How to Play?
When playing The Memory Palace Game, players have fun with their imaginations and get to test their memories by creating silly stories using 27 different animal tokens. To start, players go around the board and place a token on a scene in the Memory Palace while telling a story about that scene. After everyone's tokens are placed, each player has to go back around the board trying to retell the stories. To win the game, everyone has to be able to tell the stories in order and remember which token is on which scene. If someone accidentally flips over a monster token (placed on a scene that was not talked about), then the players lose.
What's Included
1 game board
16 palace tiles
27 animal tokens
3 memory monster tokens
Instructions

Mommy University Presents
3 Benefits of Playing The Memory Palace 
Encourages Storytelling
The storytelling part of the game was not only fun but also helped enhanced several academic skills. My son used a lot of silly details in his stories which helped expand his imagination and build his vocabulary. As the players listened to each story, they were increasing their listening skills while improving their comprehension skills as well. Storytelling is a skill needed to be successful in school and can lead to an interest in careers such as writing, journalism and screenwriting.
Enhances Memory Skills
Playing The Memory Palace is a fun way to enhance memory skills. Kids have to listen carefully to remember each detail of the story in order to retell it accurately. They also have to carefully remember the order of each story which involves the use of working memory. Visual memory also plays a large role as kids can use visual cues in each scene to remember the story. Good memory skills are needed to be successful in school, and learning different techniques to enhance memory can lead to even greater academic growth and success.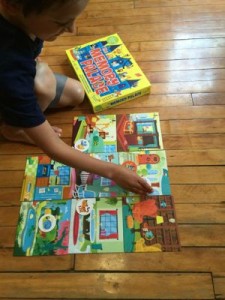 Promotes Cooperation
Cooperation is a great way to build an understanding of teamwork and enhance problem-solving skills all while having a blast playing a game together as a family. When my son had trouble with some details, I would give him some reminders to help him develop his own ideas. Working as a team and trying to win together is a fabulous way to bond as a family while helping kids build important life skills.
The Memory Palace Game is recommended for ages 5 and up but younger kids can join in the fun with some modifications. It can be played with up to 4 players which makes it perfect for family game night. The Memory Palace Game can be purchased for under $20 when you use our Amazon affiliate link.
Thanks so much to Peaceable Kingdom for letting us try out this great new game!
*In full disclosure, we received this game in exchange for our honest review.