We LOVE going on vacation as a family. Whether it's for a weekend or a week, we look forward to getting away and experiencing new places. I believe that vacations offer amazing benefits for children which is one of the reasons I love taking my kids to new destinations throughout the year. That's also why I was so excited when we received an invitation to stay at Shawnee Inn for a night.
Shawnee Inn and Golf Resort is located on the waterfront of the beautiful Delaware River in the Poconos. A beloved all-season Pennsylvania vacation destination, the Poconos offers a wide variety of indoor and outdoor adventures which are highlighted at the Shawnee Inn. This historic hotel, built in 1911, is full of charm and character. From the moment you arrive you fall in love with its beauty.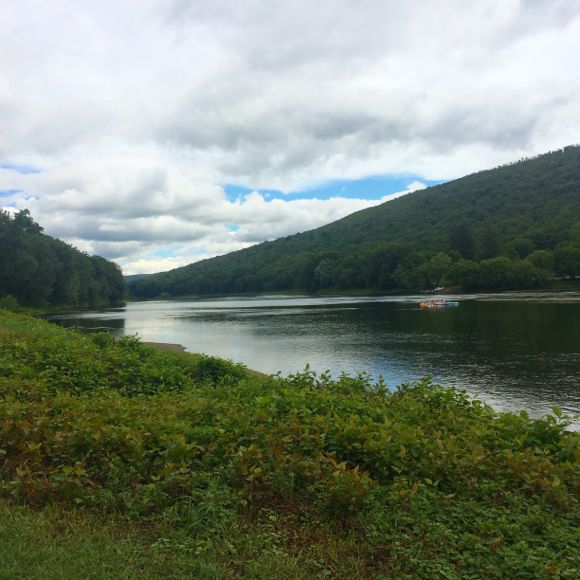 We arrived at Shawnee Inn on a beautiful Sunday afternoon. Their annual Riverfest was going on so we were greeted by the sounds of amazing music and the smell of delicious food. Since our room wasn't ready yet, I checked the calendar of events to plan out our day. Each day, Shawnee Inn offers a variety of FREE activities families can enjoy.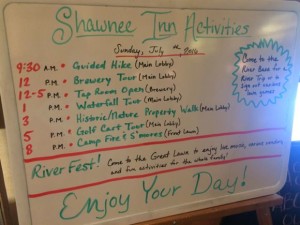 Our first adventure was a tour of the ShawneeCraft Brewery which is located on property. My boys played a fun ring toss game in the front of the building while my husband and I checked out the Tap Room and brewery. We learned all about how they make their beer which involves a great deal of precise chemistry. We also learned that ShawneeCraft Brewery makes 25 craft beers per year which are only sold in Pennsylvania. They also age some of their beer in barrels for more unique flavors. At the end of the tour, each participant received one free sample of a beer of their choosing.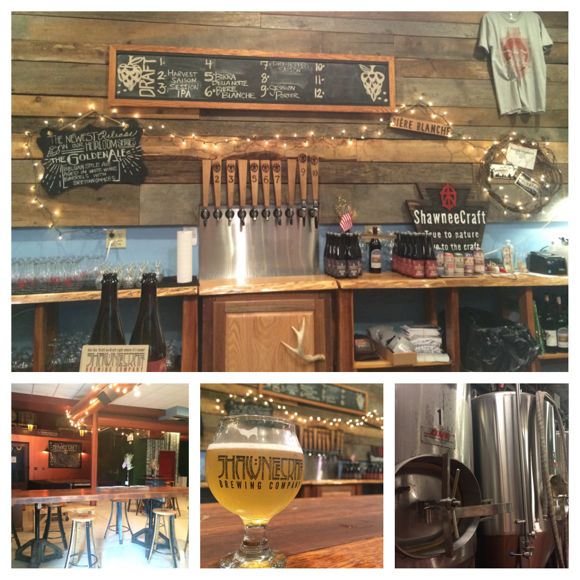 Before our next adventure, we grabbed some lunch at the festival then explored the grounds. The view of the river with the Pocono Mountains as the backdrop was breathtaking. Shawnee Inn offers benches and chairs along the waterfront to enjoy the spectacular view. It was so incredibly peaceful and calming despite my 2 boys running around and trying to jump in the water.
Our next adventure was the Historic/Nature Property Walk. Our guide, Tyler, was incredibly knowledgable about the trees and plant life that surround the hotel. It was a fun hands-on experience as guests were given opportunities to touch, feel and smell different plants and leaves. My boys loved learning how to tell the difference between trees by the way their leaves are shaped. They also enjoyed asking questions which Tyler was very happy to answer. It was a beautiful journey that also offered great exercise. It expanded our knowledge about nature as well as the history of the land. The walk was also a wonderful way to bond as a family.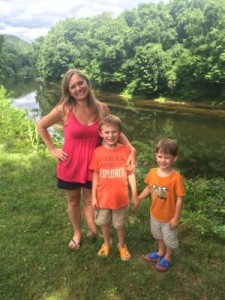 After our walk, we checked into our room for a quick break before our next exciting adventure. The room was comfortable and spacious. It was perfect for our family of four. I loved that it had a small kitchen fully equipped with a sink, dishwasher, microwave and stovetop with 2 burners. The beds were very comfortable but if you want an even more comfortable experience, Shawnee Inn offers a variety of pillows to choose from as well as aromatherapy and nighttime snacks.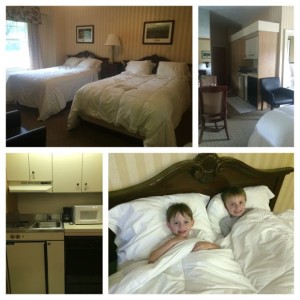 Our last tour of the day was my favorite. The golf cart tour, which is free for Shawnee Inn guests, is a fun and exciting educational experience for the entire family! I drove one cart with my 4-year-old and my husband drove another one with our 7-year-old. It was my first time driving a golf cart, and I loved every minute of it. The tour took us all around the stunning Shawnee Inn golf course. Our guide was Tyler again who taught us so much about the inn and the course at each stop of our tour.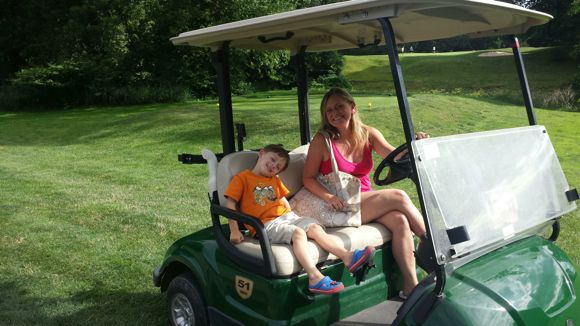 We were able to see wildlife such as a fox and groundhog as well as learn about the gardens growing on the course. Shawnee Inn maintains gardens and a pumpkin patch on its golf course which provides the food for their restaurants as well as the ingredients to make craft beer. My favorite part of the tour was the breathtaking view of the golf course!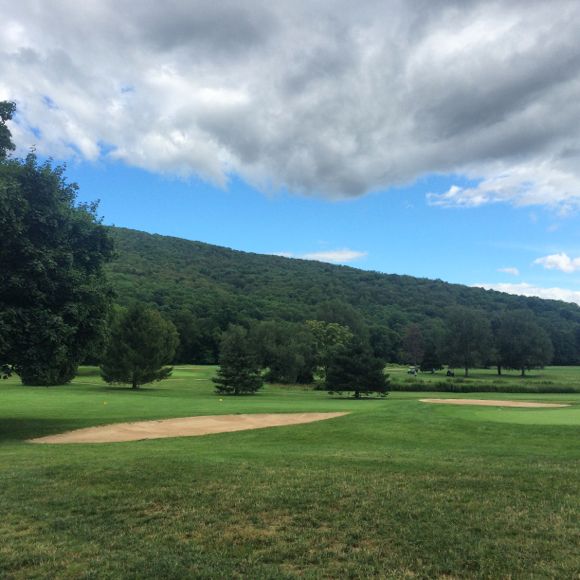 After our day full of adventures we were starving and could not wait to eat at The River Room. The menu had a full array of delicious appetizers, salads, entrees and desserts. The kids menu was also perfect for my boys as there was something for each of them. We really enjoyed the wings as an appetizer, and our chicken meals were delicious. We closed out our meal by sharing a giant piece of chocolate cake. What a great way to reward ourselves after a busy day!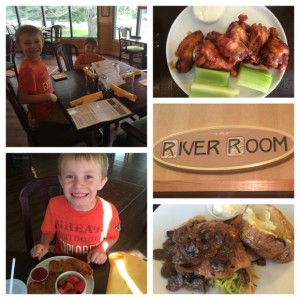 After dinner, my boys wanted to go swimming so we took them to the indoor pool. I loved that Shawnee Inn provided them with life jackets since they aren't the best swimmers yet. The pool is a nice size allowing for several families to swim at the same time. There was also a hot tub prefect adults needing some time to relax and unwind. When pool time was over, we went back to our room and changed into our pajamas before heading to the front lawn to make s'mores over the fire pit. It was such a fun experience for the entire family. It was the perfect way to end a perfect day!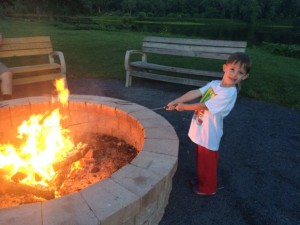 The next morning we enjoyed a buffet breakfast at The River Room. There was a wonderful assortment of food including cereal, pancakes, sausage, fresh fruit, potatoes and more. There was even a custom omelette station. It was a great way to fuel up for a day full of adventure.
At 9:30am, we convened at the main lobby to enjoy a guided hike. Since we were the only family participating, our amazing guide Tyler chose a spot that would not be too difficult for my boys. We hopped in the Shawnee Inn van and headed to the Appalachian Trail. We had so much fun exploring the trail and learning all about the plant life. My favorite part was when we made our way to Diana's Bath, a small waterfall in the middle of the woods. It was beautiful. The hike was a wonderful learning experience for my family and a great way to get fit and active outdoors.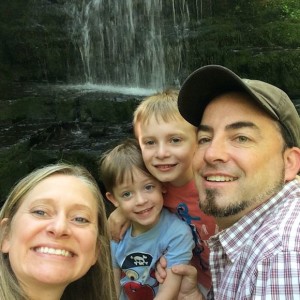 When we returned to the resort, we made our way to the recreation center to borrow some sporting equipment. First, we tried our hand at tennis. My boys had never played before so it was a fun introduction for them. Next, we tried beach volleyball which my boys found a little difficult.
Our last adventure of the day was the river boat tour. We climbed aboard a pontoon boat and embarked on a private tour on the Delaware River. It was a smooth and relaxing ride with gorgeous views. It was a wonderful way to spend time with family while gaining an appreciation for nature. It allowed us to unplug and open our eyes to the world around us.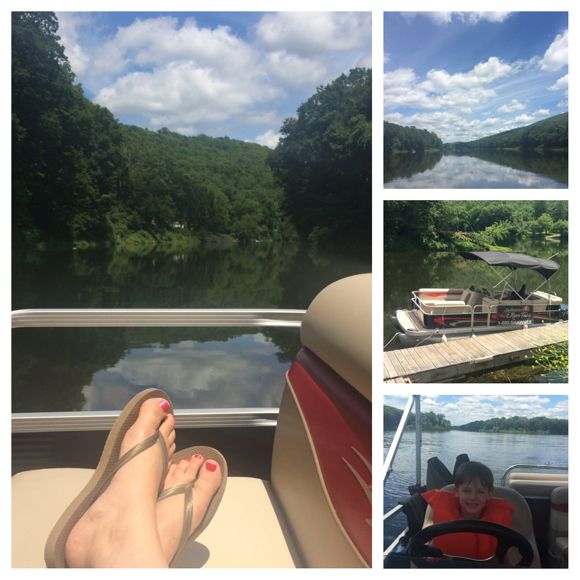 To close out our time at Shawnee Inn, we enjoyed a late lunch at The Gem and Keystone. We had heard so many wonderful things about this restaurant from fellow guests that we could not wait to try it out. We kicked things off with my favorite appetizer, pretzels with beer cheese dip. It was as good as it sounds! I then enjoyed a BBQ chicken pizza and my husband had a cheese steak. My boys ordered chicken fingers and a cheeseburger from the kids menu. We all loved our meals, but my favorite part was dessert. I happily enjoyed the Mint Mocha Pots De Creme. It was one of the most delicious desserts I have ever had!
We had an amazing two days at Shawnee Inn and Golf Resort. Before we even left I was thinking about all the adventures I wanted to try the next time we came to visit. Shawnee Inn's mission is to create extraordinary experiences for their guests. Well, they certainly succeeded in that mission with our recent stay and I know they will for your visit too!
To learn more about Shawnee Inn, please visit their website. You can also see more pictures of our adventure on our Facebook page!
In full disclosure, we were hosted for our stay at Shawnee Inn but all opinions are our own.
You may also enjoy: