As a Sussex County resident, I am only a short drive away from the beautiful Mount Airy Casino Resort which is nestled within the picturesque Pocono Mountains. We have visited many times for the day and have stayed overnight for birthdays, weekend getaways and, most recently, our wedding anniversary. Every time we stay, we experience a new adventure. That is why we were so excited when Mount Airy offered to host us for the weekend!
When people hear the word "CASINO," they often assume that all there is to do is gambling. Although Mount Airy Casino resort has over 1800 slot machines and 80 table games spread across two floors, there is so much more to do there than try your luck at gambling. Just like their wide variety of gaming options, Mount Airy also offers many ways to have fun, relax and enjoy a day or weekend away. It is the perfect place to escape your everyday life and experience something new and exciting!
5 Must Do Experiences at Mount Airy Casino Resort
Relax by the Pool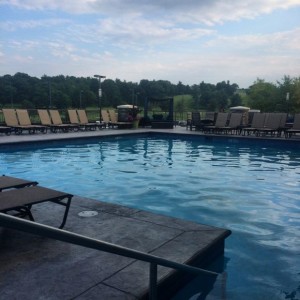 Mount Airy Casino Resort has one of the most gorgeous luxury pool complexes around. It is the perfect oasis for couples. It also offers a fun space for gathering friends and family. In fact, it is perfect for birthday celebrations, family reunions and bachelor/bachelorette parties. From Memorial Weekend to Labor Day Weekend, Mount Airy has an outdoor pool that overlooks the gorgeous award-winning golf course. You can relax in the refreshing water, lounge out in a chair around the pool or rent a cabana for a more intimate and private experience.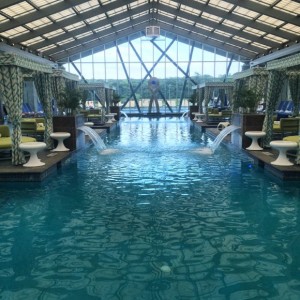 Year round guests can experience the indoor pool which is an experience you won't soon forget. As soon as you enter the pool area, you will immediately feel a sense of serenity and tranquility as you take in the soft colors and the soothing sounds. Not up for a swim? You can still lounge out by the pool, sipping on a delicious cocktail and dining on a yummy meal as Get Wet offers a full service bar and restaurant.
Take a Nature Walk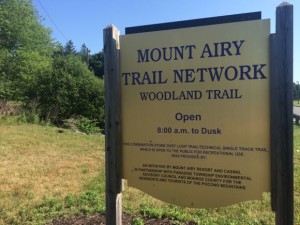 There is so much to see and do at Mount Airy Casino Resort including exploring nature. You can certainly take a nice walk around the grounds and admire the view, but I also recommend checking out the Woodland Trail located just across the street. This 2 mile hike is the perfect way to start and end any day at Mount Airy. You will love seeing the sunlight peek through the trees, listening to the babbling brook and becoming one with nature. I also recommend bringing your camera as there are so many wonderful photo ops along the trail.
Play Golf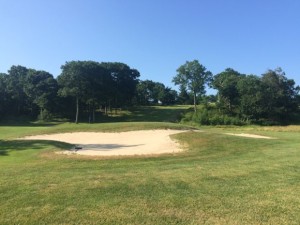 Mount Airy Casino Resort offers an award-winning 18-hole golf course that any golf lover will enjoy.What's really cool about this course is that each hole is inspired by Sports Illustrated Best 18 Holes in America! That makes for an even more exciting golf experience. After a great game, enjoy some time relaxing and hanging out with friends at the Mount Airy Clubhouse that offers a full service bar and incredible dining menu. It has the charm and class of a private club on a public course. Don't now how to play? That's okay because Mount Airy offers lessons from a PGA Golf Professional.
Experience the Nightlife
Yes, walking through the casino floor at night is fun and exciting, but make sure you take a break from gambling and check out what else Mount Airy has to offer. During the summer, guests can enjoy a fun night out at Get Wet (pool bar). There are a variety of special events which you can find on their entertainment page.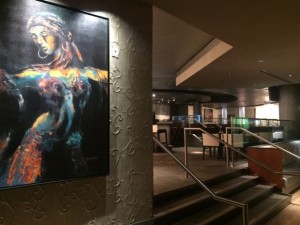 When Get Wet is not open, adults will LOVE Gypsies Nightclub which is located on the casino floor. The ambiance of this club is so inviting, you will immediately want to start dancing! Another great option is to check out one of their amazing outdoor concerts or entertaining shows. Mount Airy has had a long list of phenomenal entertainers perform on their stage including Amy Schumer, Bret Michaels, Joan Rivers and Wyclef Jean (to just name a few).
Relax at the Spa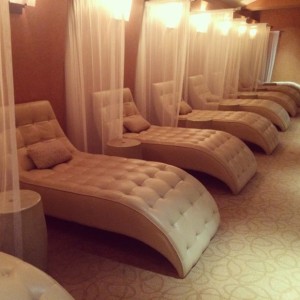 One of the best ways to relax and unwind is to enjoy a spa treatment. The Spa at Mount Airy is the perfect getaway within a getaway. They offer a wide variety of treatments such as massages, facials, body wraps and more. You can also enjoy a rain shower and time in the sauna and steam room. My personal favorite is relaxing in the lounge. This calming and quiet space (pictured above) allows guests to relax while sipping on tea or cucumber water. You can feel the stress just melting away!
My husband and I really enjoy exploring Mount Airy Casino Resort and we know you will too!
You may also enjoy:
Our Weekend Getaway at Mount Airy Casino Resort