Updated for 2017!
Mommy University is so unbelievably excited to partner with Field Station: Dinosaurs. We have been invited to visit and attend events in order to share with you all their learning adventures this season.
This summer, step back in time over 60 million years ago at Field Station: Dinosaurs. Located in Overpeck County Park in Leonia, NJ, this prehistoric attraction will take families on an adventure of a lifetime. To make the experience even more exciting, Field Station is presenting Super Stars of Science every Saturday in July and August. Included with park admission, guests will be able to delve even deeper into the world of paleontology.
During each Super Stars of Science event, guests can participate in free events around the park. There are also special programs for season pass holders. Super stars include paleontologists, authors, paleo artists, puppeteers and conservationists. Guests can enjoy shows in the various tents around Field Station as well as fun hands-on learning activities that coincide with the theme. This is on top of all the amazing free shows and programs already offered all day at Field Station.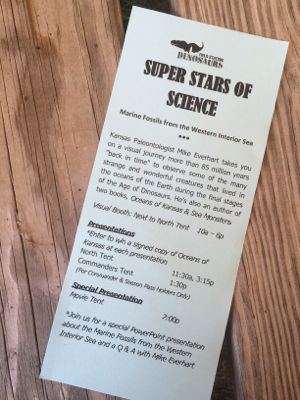 Last summer, we attended Super Stars of Science on Saturday. We were lucky enough to meet and learn from paleontologist Michael Everhart. Author of Oceans of Kansas, Mr. Everhart shared with guests his firsthand knowledge about marine fossils found in Kansas. In addition to seeing pictures of these prehistoric creatures, we were also able to examine real fossils. Mr. Everhart also offered opportunities for guests to ask questions which I fully took advantage of.
As part of Super Stars of Science, Michael Everhart had his own tent located near the entrance of the park (right after the Apatosaurus). Throughout the day, guests were able to gain insight into the world of paleontology from Mr. Everhart while looking at amazing pictures hung around the tent. Guests were also able to see real fossils displayed on the table.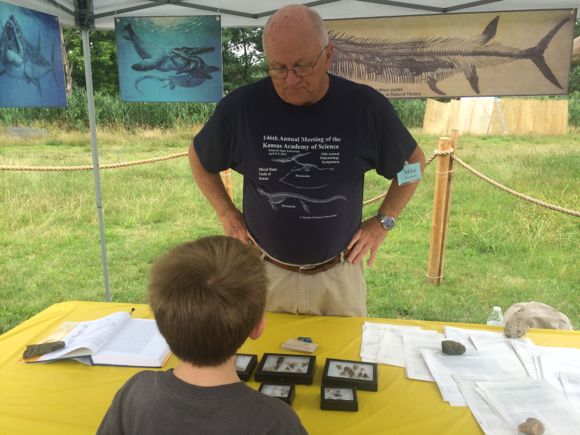 Also as part of the Super Stars of Science event, Mr. Everhart offered 3 presentations for guests to watch and participate in. Two shows were in the North Tent, and one show was in the Commander's Tent. During each show, guests learned all about prehistoric sea creatures and how they once lived in the ocean where the state of Kansas now resides. Each guest was also provided a raffle ticket and entered to win an autographed copy of his book. During the first presentation we attended, my mother won the book which my son very proudly claimed ownership over!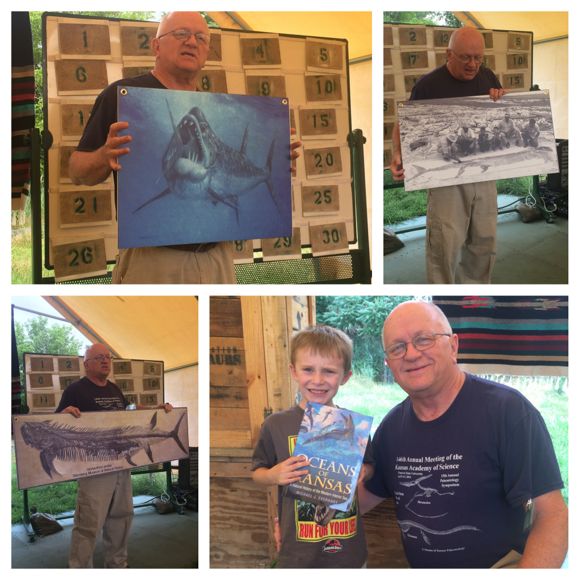 Here is the list of upcoming Super Stars of Science events at Field Station: Dinosaurs:
July 22: Famous Fossils from the Garden State – Learn about 9 dinosaurs that used to reside right her in the Garden State!
July 29: "Dino" Dom Lesson – Ask questions to the advisor to the movies Jurassic Park and Dinosaur as well as Disney's Animal Kingdom.
August 5: Joe Dangeli – Also known as New Jersey's Bat-Man from The Wildlife and Conservation Education Center.
August 12: Debra Esposito – The outreach educator from Morris Museum will offer 3 exciting presentations about Habitats in Harmony. Guests will learn how animals from around the world have adapted to survive.
August 19: Kira Redzinak – Guests will enjoy Confessions of a Science Geek through an interactive presentation about science.
August 26: Puppetry with The Monkey Boys – Hangout with the puppeteers and designers of Field Station's own T-Rex puppet!
September 2: Dispatches from a Dinosaur Dig – Learn all about Jason Schein's recent expedition to Wyoming and Montana.
We had an amazing time during our journey into the past at Field Station: Dinosaurs, and we were thrilled to meet and speak with a paleontologist for the day. You can learn more about Field Station by visiting their website!
You may also enjoy: