The most useful train of Sodor makes an annual trip to New Jersey! In the heat of July, Thomas the Tank Engine visits Phillipsburg and children everywhere can earn the title of Junior Engineer. While the highlight of this day for your children will involve riding on the train or seeing Thomas, there is so much brain boosting fun at this event that makes it a perfect family day! We are thankful that Day Out with Thomas provided us tickets so that we can share with our readers the wonderful reasons your family would enjoy this event!
When first entering the Delaware River Railroad Excursion location, there are fun activities for children which include a large bounce obstacle course, Thomas and Friends photo booth, model trains and gift shop. When you walk down to ride on the train, of course you will see Thomas, but you will also see a small petting zoo, mini golf stand, story time station, music, puppetry, photo opportunity with Sir Topham Hatt and Imagination Station. At most stations, you can pick up a map where you can earn stamps to collect a prize at the Gift Shop.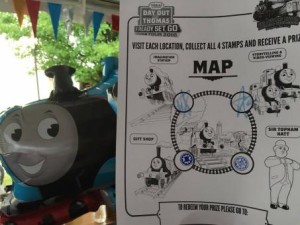 We attended on Friday which I found to be a perfect option for children who might get overwhelmed with crowds. It was ironic that it rained but since most places already are under a tent we still had a fabulous time!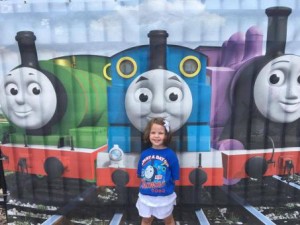 Mommy University Presents
5 Reasons Spend a Day Out with Thomas
Burn Some Energy
Greeting every visitor is a bounce obstacle course which is perfect for young children to run off that nervous energy. You can arrive earlier than your train ride to maximize time needed in this space which is all about gross motor fun.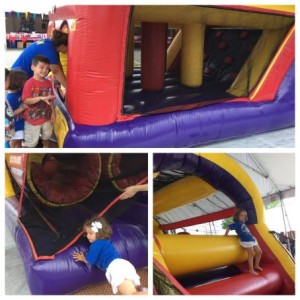 Down by the train tracks is mini golf stand which consists of several holes. Since this event is targeting younger children, the mini golf is a good size for toddlers and preschoolers with adult assistance. Mini golf is about maneuvering your body and little ones are still developing the skills needed to be successful.
Listen or Watch Stories
Day Out with Thomas offers the option to watch the #1 train in animated episodes or you can listen to stories being read about Thomas and his friends on the little island of Sodor. The books are printed large enough for children to see the pictures; however, since the stories are condensed so if you have ten minutes this is a great place to visit.
Building Fun
Within the Imagination Station are many stops which kids will enjoy! Several Mega Blok tables allow children to play with this building toy. Wonderful for fine motor and visual spatial skills, Mega Bloks is a great building toy that also bolsters creativity.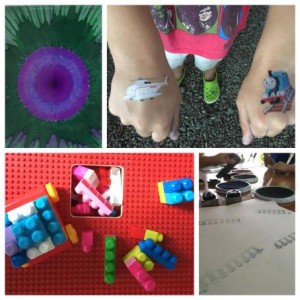 Boost Creativity
Creativity is overflowing at Imagination Station as kids can participate in Spin Art. It is mesmerizing to watch how adding different paints can change the look of the finished art. Children can also play with stamp art, and there are always sufficient coloring sheets. Another fun activity is Thomas stamps and they have many different characters.
Inspire Imagination
Children love Thomas for his kindness and gentle personality. It is no surprise that a family event like this inspires their imagination! Children can take pictures with Thomas and Sir Topham Hatt, yet it is pure magic to ride on your favorite train that you have watched on TV and read about in stories. As well, each child is given an official certificate that makes them a Junior Engineer.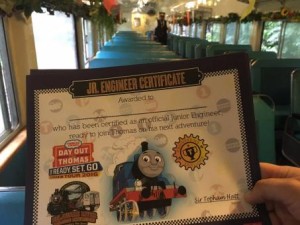 What makes this trip extra special? Thomas actually talks! Make sure to watch his departure or arrival at the station and watch as Thomas blinks his eyes, moves his mouth and talks.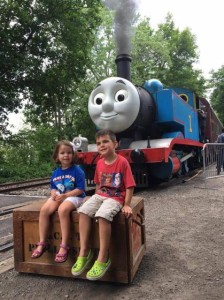 Since my children have visited Day Out with Thomas twice, I am familiar with the learning opportunities available at this event. It is more than just a train ride but an experience that young children will enjoy and parents will cherish the memories. Day Out with Thomas is two weekends in July, including July 15-17, 216; however Delaware River Railroad Excursions also hosts several other programs that may interest older children and train enthusiasts in the family.
In full disclosure, Delaware River Railroad Excursions and Day Out with Thomas provided Mommy University with tickets in exchange for an honest review.  Opinions expressed belong to Mommy University.
You may also enjoy:
10 Places to Ride Trains in NJ
Amazing Places to See Model Trains in NJ