We are incredibly excited to partner with Brick Fest, a hands-on learning experience for all ages!
At Mommy University, we have declared our love for building toys since we began. Lego Bricks are one of the most celebrated and popular building toys which has garnered a large following. Thus, the emergence of Brick Fest which is a weekend celebration of bricks that travels throughout the United States. Brick Fest Live ​returns to the Meadowlands Expo Center on October 8-­9​, 2016.
What does 60,000 square feet hold? Yes, there will be massive Lego builds that will inspire you to take the phone out for a selfie photo. Yes, there will be vendors selling rare and popular Lego sets. Yes, there will be a video game arena where families can compete against each other. Most importantly, there will be lots of hands-on learning opportunities that align with Mommy University's motto of Learning Through Play.
Mommy University
5 Brain Boosting Experiences at Brick Fest
Art Inspired Mosaic Wall
Lego has amazing STEM qualities, however, we often times forget about the artistic opportunities available. The Mosaic Wall invites each attendee to create their own mosaic. I think this leads to great opportunities to think about not only art but collaborative art. Stop by the Mosaic Wall and watch how it is transformed as more attendees add their own creations.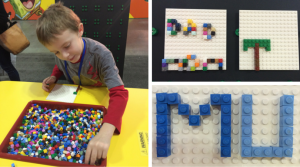 Get Active with Mini Golf
While playing with Legos does improve fine motor skills and is typically thought of as sedentary, Brick Fest invites children for gross motor fun as well. Kids will get the unique opportunity to play Lego mini golf. This mini golf has different holes built out of Legos. Mini Golf is perfect to work on hand eye coordination and motor planning as well!
Hands-On Learning
At Inspiration Station, children will see the large Lego builds which encourage them to think about engineering as well as provide the invitation to play. Surrounding the large builds are mini stations that kids can make their own creations inspired by the builds in front of them or just invent their own.
Think Outside the Box
As much as we think about Lego builds going on a horizontal surface, they actually can be built on a vertical surface! Have you thought about installing a Lego wall in your house? Brick Fest just may inspire you to do so. Make sure you explore the Lego wall and see if this is a project for your home.
Explore those STEM Skills!
Lego has long been acknowledged for encouraging STEM skills, and Brick Fest "builds" upon this mission. Children will be able to test their problem solving and tinkering skills at the Brick Fest Derby. Children can build their own car creations and race against their parents' creations or other attendees. This experience sparks questions like, "How do I make my car move faster?" It is a wonderful space to experiment and learn!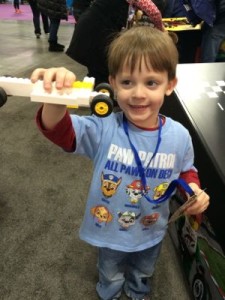 Brick Fest will come to the Meadowlands Expo Center on October 8-9, 2016. It is located at 355 Plaza Dr, Secaucus, NJ 07094.  Tickets can be purchased at http://events.brickfestlive.com! Have fun building, creating and playing!  Mommny University readers can get a 20% discount by using the code : mommyu !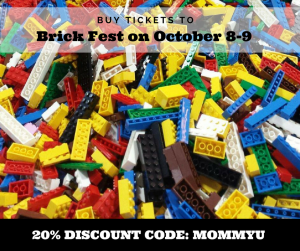 In full disclosure, Mommy University has been provided with passes to Brick Fest in exchange for sharing information on this brain boosting experience.
You may also enjoy:
10 Brain Boosting Building Toys