My husband and I have always loved visiting Mount Airy Casino Resort so when the resort invited us to be their guests for a couples weekend, we jumped at the chance. We have spent many days and nights at Mount Airy, but this time would be different because we were celebrating something very special, our 10th wedding anniversary. It was the perfect place to relax, indulge and enjoy each other's company!
From the moment you arrive at Mount Airy Casino Resort, which is located in the beautiful Pennsylvania Pocono Mountains, you are in awe of its grandeur. It's no wonder it received a AAA Four Diamond Rating for 4 consecutive years! The gorgeous fountain, beautiful architecture and rolling hills; it is a sight you can't help take pictures of. The lobby is no different as it adorned with a stunning chandelier and inviting yet elegant seating area. The glass art work in the walls made the appearance of a roaring fire which added to the welcoming ambiance.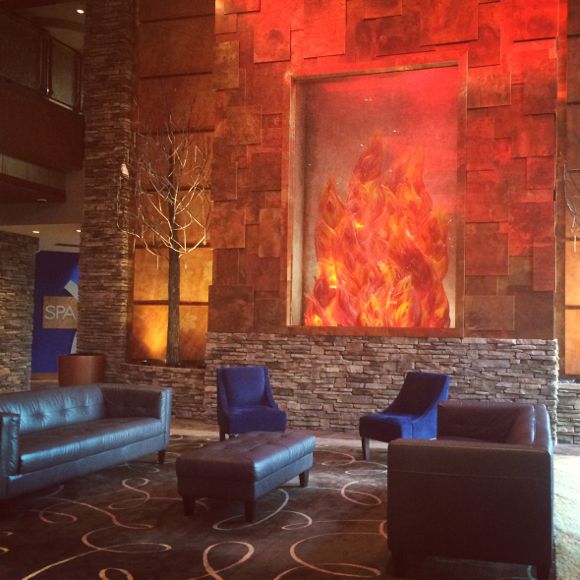 The beautiful fountain is a centerpiece to the lobby which offers a great place to take pictures, meet up with friends or just take in the sights and sounds.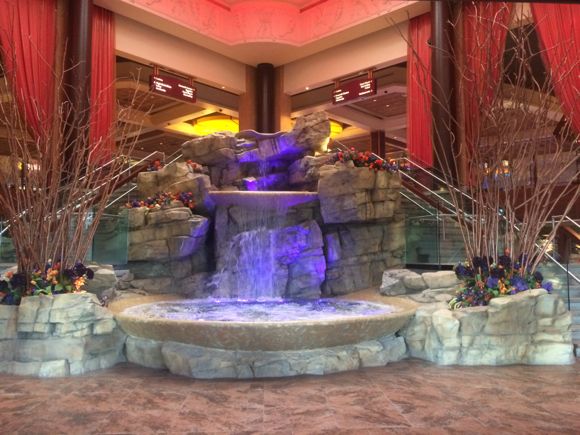 Check-in was a simple process completed by a very friendly receptionist. We headed to our room on the 6th floor and were thrilled with what we found behind our hotel door. The room was spectacular. I immediately jumped on the king size bed and was reminded what it was like to relax in bed without being kicked in the face by children! The bathroom was spacious and so inviting as it offered an amazing shower and beautiful sink. The room amenities included a large flatscreen television and Keurig coffee maker with coffee from Guy Fieri (how cool is that?).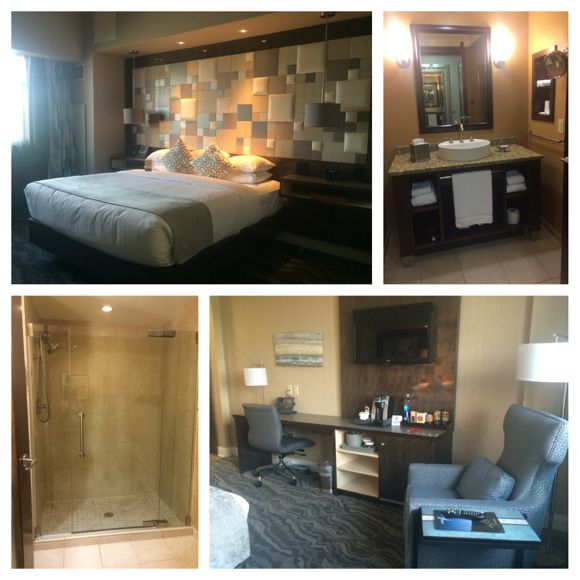 After unpacking and taking in our gorgeous view of the golf course, we headed to the casino floor to try our luck at a few of the over 1800 slot machines. My husband won some money before we made our way to Guy Fieri's Mt. Pocono Kitchen for dinner. I loved the comfortable, casual and inviting atmosphere of the restaurant. From nachos and sashimi tacos to burgers and salads to brisket and award-winning pork butt, Guy Fieri's, offers something for every appetite and palate. My husband and I shared the nachos appetizer then I had The Big Dipper and my husband had the Bacon Mac 'n' Cheese Burger. It was all amazing! We were so full that we took dessert (Apple Cinnamon Bread Pudding) to go which we thoroughly enjoyed later that evening!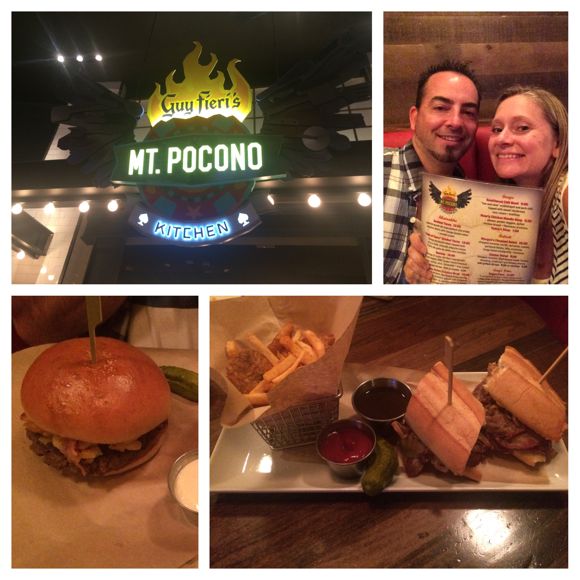 I would like to say that after dinner we partied the night away with drinks and table games, but, as most parents will understand, we just wanted to sleep (in our giant king size bed of course)! The next morning we woke up early to enjoy the nature that surrounds Mount Airy Casino. We grabbed some Starbucks and some pictures then went exploring.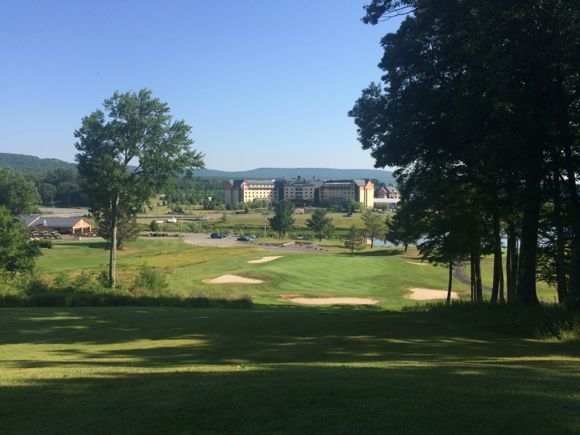 After taking a short stroll to get a closer look at the Mount Airy Golf Club and a the award-winning 18-hole golf course, we ventured across the street to Woodland Nature Trail. My husband and I enjoyed a 2 mile walk through the woods which offered wonderful views along with a sense of relaxation. It was the perfect way to start our day!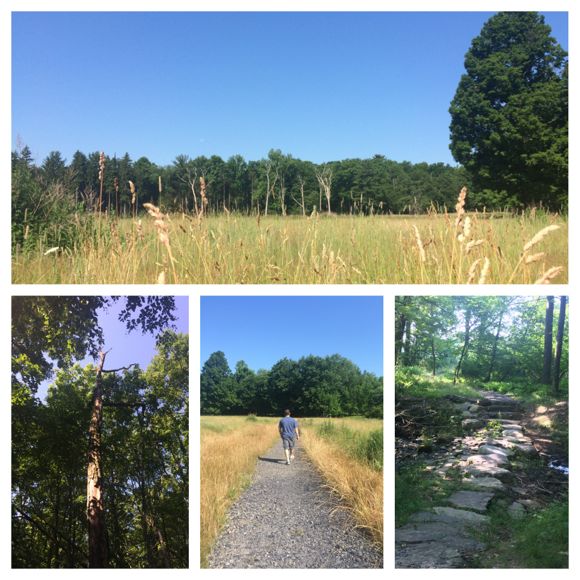 When the hike was complete, we headed back to the hotel for my favorite part of the trip, my spa appointment! The Spa at Mount Airy was tranquil and serene from the moment I arrived. The decor offered a relaxing environment and the staff was very friendly. The amenities offered before and after any spa treatment are a sauna, steam room, lounge to relax and, my personal favorite, the use of the rain showers! I received the signature message which was a 55 minute Swedish massage using organic natural body butter. It was relaxing and rejuvenating experience which helped melt all the stress away!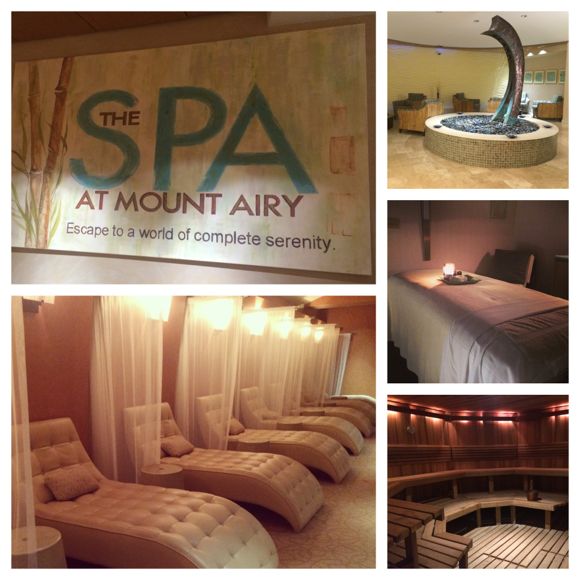 When my pampering was complete or should I say, when my husband wanted to meet for lunch, I said goodbye to my bliss and headed to The Buffet. We are BIG fans of buffets and try them everywhere we go so we were really excited to see what Mount Airy had to offer. The selection of delicious cuisines was amazing. From soups and salads to tacos and fajitas to turkey and stuffing to pizza and strombolis, there was something for everyone to enjoy and indulge in (and we did)! The desserts were spectacular. I especially enjoyed the chocolate cheesecake and peanut butter chocolate mousse. They even had sugar-free and gluten-free options.
After lunch, we spent some time relaxing by the luxury pool. It was a great place to unwind and have fun. Both the indoor and outdoor pools are picturesque. There is ample seating, but you can also rent a cabana inside or outside to make it a more intimate experience. There is a pool bar with a full cocktail and dining menu as well.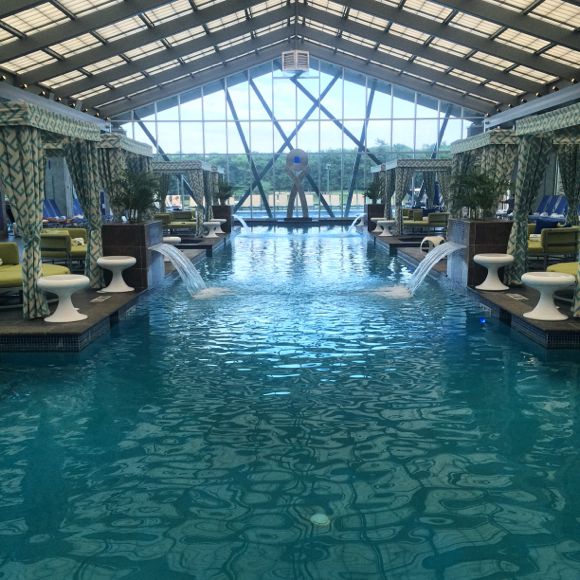 Later that day, we were provided a VIP tour of the resort. We walked all around Mount Airy Casino with some fellow bloggers and learned about a few places we had not yet explored like the Players Club, restaurants, the salon, fitness center and the 3rd floor table games and slot machines. My favorite place, however, was Gypsies Nightclub which offered a fun and exciting vibe. It was a hip and stylish space that made me want to start dancing!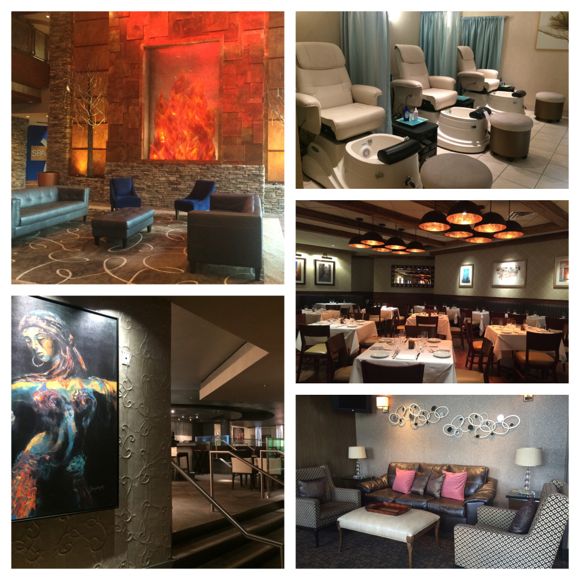 That evening we enjoyed a spectacular meal at Bistecca by Il Mulino which is located on the casino floor. The menu combines the classic meals of Abruzzo's cuisine with a modern steakhouse. The selection of hand-crafted pastas, farm fresh vegetables, local seafood and hand-cut steaks is mouth-watering. I started with the delicious and creamy lobster bisque then moved on to an amazing filet mignon with a side of the best spinach I have EVER had! My husband also thoroughly enjoyed his chicken parmigiano with rigatoni. We topped off our anniversary dinner with delectable Tiramisu (my all-time favorite dessert).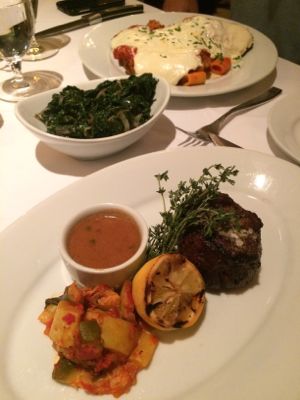 For our nightly entertainment, we were invited to the Back in the Day DVD release party at Get Wet, the pool bar. After getting some pictures with the star of the movie, William Demeo, my husband and I sat outside around a fire pit with some good friends and enjoyed adult conversations. We didn't talk about what the next mousekatool would be, I didn't have to respond to "Mom!" 50 times and we learned a little bit more about each other. We were able to reconnect as adults not just as parents. We also established new friendships that I know will last a lifetime. It was the perfect night out!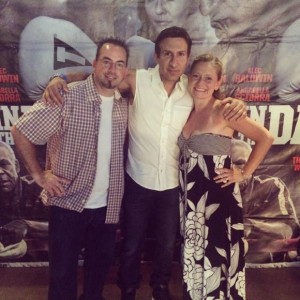 The next morning we enjoyed an amazing breakfast in our room. Nothing says romantic getaway like room service!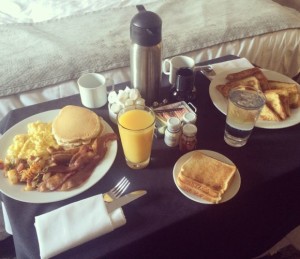 After enjoying a quick stroll around the grounds and a few "pulls" on the slots, we had to return to our parental duties as a kid's birthday party awaited us at home. We had an amazing and memorable weekend getaway and cannot wait to return in the very near future. Thank you Mount Airy for reminding us that it is okay to just be husband and wife once in a while!
For more pictures check out our Facebook photo album.
*In full disclosure, we received a weekend getaway at Mount Airy Casino Resort in exchange for our honest review. All opinions expressed are my own.