Mommy University is so excited to partner with Donaldson Farms to bring you all their brain boosting family fun!
I don't know anyone who doesn't enjoy a day on the farm. From hayrides to fruit picking to meeting farmers, farms offer endless amounts of brain boosting fun. What many people don't realize, however, is that farms aren't just for fall fun! In fact, summer is also an exciting time to explore a local farm especially in NJ.
My favorite NJ farm to visit in the summer is Donaldson Farms. Located in beautiful Hackettstown in Warren County, Donaldson Farms is a family owned farm built from love and tradition. Each and every event and program is designed to educate guests, spark an interest in farming and encourage creativity. There is also a strong sense of community and a true passion for agriculture. Every time my family visits Donaldson Farms, we are happily greeted by a member of the Donaldson family. They take pride in interacting with their guests and providing a one of a kind experience. Not only does Donaldson Farms educate about farming, it embodies the true meaning of family!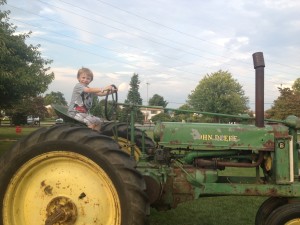 Every summer Donaldson Farms offers exciting family-friendly events. We have experienced almost everything this farm has to offer, and we keep coming back for more year after year. In fact, a highlight of my entire summer takes place at Donaldson Farms. (I will tell you more about Summer Nights on the Farm below.) As a long-time visitor, it is an honor and privilege to partner with this amazing family so we can bring you information about all their brain boosting farm adventures!
Summer Experiences at Donaldson Farms
Summer Nights on the Farm
My favorite summer experience at Donaldson Farms takes place every Friday evening from June 24 – September 2, 2016 from 4pm-9pm. It is a wonderful time for families to enjoy a night on the farm with friends and farmers. Admission is FREE but farm fresh food is available for purchase. Kids can play in the sandbox, check out the farm animals, play games, enjoy duck races and more. For a small fee, families can also enjoy hayrides around the farm as well as pony rides.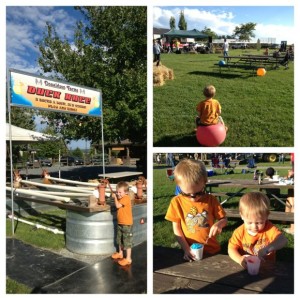 Pick-Your-Own
Donaldson Farms offers wonderful pick your own opportunities in the summer. In June, you can start with fresh juicy strawberries then move on to delicious raspberries. Families can also enjoy picking blackberries. Pick-your-own apples begin in September.
Farm Camp
From August 8-12, 2016, kids ages 6 and up, can enroll in farm camp at Donaldson Farms. Campers will learn all about daily life on the farm. They will learn how to care for animals, observe and participate in planting and harvesting, create crafts, participate in cooking lessons and much more! Campers will develop an appreciation for nature and a better understanding of healthy living and eating.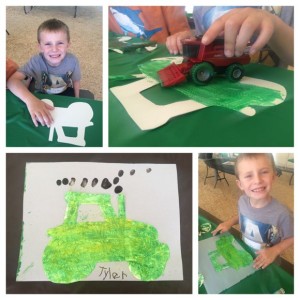 Events and Activities
Donaldson Farms offers so many fun events and activities the entire family can enjoy. During each visit to the farm, kids can meet farm animals and play in the giant sandbox. Families and friends will also love competing in duck races using old-fashioned water pumps and plastic ducks. One of our favorite activities at Donaldson Farms is enjoying a hayride around the farm. We love seeing all the tractors hard at work, learning about all the produce and hearing the rich history of the farm. This summer, individuals of all ages can also enjoy Yoga on the Farm every Tuesday evening from 6:30pm-7:30pm ($15/person).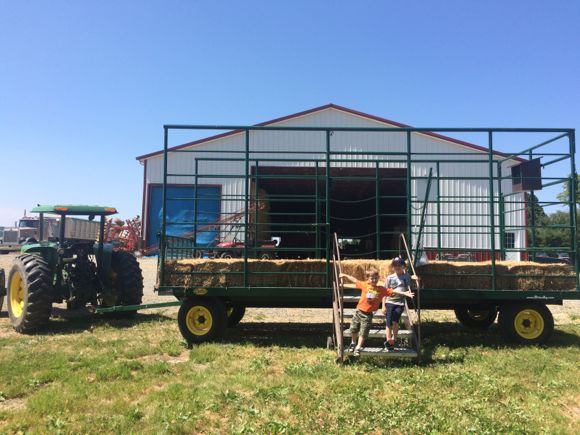 Sunflower Tour
Beginning in late August through mid/late September, visitors of Donaldson Farms can enjoy a beautiful and educational tour of their magnificent sunflowers. We were lucky enough to be invited to a sunflower tour 2 years ago, and it was such a memorable experience. We learned all about the importance of sunflowers, took family pictures and enjoyed a Pollinator Safari. Tours are about an hour long with a stop along the way to search for pollinators and take in the gorgeous views. You can read all about our adventure here.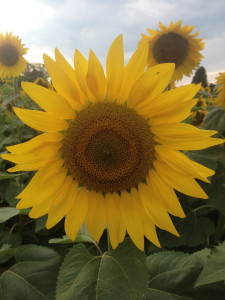 So what are you waiting for? Pack up the kids and head over to Donaldson Farms today for an unforgettable day at the farm!
You may also enjoy:
10 Educational Benefits of Visiting a Farm
10 Reasons to Visit a Farmers Market