We are so unbelievably excited and honored to partner with the Academy of Natural Sciences in Philadelphia. Mommy University was provided a membership in exchange for sharing with our readers all the amazing Academy adventures for the entire year including brain boosting exhibits, events and programs. I hope you will follow us along this incredible journey!
"The lure of dinosaurs and their mystery to science and to people of all ages is undeniable!"  ~Academy Senior Director of Exhibits Jennifer Sontchi.
From the moment you arrive at The Academy of Natural Sciences, you are instantly transported back in time over 60 million years ago when dinosaurs ruled the world. Your prehistoric journey begins with a roar as you are greeted by a life-sized Tyrannosaurus Rex and Triceratops. As these gorgeous creatures move their heads and tails, you find yourself awestruck. You begin to imagine what life was like so many years ago.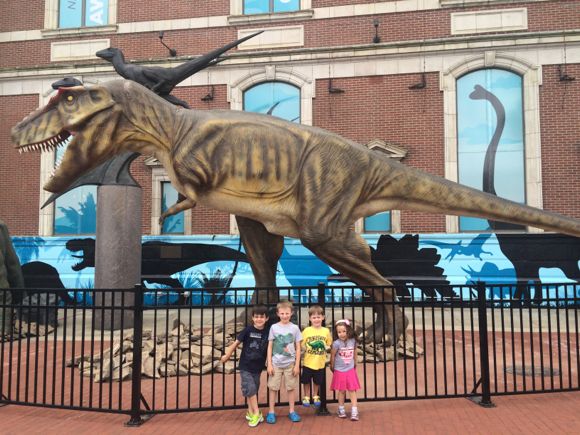 Dinosaurs Unearthed recently opened at the Academy and will entertain families through January 17, 2017. With a variety of scientifically accurate, custom designed and hand-crafted animatronic dinosaurs, families can discover, explore and learn all day at The Academy of Natural Sciences. The amount of craftsmanship, effort and time that went into making these engineering marvels is inspiring. It is no surprise that you would find these scientific masterpieces at The Academy as it is THE dinosaur museum of Philadelphia! In fact, in 1858, The Academy completed the scientific studies on the first dinosaur ever collected, Hadrosaurus, and it was the first museum to display a dinosaur skeleton!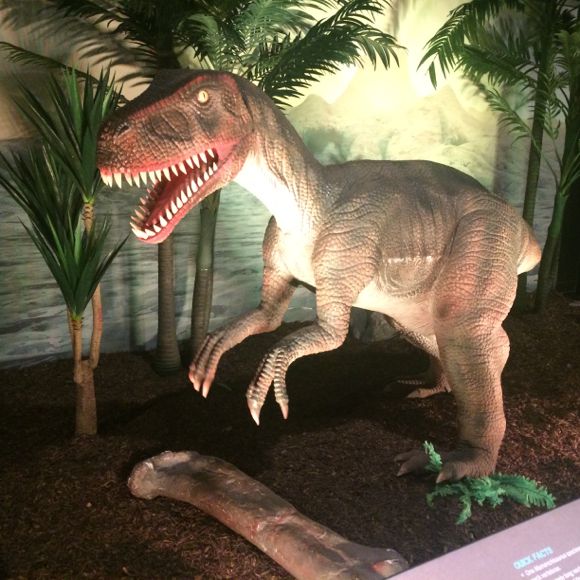 The Academy of Natural Sciences is proud to present Dinosaurs Unearthed for the 2nd time. It first debuted in 2013, and due to its popularity, it has returned to thrill even more dinosaur loving families. Offering a true interactive approach to learning, this exhibit will offer an unforgettable experience for all that walk through its doors. From realistic dinosaurs to giant bones to even fossilized poop, guests will have a dino-mite time exploring the exhibit.
4 Reasons to Explore Dinosaurs Unearthed
Hands-On Learning Experiences
The Academy truly understands the importance of hands-on learning. Like all their temporary exhibits, Dinosaurs Unearthed offers an immersive learning experience for all ages. This exhibit engages all the senses which allows kids to better comprehend a variety of scientific concepts. Throughout the exhibit guests will find various interactive stations to explore. Guests can push buttons to discover new facts, feel different textures of fossils and lift panels to answer trivia questions.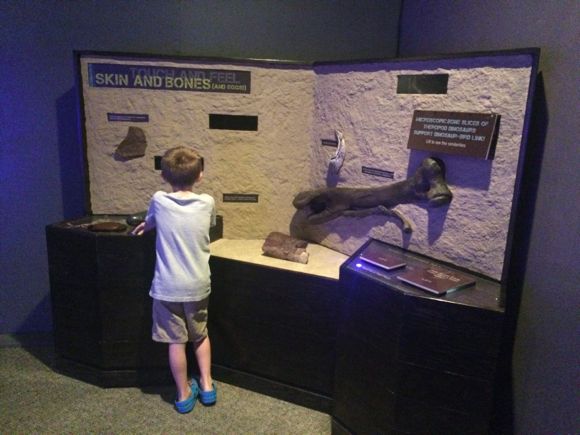 The coolest hands-on experiences, however, are the stations that allow guests to control the movements of animatronic dinosaurs. Visitors of Dinosaurs Unearthed will have the unique and exciting opportunity to push buttons which, in turn, move designated parts of Yangshuanosaurus (YANG-shoe-AHN-oh-SORE-us) and Protoceratops. Not only is it a great lesson in cause and effect, it also gives guests a realistic look at how dinosaurs would have moved millions of years ago.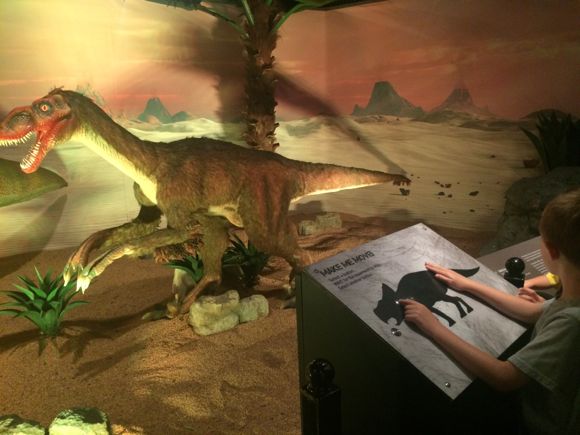 Fun with Technology
Throughout Dinosaurs Unearthed guests can delve into the world of technology to learn all about dinosaurs. Besides making the dinos move as described above, visitors can also play fun games and solve problems. The multi-touch table can keep kids entertained while they learn all about dinosaurs. Up to 4 people can play their own seek-and-find game at a time which makes it perfect for families. Players have to find dinosaurs on the screen with the help of various clues. It's a fun way to enhance visual scanning, visual-motor-integration and problem solving skills. Guests will also enjoy playing Dinosaur Detective, a touch screen quiz which builds general knowledge while enhancing critical thinking skills.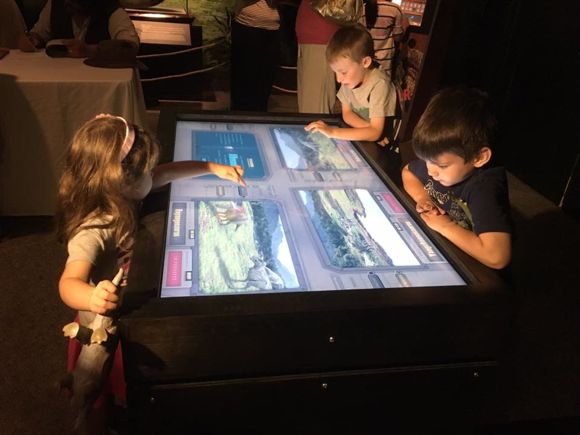 Focus On STEM/STEAM
Dinosaurs Unearthed takes guests on a journey into the world of STEM/STEAM learning. As you walk around, it is clear to see the perfect intertwining of science, technology, engineering, art and math. Visitors are introduced to various scientific concepts through the use of technology and engineering, and the incredible artistry is apparent in every dinosaur and display. Math is also incorporated into the exhibit as guests measure themselves against the massive size of the dinosaurs and their bones. Visitors can also take turns standing on a giant scale that compares their weight to that of a dinosaur.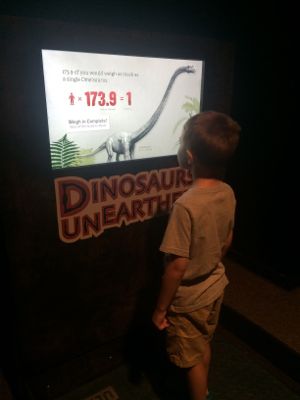 Sparks the Imagination
From the moment you enter Dinosaurs Unearthed, you begin to imagine what it would be like to live in the time of the dinosaurs. You think about how it would be to walk amongst these magnificent giants and how you could survive in their world. Kids begin to develop stories full of adventure which enhances their creative thinking skills and builds their vocabulary. What's even more fun is watching kids create stories together and build upon each other's ideas which is a wonderful way to boost social skills.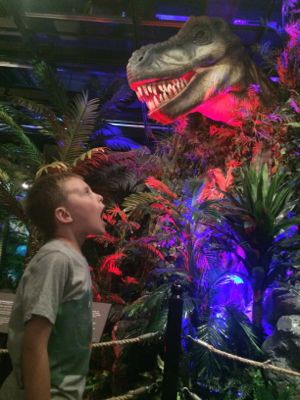 These are just a few of the reasons to check out Dinosaurs Unearthed at The Academy of Natural Sciences. It is definitely an exhibit you will want to experience again and again! Dinosaurs Unearthed is available through January 2017. Admission is required and tickets are an additional $7 for nonmembers/$4 for members (FREE for Partner Club members and above).
Want to WIN tickets? Enter our giveaway for 4 passes to Dinosaurs Unearthed HERE!
You may also enjoy:
Upcoming Events at The Academy of Natural Sciences
Go Behind the Scenes at The Academy of Natural Sciences