At Mommy University, we are big believers in finding the educational value in everything our children play with, participate in and watch. We love exploring museums, visiting zoos and traveling all over the country. We also play brain boosting games and take exciting classes. Our love of education is also present in the shows we let our children watch. Now, I am not going to lie and say they only watch educational programming (we are big fans of super hero movies after all), but when it comes time to sit on the couch and enjoy a show, we do our best to make sure the programming offers a fun and interactive learning experience!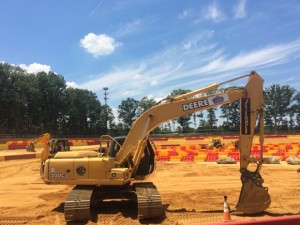 I was recently invited to one of our favorite NJ day trip destinations, Diggerland USA, to celebrate the launch of the new show on Sprout, Terrific Trucks. For those who do not know, Sprout is a 24-hour preschool network provided by NBCUniversal Cable Entertainment. It has a wonderful lineup of exclusive original programming including the addition of the soon-to-be summer hit, Terrific Trucks. This adorable show "vrooms" onto televisions everywhere on July 9, 2016 at 9am (ET). New episodes will air EVERY Saturday at 9am (ET) on Sprout.
Terrific Trucks takes children on an interactive and immersive journey where they are able to experience a day on a construction site. Filmed at a quarry just one hour outside of Toronto, Canada, Terrific Trucks uses real, live-action trucks to set the stage for their learning adventure. The only animation feature on the trucks is their expressive eyes which were designed by Zink Animation, Keyframe and Tangent. The show follows 5 fun-loving trucks, Tork (the dump truck), Dug (the digger), Sparky (the front end loader), Stotz (the semi) and Blinker (the scooper), as they work together to overcome obstacles and get the job done.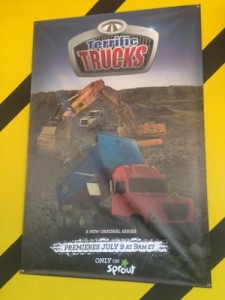 Each episode follows the crew on a their big jobs on the construction site. There is excitement around every turn as the Terrific Trucks have to work together to complete tasks and solve problems. I love how this show taps into real life lessons through a fun, light-hearted programming experience.
Learning Benefits of Watching Terrific Trucks
Increases the Understanding of Teamwork
Terrific Trucks is all about working together to make the construction site work safely and efficiently. Each truck needs to understand their role in the job at hand, and how their performance impacts the end result. While watching, kids learn the importance of working together towards a common goal. They learn what happens if one person (or truck) does not follow instructions and strays from the pack. Teamwork is an important life lesson needed to be successful in school and in life!
Sparks the Imagination
As kids watch Terrific Trucks, they begin to imagine what it would be like to be on a real construction site. They wonder which truck they would want to be and how they would solve each problem presented on the show. Kids will also begin to play with their own toy trucks to create their own construction sites and adventures. This enhances their creativity and story telling skills. As kids begin to emulate what they have seen in the show, they are building valuable educational and life skills!
Enhances Problem Solving Skills
In each episode of Terrific Trucks, the team has to solve some sort of problem or complete a job. While we watched the preview episode, I found myself asking my son what he would do to solve the problem. I was impressed with some of the ideas he came up with. This show gets kids thinking critically which builds cognitive skills.
Boosts Language Development
Terrific Trucks helps expand vocabulary as kids learn the names of various construction vehicles and what they do. Kids also learn a variety of descriptive words. While watching, you can ask your kids questions about the show and what they think will happen next. When the show is over, ask them to recap the episode. These are all wonderful ways to enhance language and comprehension skills.
We cannot wait for Terrific Trucks to premiere on Sprout on July 9, 2016 at 9am (ET). Get a sneak peek at the show now by downloading the Sprout Playground App!