Have you heard the joke that as parents you will make plans to hang out with your friends in 20 years? Sadly, for a lot of parents this is reality. Sometimes, we forget to take time out of the day for ourselves. We forget to ensure that we are getting the self-care we need to be mentally healthy. Part of advice often bestowed on parents is to make sure that there is time on your schedule for yourself which includes spending time with friends.
While Jessica and I hang out all the time with our kids, the focus tends to be on the kids. It is not surprising to have twenty conversations started with no end. In fact, we can start those conversations and after two sentences one of us is up and responding to a child. Thus, the invitation to join a painting class as guests of Bottle & Bottega seemed perfect to take time out of the day for ourselves.
Bottle & Bottega is located in Berkeley Heights boasting two large rooms that accommodate many classes and events. They host kids birthday parties, corporate team building events, special events and more; however, we enjoyed a Mimosa Morning paint class on a sunny Saturday morning.
Mommy University Presents
5 Reasons I LOVED Bottle & Bottega
Art Expression
I recently purchased an adult coloring book as well as colored pencils and made the commitment to sit at night and color quietly modeling behavior to my children. This, however, does not always happen as life can get in the way. Sitting at Bottle & Bottega, afforded me the opportunity to just play with paint and create. I was able to make time to tap into my creativity and express myself through art. I loved how this class allowed the students to use their own form of self-expression and unique style to create a piece of art.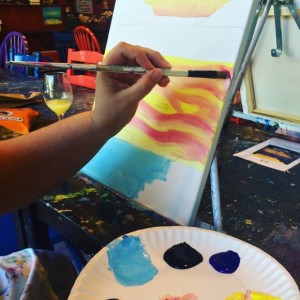 Time Without "Mom, Mom, Mom…"
Often times, my children don't just yell "Mom" rather it is a litany of that word repeated in non-stop repetition. For two glorious hours at Bottle & Bottega, I sat at a table and awkwardly painted. As music played that didn't originate from a Disney film, I was able to sit and enjoy time without hearing "Mom, Mom, Mom…" Quiet time or my art time-out meant eliminating the background noise of my kids which cleared my head to think, actually think, about other things.
Guided Art Instruction
The Morning Mimosa class has an art instructor who guides us along to create the painting. While she provides specific key lessons, it is the right balance of letting us know how to think about the painting while allowing us to experiment with the paints and brushes. She was also very patient which made the experience even more enjoyable.

Stepping Outside My Comfort Zone
I rarely get time to just enjoy using my hands for artistic expression and not typing on the computer. I experimented by mixing colors and dabbling with different brushes and used my brain to think in a way it is not accustomed. I am a computer geek by trade so physically creating art is not something I have done in a long time, and as much as I encourage my children to take risks, I need to as well.
Adult Time
At Bottle & Bottega, it is a BYOB (Bring Your own Bottle), and the Mimosa Mornings is perfect for some sparkling white wine and orange juice. My kids were the topic of discussion for two whole minutes and honestly that is okay. In fact, this is a perfect space to sit back, have a drink, paint and relax.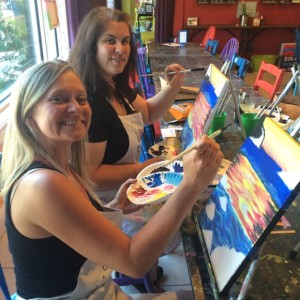 When the class was over, I was so proud of the work I had created and could not wait to bring it home. Sitting across from a patron who had visited four other classes, I can understand easily the attraction to attending the different classes. Whether it is painting a portrait of your pet, girls night out, or to celebrate a milestone, Bottle & Bottega has an artistic space that enables amateurs like me to feel inspired to paint again!
Bottle & Botttega is located at 472 Springfield Ave. Berkeley Heights, NJ.
In full disclosure, Mommy University received complimentary classes, Morning Mimosa, in exchange for an honest review.  The opinions expressed here belong to Mommy University.
You may also enjoy:
10 Ways to Recharge Your Parenting Battery