Get outside and get active this summer with some exciting brain boosting toys!
Kids learn so much by exploring the outdoors and having fun in nature. They engage all their senses and learn life lessons they can't get from staying inside all day. Sure, a good book is great for learning, but being actively engaged in the learning experience helps kids truly grasp concepts in all subject areas.
At Mommy University, we love toys that offer opportunities for learning through play. This spring and summer, we are really excited about all the toys that offer learning experiences OUTDOORS! After reviewing toys we have played with ourselves, learning about toys at Sweet Suite 2015 and Toy Fair NY 2016 and researching brain boosting toys available at your local stores (and Amazon), we have come up with a list we are sure you and your children will love! Although some toys have been provided to us for reviews, it was not required for them to be included in this guide. We included them because, well, they are awesome! (affiliate links are also included)
Outdoor Toy Guide 2016
PlaSmart Kick Flipper
The Kick Flipper is a plastic board almost 20 inches long that offers hours of fun AND learning! It is recommended for kids ages 5 and up; however, my 3-year-old also had a blast learning new moves. The kick flipper is a wonderful way to enhance several developmental skills such as motor planning, balance and coordination! You can purchase the Kick Flipper on Amazon for under $20. Read our review here.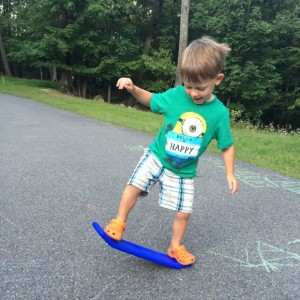 Backyard Safari Field Binocs
You can't explore the great outdoors without a good set of binoculars, right? Backyard Safari offers the Field Binocs that have 5 x 30 power optics and rubberized hand grips. The eye cups are also soft and flexible making it easier for kids to use for hours of adventures. The attached lanyard allows kids to wear their Binocs which decreases the chance of losing them. The Field Binocs are adjustable and waterproof making them perfect for any outdoor adventure. Whether it's in your backyard, campground or the park, these binoculars will allow kids to see nature in a whole new way! You can purchase your own Field Binocs on Amazon for under $15.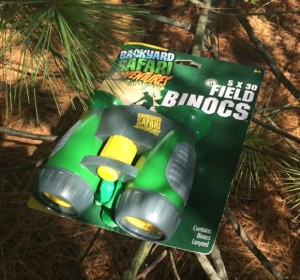 Little Tikes Giant Slide Bouncer
The Little Tikes Giant Slide Bouncer is perfect for children ages 3-8 years old. It comes with an easy to use heavy-duty blower, repair kit, stakes and storage bag. The bouncer is simple to set up in the backyard and does not take much time to get situated before inflating. The Little Tikes Giant Slide Bouncer is not only fun, it also offers many opportunities to develop important skills such as balance, coordination and motor planning. It can be purchased on Amazon or your local Toys R Us. You can also read our review here.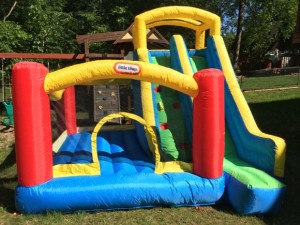 Dynacraft Tonka Mighty Dump Truck
This 12V ride-on truck immediately caught our eyes at Sweet Suite 2015. Not only was it well built, it also offers endless possibilities for learning through play. Kids can spend hours outside collecting rocks and dirt as they expand their knowledge about nature and science. They can also help mom and dad plant a garden by transporting dirt, vegetables and flowers. Social skills are also enhanced as kids need to take turns driving. The list goes on! The Mighty Dump Truck can be found at your local Toys R Us.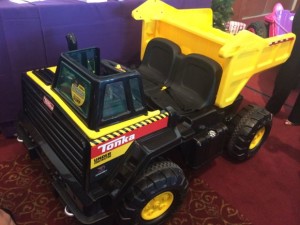 Air Hogs 360 Hoverblade
The durable and simple design of the 360 Hoverblade is great for children! It is described as an electronic boomerang because it can move in a circular pattern using the infrared remote control. This toy can be played with indoors but we have found the real fun takes place outside. It is the toy everyone will want this summer, and, with some practice, it can be maneuvered to do tricks with the pilot of the 360 Hoverblade. You can purchase the Hoverblade 360 on Amazon.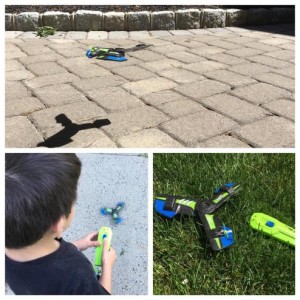 Backyard Safari Base Camp Shelter
This Base Camp is great for camping in your backyard or placing it next to your big tent in the woods. Base Camp Shelter comes with one shelter, one carry bag and 3 poles. It is a sturdy and weather resistant structure so kids can enjoy hours of outdoor fun and exploration. Inside the tent there are 4 expandable storage pockets where kids can store their additional gear like the Field Binocs mentioned above. There are also clips to hold a lantern to light up the shelter at night. The shelter is easy to assemble and made to withstand the elements. This set also comes with a Pop-Up Field Guide and collectible patch (Base Camp Expedition). The guide offers 5 Missions for Setting Up Base Camp which help kids develop different survival, academic and life skills. You can purchase your own base camp for under $50 on Amazon.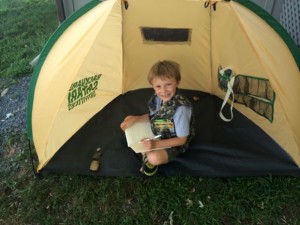 Little Kids Bubblin' Bucket
I have been a very big fan of Little Kids Inc. bubble buckets for a long time. Not only are they the perfect size for kids to carry, they also DON'T SPILL! You heard me correctly! If your little one drops it, throws it or dumps it over, none of the bubble solution comes out. The PAW Patrol version comes with 3 wands perfect for playing with siblings and friends. This bucket can also be purchased with other designs such as Dora, Sponge Bob and Ninja Turtles.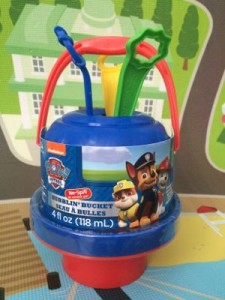 GeoSafari Wearable Glasses and Wrist Band
New to the geosafari line are the wearable glasses and wrist band. These STEM focused tools will help encourage kids to get outside and explore nature and learn more about the world around them. Kids will feel like real scientists as they collect samples and thoroughly examine them using the magnifiers and colored filters. Both products are made with soft, comfortable material allowing for hours of exploration and discovery.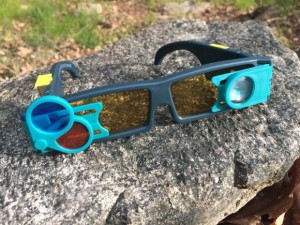 Crayola 3D Chalk
Crayola has released an amazing new product that will expand the artistic experience. The 3D chalk set comes with colorful chalk along with 3D glasses to encourage a new play of coloring, designing and creating. This fun new way to play opens kids eyes to new and unique ways of drawing which is the precursor to architecture and design.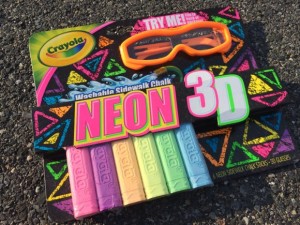 Yvolution Neon Street Rollers
This summer, turn your ordinary sneakers into something extraordinary with Neon Street Rollers. Just strap on the light up wheels for hours of fun. The rollers are made to fit most size sneakers (my son and I both wore them) and they are easily adjustable. As the wheels roll, the LEDs glow which adds to the excitement. Kids will have a great time while enhancing balance, coordination and motor planning! Yvolution Neon Street Rollers can be found at Walmart, Toys R Us and neonstreetrollers.com.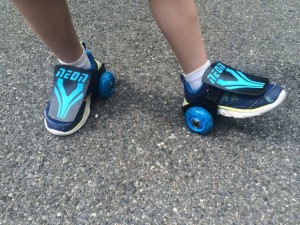 GeoSafari Jr. Subscope
No matter if you love the ocean or the lake, the Subscope will enable children to look underneath the water at 2x magnification. Since it is shaped like a submarine, don't be surprised if your children also engage in imaginative play. I think this would be perfect to see fish, shells and other sea creatures in the water. The Subscope is under $30 on Amazon!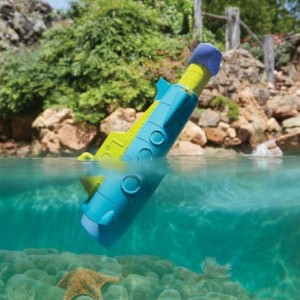 Step2 Kids Shoot and Sport Combo
Get the kids outside and active with the Step2 Shoot and Sport Combo set. It comes with both the Shootin' Hoops Pro Basketball and Kickback Soccer Goal and Pitch Back sets. Kids can play basketball, hockey and soccer with just one combo pack from Step2. While playing, children will enhance gross motor skills, motor planning, hand-eye coordination, balance and so much more! Enhance social skills too by inviting friends over to play a game or two. This set can be purchased on Amazon or the Step2 website.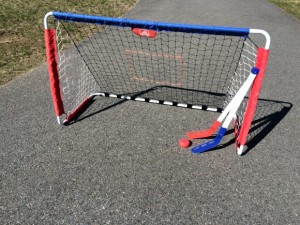 If you like this post, you might like: