Mommy University is so unbelievably excited to partner with Diggerland USA and SAMBULANCE. Located in West Berlin, NJ. Diggerland offers amazing opportunities for ALL kids to ride, play and learn. We are honored to be able to share with you their learning adventures all season long!
For those of us who have children with special needs, approaching any family vacation or special night out takes a bit more planning and consideration. My twins are on the autism spectrum and sometimes it can be challenging and overwhelming for them. But travel allows my children to take a step outside of their normally scheduled therapy and routines, helping them learn to adapt to a variety of situations outside the norm. It also allows these children to experience the same things that typical children get to experience, with those same ear to ear smiles of pure joy. I have never been a fan of keeping a special needs child from experiencing life just because the logistics might be more difficult.
Organizations like SAMBULANCE  help make family fun events even easier for families touched by special needs. SAMBULANCE keep individuals with special needs safe. They organize, promote and execute fabulous special needs events at various venues. These special events are judgment free and a great opportunity for children with special needs to have some fun with family and friends.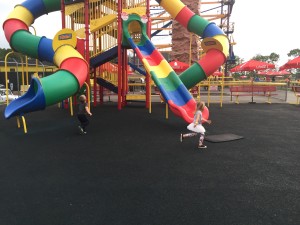 Recently, Mommy University attended SAND, Special Abilities Night at Diggerland, which was made possible by SAMBULANCE. Keeping their unique needs in mind, kids are able to play, explore and ride at Diggerland without judgement. Not only is this environment accepting and comfortable for kids, it alleviates a lot of the stress and anxiety often felt by parents when they spend a night out with their child who has unique challenges.
What is SAND?
SAND Events Feature the Following:
Limited Ticket Sales
Reduced Sensory Input from Lights and Noise
Free Ear Plugs Available Upon Request
Ride and Operational Accommodations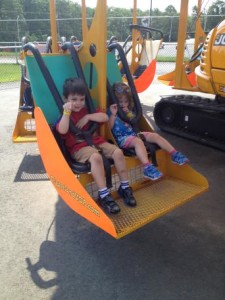 Mommy University Presents
4 Reasons You Will Love SAND
Less Crowds
We loved that tickets were limited which meant less crowds. Many adults and children with special needs are extra sensitive to sensory activities including sounds, crowds and social situations. For young children, being in busy environments can be too stimulating and, at times, overwhelming. During SAND, Diggerland USA offered a relaxing and less stressful experience for the entire family.
Making Connections
The staff from both Diggerland and SAMBULANCE were very friendly and helpful. Knowing the staff was there to assist and embrace my children made the experience less overwhelming and stressful. My family and I were also able to make some great connections with other families in attendance. It is so important to have a support network you can lean on, and SAND allowed us to expand our network.
Enhances Language Development
Many of the rides at Diggerland USA offer opportunities to enhance language development and social skills through play. Kids not only learn the names of amazing construction vehicles, they also learn to communicate with staff members and new friends. Langauge is also expanded as kids choose what they want to ride then discuss their experiences. Kids on the spectrum often struggle with language development so this opportunity to build skills in this area is wonderful
Builds Independence
During SAND, my son had the chance to control some of the big machines at Diggerland USA which gave him a sense of independence. This also helped enhance his self-confidence and self-esteem. When a child is more confident, they are more willing to engage and participate. This helps build skills in all areas which is very important for kids with special needs.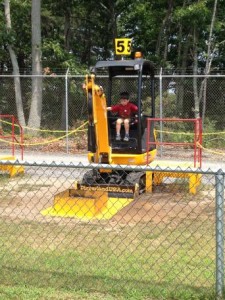 Admission to SAND is only $17.95/ticket, but make sure you purchase tickets early as they are limited. The next SAND event is April 28, 2017 5pm-8pm. You may also enjoy SEAS, Special Evenings at Sam's. In addition, Diggerland USA offers SAND birthday party options allowing for a fun and stress-free birthday experience!
Diggerland USA is open March 19, 2016 through November 27, 2016. All ages are welcome, but you must be at least 36 inches tall to ride the construction vehicles. For some rides, you must be 42 inches tall. Don't worry though, there is still plenty for the little ones to explore such as The KidZone, arcade and the Barrel Train. Families can also enjoy thrilling Stunt Shows throughout the day.
*In full disclosure, we were provided tickets by SAMBULANCE to attend a special needs night at Diggerland in exchange for our honest review.
You may also enjoy:
Upcoming Events at Diggerland USA
5 Things You Will Learn to Do at Diggerland This Year