Dinosaurs may not have walked the earth for millions of years but they have been a passionate interest for many especially children. These massive prehistoric creatures have been re-imagined in film for years, and now at Field Station: Dinosaurs they have come alive in front of us. As guests invited to attend a media day, we were able to take a walk with dinosaurs. After a short car ride to Overpeck County Park in Bergen County, we were ready for our adventure.
Field Station: Dinosaurs has over 30 animatronic dinosaurs spread throughout an open space peppered with different tents that offer various hands on learning opportunities. Throughout the day, there are scheduled shows that are engaging yet informative as well as the opportunity to watch a short movie of Walking With Dinosaurs in 3D. While the photo opportunities are numerous, the combination of imaginative play and academic information is what will really appeal to your family and friends.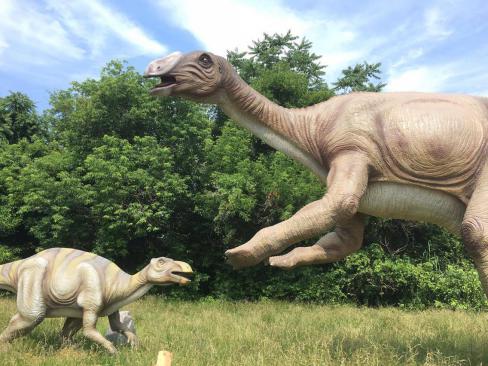 Mommy University Presents
5 Benefits of Visiting Field Station: Dinosaurs
Incorporates Sensory Learning
At Field Station: Dinosaurs, there are sensory opportunities throughout the entire site. We stopped off at the North Tent for the new "All About Raptors" show where my son was able to touch fossils. The tactile feedback helps him to understand concrete academic concepts. The primary location, however, for sensory play will take place at the Fossil Dig as children are provided with tools and encouraged to find dinosaur fossils. While the shovels may be plastic, this activity invites children to use their imagination as they re-enact what paleontologists do.
Promotes Academic Learning
Field Station: Dinosaurs is overflowing with academic information. Everywhere your feet take you, you will be facing a dinosaur but you will also have immediate access to information. Each dinosaur has a personal billboard informing you about where they lived, facts about their body, and how to pronounce their name.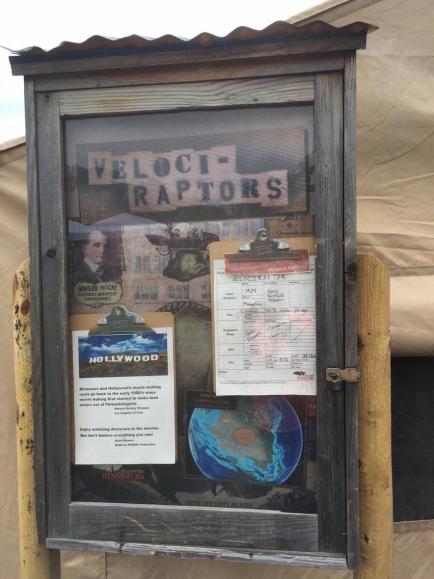 Spread throughout the space are tents that are designed for specific information, and we had the pleasure of visiting each one this trip. For example we stopped by the Camping tent to learn how to make a campfire (as well as baking cookies by fire). We also visited the Scavenger Hunt and Paleontologist tents.  At each tent, there is not only small bites of information related to dinosaurs but also to science, nature and promoting academic knowledge.
Having visited Field Station: Dinosaurs for three years, I am always impressed with the diverse shows that are available to visitors. In fact, they boast over 40 shows! Upon entering, grab a program to determine your schedule. Last year we had the pleasure of participating in the "T. Rex Games" as well as watching the "Feeding Frenzy." This year, we indulged in the "Dinosaur Nursery" available in the air-conditioned Commander's Tent. My children were able to play with in the mini dig site as well as meet a baby Hadrosaurus while I was able to sit down and relax.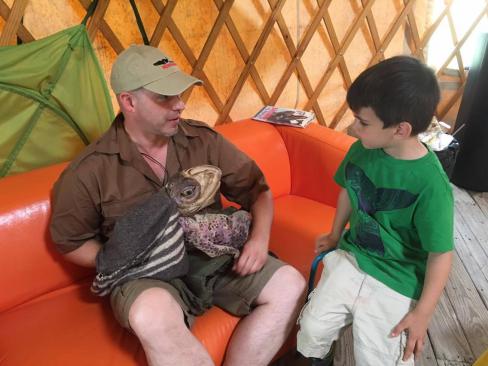 Encourages Art Appreciation
Within the amphitheater is the popular "Feeding Frenzy" that has a T. Rex puppet! While we missed it this year, I strongly recommend seeing this program because it is highly interactive. What we did attend, however, was the "Dinosaur Dance Party" hosted by the Dinosaur Troubadour. Learning dance moves to songs about dinosaurs was a lot of fun even when my kids sang one of the songs on the car ride home.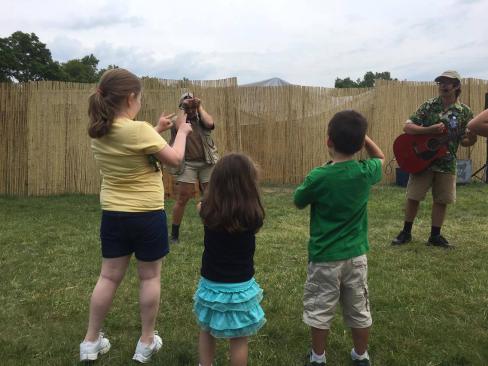 Since Field Station: Dinosaurs are passionate about teaching us about dinosaurs they incorporate music as well as art. The Family Tent has different activities throughout the day that appeal to the child who leans towards artistic expression. When we stopped in, there were coloring sheets, origami and other activities.
Provides Hands-On Learning
We purchased the upgrade to the Paleontologist's Laboratory, where my children used their imaginations to dig for fossils. With a chisel in one hand and a brush in the other, they had to chip away to find seashells and fossils. This activity not only encourages them to use their imagination but it also promotes the development of fine motor skills and visual-spatial awareness.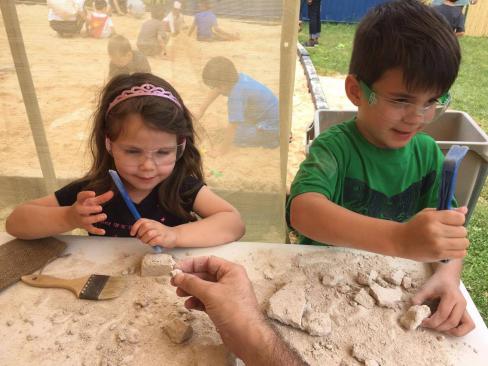 Another hands-on experience takes place in one of the tents that invites children to sift through dirt and sand to locate various fossils. At first, it may appear like dirt but upon closer inspection and with the use of the guide, children are able to find teeth and seashells. This is a wonderful hands-on activity that encourages them to look in more detail at the world.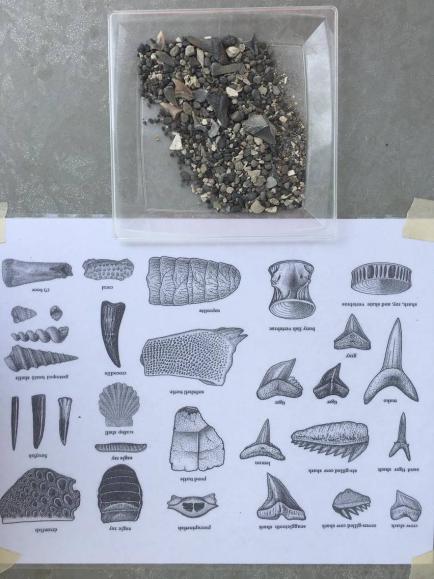 Encourages our Imagination
Once you walk through Field Station: Dinosaurs, there is one clear message which is that you are being invited to use your imagination. Step into this breathtaking site and there is a Triceratops or Apatosaurus that welcomes you to imagine yourself among the prehistoric creatures. At each station, a dinosaur bridges academic information with a physical interpretation that invites you to imagine the past. Children can envision themselves as paleontologists, scientists, or artists as they walk through each location. And the best part? Field Station doesn't just inspire children to use their imagination it also encourages adults as well. When you go to visit stop and become part of the story!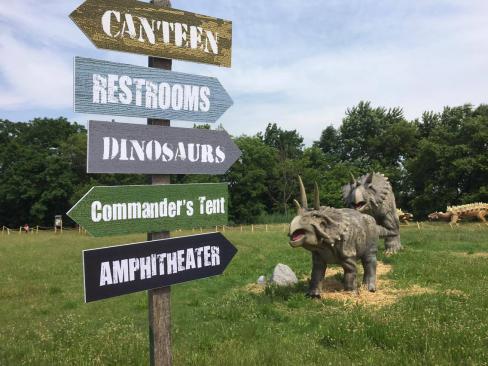 Field Station: Dinosaurs is located at 40 Fort Lee Rd, Leonia, NJ 07605
The park is open rain or shine from 10am – 6pm on the following days:
May 29 through June 26, Saturdays and Sundays only
June 28 through September 4, Tuesday through Sunday
Labor Day, Monday, September 5
Admission costs are a day pass for 2 years and older is $15; however, other options are available that include upgrades like the 3D Walking with Dinosaurs and access to the Commander's Tent. We highly encourage you to sign up their newsletter as special promotions have been known to be offered in the newsletter.
*In full disclosure, Mommy University received tickets to Field Station: Dinosaurs in exchange for our review. The opinions expressed are honest and belong to Mommy University.