We are so excited to partner with Peaceable Kingdom to bring you their brain boosting games.
Friends and Neighbors: The Helping Game from Peaceable Kingdom is a wonderful board game that helps kids learn and expand upon important social and emotional skills. While playing, kids learn about empathy, compassion and cooperation. This game offers great opportunities for parents to help their children recognize feelings in others and help others in need. Friends and Neighbors is considered a cooperative game as opposed to a more traditional competitive game which is another reason to love it!
What is a cooperative game?
Cooperative games are Mommy University's favorite genres of board games as it is fantastic for families! Rather than having winners and losers, in a cooperative board game, the players have to work together towards a common goal. It is a great way to build an understanding of teamwork and enhance problem-solving skills all while having a blast playing a game together as a family.
How to play?
Each player has a turn to reach into the helping bag and pull out a token. If it can help someone on the game board, it can be placed on the matching picture. Then it's the next player's turn. Can't find a picture that matches your token? Just flip the coin over and place it on one of the stop sign numbers. Turn after turn, all the players must think together to match up all the tokens with their matching images. Match one with all nine pictures and you all win!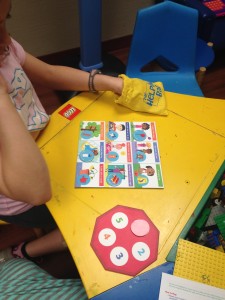 At Mommy University, we love games that help kids learn and grow. We often focus on games the promote problem solving, fine motor development and visual-spatial skills, but with Friends and Neighbors, we are delving into something a little deeper, emotions. This game offers wonderful opportunities for kids to enhance their social skills and understanding of emotions. It is a form of social stories that lets kids be engaged and have fun!
Mommy University Presents
3 Benefits of Playing Friends and Neighbors
Encourages Empathy
Friends and Neighbors is a great game for children to learn how to recognize and name emotions. It provides a building block for children to understand and develop empathy. Kids who are in tune with other kids' emotions are off to a great start. They earn the trust of their peers and develop meaningful and lasting friendships. This is often difficult for children with developmental delays such as those on the autism spectrum. Friends and Neighbors is a wonderful tool for not only families but social workers and speech therapists to help kids understand important emotions.
Enhances Self Esteem
It's very important for a child to feel good about themselves. While playing the Friends and Neighbors game kids learn to focus on playing, not competing. Players have to work together and help each other in order to be successful. Each time a child can match a token, they feel success which leads to increased self-confidence and self-esteem. In addition, being aware of emotions helps kids build friendships which, in turn, leads to increased self-esteem.
Introduces Shared Decision Making
While playing, kids work together as a team against a common obstacle, not against each other. Using the helping bag, players work together to find a solution to the situation. This teaches kids how to listen to other people's ideas, suggestions and opinions. It allows kids to build trust in each other and make decisions as a group.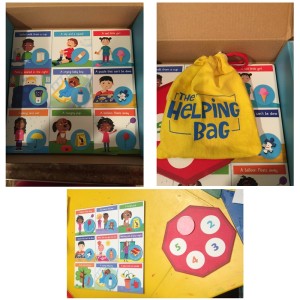 Friends and Neighbors: The Helping Game includes 4 game boards, 14 tokens, 1 Helping Bag, 1 Stop Sign board, parent guide and Friends and Neighbors book. The boards are colorful and easy to understand making the game more engaging and easy to follow. The game can be played with 1-4 people and is recommended for children ages 3 and up. The game is quick making it perfect for young children. It can also be played over and over with different outcomes which allows for even more learning!
Friends and Neighbors can purchased using our Amazon affiliate link.
* In full disclosure, we received this game in exchange for our honest review.