As the end of the school year approaches, one of the outdoor experiences that remind me summer is finally on our front step is the outdoor movies at Kip's Castle (Verona) which kicks off on Fridays in June. Since the movie cannot begin until it is dark, there is always a time span between finding the perfect spot to watch the film and the movie actually starting which means it is time for the kids to play!
At Mommy University, we are always thinking about incorporating learning and improving developmental skills into everything we do with our kids, which is why we bring fun toys that the kids love while they wait for the outdoor movie to begin. Here are a few of our suggestions! (We have included Amazon affiliate links to make purchasing and planning faster and easier.)
Mommy University Presents
Five Brain Boosting Activities for Outdoor Movies
Bubbles
As our children, ranging in ages 2-7, played with bubbles an 18 month old approached us to watch. Children love bubbles and there are so many great developmental benefits. Playing with bubbles at an outdoor movie is an invitation for play as other kids can join the fun. This helps build social skills and social awareness. One of my favorite thing about bubbles is watching the kids jump up to pop them as this builds visual scanning and tracking skills. We suggest getting the no-spill bubbles from Little Kids Inc. as they will make for much cleaner play experience!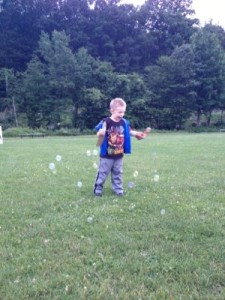 Soccer
Last year, a shy boy asked my son to kick a soccer ball around with him. After a few minutes, a dozen kids were kicking the ball around the grass. Not only does soccer offer wonderful opportunities for students to develop coordination and balance, but this example is great to demonstrate how it is also a good invitation for children to socialize.
Glow Sticks
Readily available in many stores, glow sticks offer sufficient opportunities for children to have fun while encouraging developmental growth. Glow sticks can be used to set up a bowling alley when they are placed in empty water bottles to make t-pins and the soccer ball can be a bowling ball. You can also challenge your children by using glow stick bracelets to throw around a stick or rock they find. Each of these examples helps improve motor skills as well as spatial awareness. Lastly, glow sticks are visually stimulating to wave around when it's dark which offers a sensory learning experience as well.
Binoculars and/or Magnifying Glass
Binoculars are great for observing nature as are magnifying glasses. While our kids have both in a travel bag, each has their own benefit. Magnifying glasses work great for looking at plants and insects up close while binoculars are perfect to see birds or even bats! We recently tried out new glasses from Geosafari which allows kids to magnify objects as well as see them in different colors. These are perfect for a pre-movie adventure!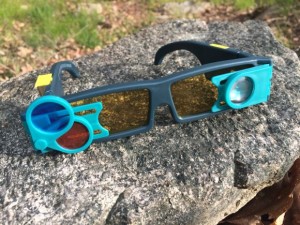 Bug Catcher
Equip a child with a bug catcher to capture little critters like fireflies, butterflies, ants, and, yes my least favorite, spiders. Children are naturally curious so they will love this activity. Review the rules for catching the animals such as letting them go before the end of the night. We practice a lot of observation without bothering or interfering with nature. Watching the bugs exist feeds your child's curiosity. Bug catchers come in a wide variety of styles and sizes. You can even get crafty and make your own!
You don't have to load up on games, puzzles, and supplies to keep the kids entertained before an outdoor movie. Being outside, interacting with nature and their surroundings is stimulating. The suggestions here are small and light. Grab a blanket, a bottle of water, and one of the items above. At Mommy University, you will find that we are usually equipped with a few of these!
You may also enjoy:
Unique Outdoor Summer Movie Experiences