Pirasta gives kids permission to color on the wall!
My family has multicultural roots with most of our extended family being separated by the Atlantic Ocean and living on an island. While most of my relatives live in Puerto Rico, my husband's family lives in England. We share a love of travel and even compete with each other as to who has visited the most interesting places! My husband may have lived in Singapore for a few years, but he has not traveled in a boat in the rainforest of Costa Rica and thus our competition continues. Part of our family philosophy is to encourage our children to travel in the United States as well as the remainder of the world.
"What a Colorful World" is a massive illustration of the world with images that reflect icons as well as cultural markers from specific locations. The illustration is sold as a coloring sheet in two formats by Pirasta. The first type is the Really Big Coloring Poster, and by really big they do mean BIG! It measures 63" x 36" which means that it can be rolled onto the floor or table or, my favorite option, which is to tape it on the wall.
The second option is Really Cool Coloring Sheets which consists of 20 coloring sheets that can be assembled to make the oversized poster measuring 70" x 40". The poster and sheets are printed with vegetable ink on recycled content paper and each has a reason I love them. Overall, the Pirasta products encourage and invite children to play.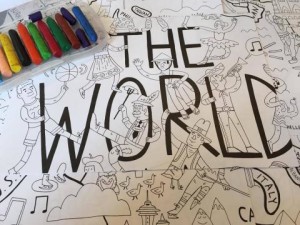 Mommy University Presents
5 Benefits of Pirasta Really Big Coloring Poster
Encourages Artistic Ability
By placing the Really Big Coloring Poster on the wall in between my children's rooms with a container filled with crayons, my children accepted the invitation to color. My daughter began to quickly fill in bright colors seeing the world through a rainbow. My son, who is reluctant to color, happily colored the Taj Mahal purple. By placing on the wall, the coloring that takes place is helping to building their muscles and frees them from the rules! It gives them permission to color on the wall.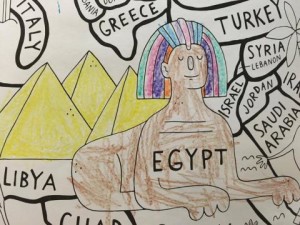 Encourages Collaboration
Since the Really Big Poster is enormous, it allows two or three people to color on it at the same time. My children have been content sharing this space to color and have articulated statements on how they will color it together. What parent wouldn't want something that gets their kids to cooperate and work together?
Encourages Conversations
When my son's Master in Tae Kwon Do went back to Korea, we explored where Korea is on the wall. The night we said goodbye to him, we colored South Korea and the surrounding images. We looked up photos of South Korea on the internet including the map and geography. A few days later, I overheard my son as he stopped to look at South Korea and mention that he missed him. My son is developing a better understanding of the world.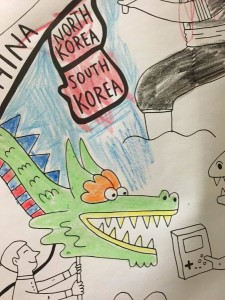 Encourages Academic Learning
Attracted to castles, the Kremlin captured my daughter's attention pretty quickly. My children have little exposure to Russian culture and history. We let my daughter use whatever colors she wanted and then showed the kids photos of the Kremlin. These type of exchanges have happened a few times. In fact, it is a strong reason I have enjoyed the Pirasta products. There are times I haven't known the answer, so we have all investigated the image represented to find the answer which means not only are my kids learning but so are we.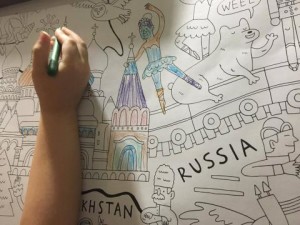 Encourages Getting Unplugged
We have had our poster up for two weeks and each day the poster gets a new image colored in. Each day an animal or landmark now pops up with vibrant color. My kids can be found in the morning filling in a country instead of asking me to watch TV or play with the iPad. It is why I found my husband coloring in the image of a Beefeater in the UK and the reason I keep coloring different animals because it is time to actually enjoy the moment and be creative.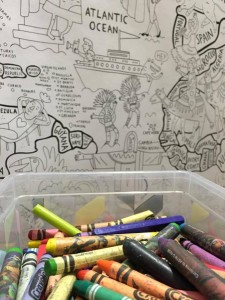 While the Really Big Coloring Poster offers all these benefits, so does the Really Cool Coloring Sheets. We are still coloring in the Really Big Coloring Poster but due to its massive size we couldn't complete coloring the entire poster in time for the publication of this review. With that said, the Really Big Coloring Poster may be occupying a wall in our home this summer since it is a popular past time in our household. Pirasta Really Big Poster can be purchased on Amazon for$32.
Mommy University received the Really Big Coloring Poster and Really Cool Coloring Sheets from Pirasta at no cost.  The opinions expressed are honest and belong to Mommy University.
You may also enjoy: