We are so unbelievably excited to partner with the Liberty Science Center. We were invited for a day of exploration and discovery which we cannot wait to share with you!
One of our favorite places to visit as a family is the Liberty Science Center. Located in Jersey City, NJ, LSC offers endless opportunities for kids (and adults) to explore, play and learn. From creepy crawly critters, sea creatures and turtles to giant building blocks to exciting climbing structures, there is something for everyone to enjoy at LSC. Each time we visit there is something new and exciting to discover!
The Liberty Science Center offers learning adventures for all ages which is one the reasons it is so perfect for families, field trips and camps. In this article, however, I am excited to share my favorite preschool experiences at LSC. For kids ages 3-5 years old, LSC is the ultimate playground. There are so many places for these little ones to explore and discover. Preschoolers will love climbing to new heights, creating imaginary worlds and meeting new animals.
5 Hands-On Learning Experiences at LSC for Preschoolers
I Explore
My 4-year old's favorite place to explore at the Liberty Science Center is I Explore. Designed for kids ages 3-5 (with parental supervision), I Explore offers never-ending hands-on learning fun. This space is designed perfectly for preschoolers as kids can bounce from one activity to another in one confined area. Kids will engage all their senses as they learn through play in I Explore. Preschoolers can choose from a large rice sensory bin, a giant light bright, a rock xylophone, 2-story ball machine, test track, air maze and much more! It's the perfect space to encourage a child's natural curiosity and need to explore, observe and learn.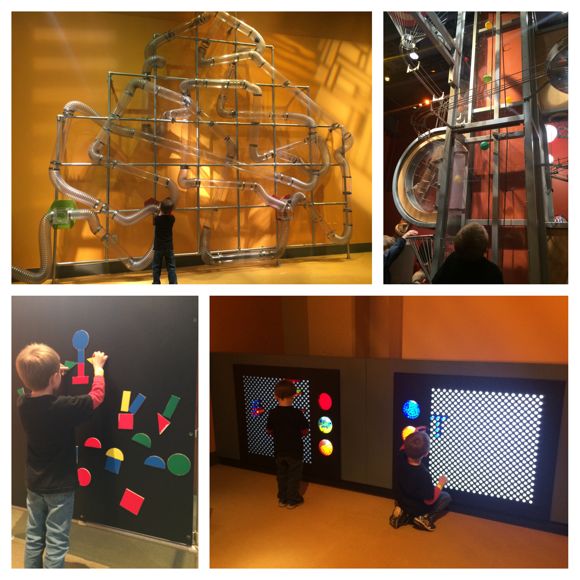 I Explore also offers several special events/activities kids can participate in throughout the day. My boys really enjoyed the We Explore program where they learned all about birds and even got to draw their own. They also enjoyed Kids Construction during which giant waffle blocks were taken out for the kids to build with. Also available twice a day is story time which offers an interactive learning experience in a small group setting.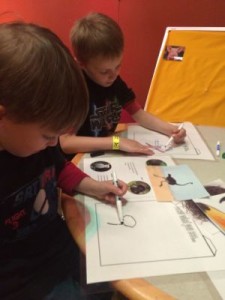 Animal Encounter
Twice a day at the Eat and Be Eaten exhibit on the 3rd floor families can get up close and personal with some LSC residents. The live animal encounters allow preschoolers to not only see but also touch animals such as turtles and snakes. Presenters teach kids all about the animals as well as answer any questions the children may have. This fun hands-on program is perfect for your little scientist.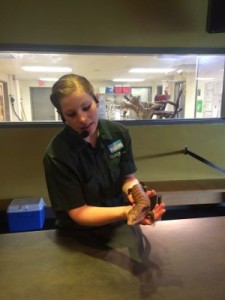 Climbing Walls
The Liberty Science Center offers fun ways to build gross and fine motor skills. Although preschoolers may not be tall enough for the Infinity Climber, there are certainly plenty of other places for them to climb. Inside I Explore, kids can enjoy a climbing structure that allows them to feel what it is like to be a rat or hamster in a cage. On the 3rd floor, as part of the Wonder Why exhibit, kids will love making their way across the climbing wall which tests their balance and coordination. Then at Action Zone, kids can test their speed and agility as they climb a moving climbing wall. The speed of the wall can be adjusted based on the child's skill and ability making it a fun experience for all levels.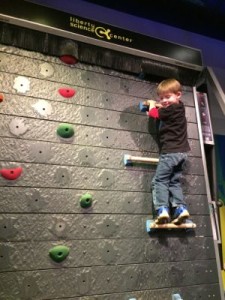 Exploration Station
Located on the 4th floor within Our Hudson Home is Exploration Station. Kids are invited to conduct hands-on experiments which can vary each time you visit. When we visited for the Halloween Camp-In, we sifted through sand to find fossils. During our most recent trip, my son and I did a fun water experiment where we learned all about how estuaries are made. The experiments offer a real hands-on approach to learning that help kids truly grasp different scientific concepts. Although the experiments are fairly simple, parental help is needed especially for preschoolers.
Build, Create, Play
The Liberty Science Center offers fun spaces for kids to build which enhances fine motor, visual-spatial and visual-motor integration skills. As mentioned above, the Kids Construction program within I Explore allows kids to build with waffle blocks, wooden trains and foam shapes. Another great space to build is the Skyscraper exhibit. The little ones are too small to literally climb the rafters in this exhibit but they can build, create and play with foam building blocks. Kids are invited to enhance their understanding of architecture and design by using the different shapes to create their own buildings and cities.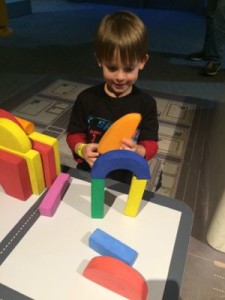 As you can see, there are so many places for preschoolers to explore, play and learn at LSC! Imagine what your family can discover on your next trip! Liberty Science Center is open Monday-Friday 9am-4pm and Saturday-Sunday 9am-5:30pm. To learn more about LSC and to plan your next trip, visit their website.
You many also enjoy:
10 Benefits of Visiting a Museum
10 Brain Boosting Rainy Day Adventures