While New Jersey may have it's own pop culture references and identity, we are often times overlooked for the historical significance that this state has played in the United States. For example, we are the birthplace to one President and another was Governor of New Jersey before he became the role of POTUS. At Mommy University, we are continuously fascinated by what interests our children and recently this has started to take root in history. New Jersey may be known for the shore, taylor ham, and other accomplishments, but we also have ties to the Presidents of the United States.
Mommy University Presents
10 Places to Learn About Presidents
Grover Cleveland House, Caldwell
The only President born in New Jersey is Grover Cleveland. His home is located on Bloomfield Avenue in Caldwell. The house was preserved as Grover was ascending in political power and it opened its doors to the public in 1913. There are self-guided tours available as children can develop an insight into his childhood. As well, there are props that mirror that time period so make sure to bring your camera. Each year on July 4th, the doors open to the public to celebrate the birth of our nation with free ice cream.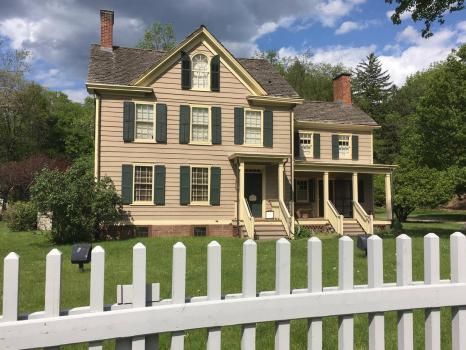 The Hermitage Museum, Ho-Ho-Kus
A National Landmark located in Ho-Ho-Kus, the Hermitage, was visited by General George Washington during the Revolutionary War which is only one of the many reasons this building made our list. Throughout the week you can take a guided tour and learn more about the rich history of this location. Educational programs are available for field trips and groups, and children will enjoy the opportunity to dress up and learn about taking steps back in history.
Princeton University, Princeton
Before becoming President in 1913, Woodrow Wilson had a long history in New Jersey. He rose to prominence when he was elected to Governor of New Jersey in 1911. His historical ties to the Garden State are not strongly identifiable, maybe because he was not a New Jersey native. Where his name has the strongest presence is on the Princeton University campus due to his role as President of the institution. The Woodrow Wilson School of Public and International Affairs is a professional public policy school that has recently been voted to maintain its name at the university.
Jockey Hollow, Morristown
In 1779, George Washington and his troops spent one of the coldest winters in Jockey Hollow. The National Park holds rich history that not only has ties to our first President but also to the Revolutionary War. This massive space offers families not only opportunities to learn about history through reenactments but also through walking in The Wick House as well as a wonderful place for hikes, bird watching and biking.
Fort Lee Historic Park, Fort Lee
George Washington, the first President of our country, made an impression when he was a General during the Revolutionary War. Within New Jersey, there are a significant number of opportunities to learn about history of our country as it gained independence, and the Fort Lee Historic Park offers a reenactment of a camp in the Revolutionary War. In addition to living history programs and guided hikes, there are special events where children watch reenactments in taverns, lectures, and weekend camps.
Woodrow Wilson Hall, Monmouth University
The administrative offices are housed in Wilson Hall which most might recognize as the stunning home of Daddy Warbucks in the film Annie. However, this was also known as the Summer White House as it was loaned to Wilson during the presidential campaign of 1916. The stunning example of architecture has been featured in magazines but students of Monmouth University still take classes in this building.
Ford Mansion and Washington Headquarter's Museum, Morristown
As part of the National Park Service, Ford Mansion is well-known for the historical ties to George Washington's headquarters from December 1779 to June 1780 during the Revolutionary War. Tours are offered where you can learn about Washington and his time at this historical building. Space is limited to only twenty visitors per tour so it is recommended to purchase tickets at Washington's Headquarter's Museum.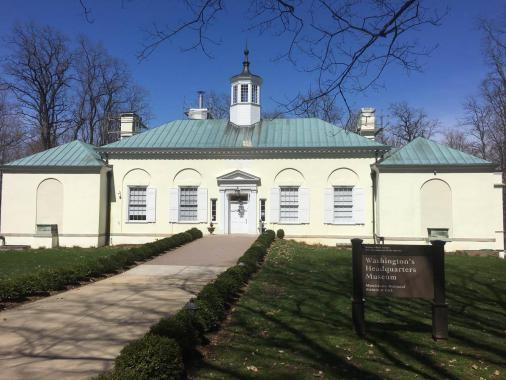 Battlefield in Monmouth, Manalapan
Walk on the historic grounds where the Battle of Monmouth took place as George Washington led the troops. Filled with trails and opportunities to observe wildlife, this space is known to come alive during its annual reenactment of the Battle of Monmouth. You can also stop by the visitor center to learn more about this historical place.
Monmouth County Historical Association, Freehold
While the Monmouth County Historical Association has amassed a collection of over 3,000 items that provide us insight into colonial life, it also boasts paintings of the Battle of Monmouth which include Washington as well as objects and artifacts related to this historic battle. The Discovery Room offers children hands on learning where they can try on costumes from the past, play with toys from that time period as well as card wool.
Van Allen House, Oakland
Built in 1740, the Van Allen house served as headquarters for George Washington on July 4, 1777.  He was relocating troops from Morristown to New York. This building was later used as a court. Now, the Van Allen House is maintained as a museum displaying colonial Dutch Life.
Bonus: Washington Crossing, PA
Located across the Delaware in Buck's County, Pennsylvania, Washington Crossing is overflowing with historical richness.  Dedicated to preserving our national history, they host an annual reenactment of Washington crossing the Delaware on Christmas Day. There are historical buildings which reflect the time period of the Revolutionary War as well as a Visitor Center to offer you insight into all the possibilities of this unique location.  There is always something happening at Washington Crossing.
If you like this post, you might like: