It was an honor to be invited to the opening weekend of How I Became a Pirate at The Growing Stage in Netcong, NJ. We are very proud to partner with this amazing organization that brings the love of the performing arts to individuals of all ages.
Every time my family and I see a play, we always talk about our favorite part. This helps spark conversations but it also helps enhance memory and expand comprehension skills. My kids usually have one favorite part to talk about. This weekend, however, after seeing How I Became a Pirate at The Growing Stage, it was hard to just choose one favorite part as we were in love with the entire show!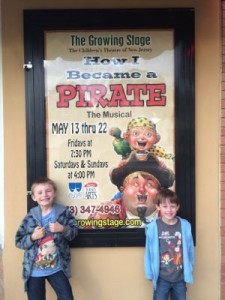 How I Became a Pirate is a swashbuckling adventure the entire family will love. It is a show full of heart, imagination and humor. Audience members are taken on a journey with Jeremy Jacob (played by Chris Morrissey) as he fulfills his dream of being a pirate. After encountering 5 pirates as they come ashore, Jeremy takes to the high seas and becomes part of their pirate crew. During his adventure, Jeremy learns all the rules of being a pirate from not brushing his teeth to sleeping with one eye open to never using soap. Jeremy even learns how to talk like a pirate! Jeremy also teaches the pirates a few things along the way like how to play soccer. In the end, Jeremy learns that although a pirate adventure is exciting, home is where he really belongs.
From start to finish, we were engaged and entertained. The cast was so animated and enthusiastic that I found myself (and my kids) smiling from ear to ear throughout the entire production. Not only did I have a constant grim plastered across my face, I also found myself belly laughing for much of the production. How I Become a Pirate was one the funniest shows I have seen. What I appreciated was that humor was for all levels. My kids laughed at many scenes that kids would find amusing while there were also jokes where the adult audience members chuckled as my kids asked, "What was so funny?" It was the perfect combination of adult and child humor that kept the entire family entertained.
Like all of The Growing Stage productions I have had the pleasure of seeing, I was thoroughly impressed with all aspects of this show. I loved the whimsy and creativity displayed in the set as well as the authentic look of the costumes. From the boots to the hats to the blackened teeth, the characters truly looked like pirates. They were so believable that my kids actually asked, "Are those real pirates?" They even became slightly afraid when one pirate gave them the "evil eye." The authenticity made for a wonderful connection between the cast and the audience members.
What I really loved about this production were the wonderful themes. Although Jeremy is intrigued by pirates and longs to be one, he realizes that home is where his heart is. It is a wonderful lesson in the importance of family and friends. It is also an endearing look into the life and mind of a child. It took me back to when I was a kid and longed to be somewhere else just to realize I really wanted to be home with my parents. As an adult, I still long for time with my mom, and I savor every moment my children want to be with me.
Another wonderful theme in this show is the power of imagination. The show starts with Jeremy engaging in pretend play on the beach. He has such enthusiasm and excitement while playing that I could see my children immediately relating to him. It also helped that he was playing with a Jake and the Neverland Pirates toy. Throughout the show, audience members can't help but imagine what it would be like if they were a pirate too!
How I Became a Pirate is based on the book by Melinda Long. The book, music and lyrics to this lighthearted show are from the amazing Janet Yates and Mark Friedman. The Growing Stage interpretation of How I Became a Pirate was directed by the very talented and veteran Growing Stage actor, Danny Campos. This phenomenal show is open Friday, Saturday and Sunday, May 13-22. Tickets are only $15 on Fridays, and on Saturday and Sunday tickets are $25/adult and $20/child. Visit The Growing Stage website to purchase tickets and to learn more about this historic theatre!