My family absolutely LOVES vacationing in Walt Disney World. When we visit, we try to take in everything Disney has to offer, not just the parks. When planning your next Disney vacation, don't forget to leave room for adventures outside the parks. We all know how amazing the four parks (plus the water parks) are but there are so many magical experiences right outside your hotel room that you can't miss! When we visit Disney as a family, we try to do at least one new activity that does not involve visiting a park. To help you plan your next trip, I put together a list of fun activities your family will LOVE!
Magical Disney Experiences Outside the Parks
Mini Golf
If you haven't tried mini golf at Walt Disney World yet, then make sure it is on your to-do list for your next trip. There are 2 mini golf locations at Disney World, Winter Summerland and Fantasia Gardens and Fairways. Both offer a fun and exciting experience for the entire family. Each mini golf location offers two 18-hole courses full of Disney magic, imagination and whimsy. Plus, don't forget that playing mini golf helps improve motor skills, boosts visual-spatial awareness and encourages focus and attention.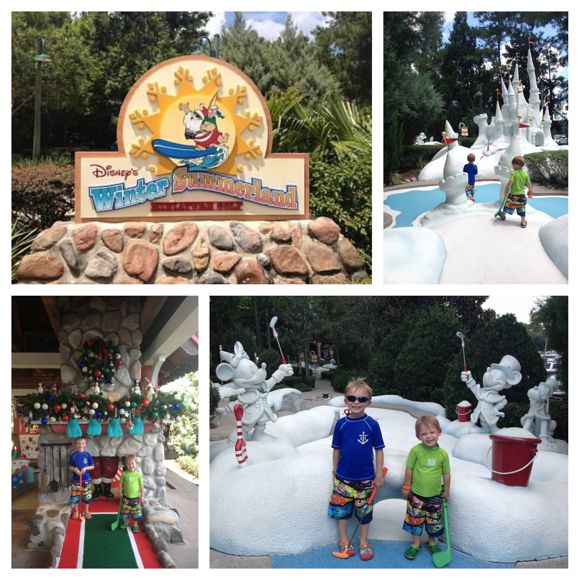 Watch a Magic Show
For those who don't know, right in front of The Boardwalk Resort is an actual boardwalk. Talking a stroll on the boardwalk is a fun experience for the entire family. Although we love the boardwalk games and the great view of fireworks from Epcot and Hollywood Studios, what we really love are the magic shows. Throughout the night magicians will perform on the boardwalk. From card tricks to disappearing acts to even solving a Rubik's Cube while blindfolded, families will see amazing feats of magic during each show. Did I mention it's also FREE?
Fishing
Did you know that you can go fishing at Walt Disney World? On your next Disney vacation you can enjoy both dockside fishing and guided fishing excursions at various resort locations. Fishing excursions include Guided Bass Fishing and Bass Nitro Fishing. Each excursion includes a guide, fishing equipment, bait, non-alcoholic beverages and 1-year BASS membership. Dockside fishing can be enjoyed at Fort Wilderness and Port Orleans Riverside. All fishing is catch-and-release only.
Pirate Adventure
This is an adventure we have not yet experienced but it is definitely on our list. Kids ages 4-12 can enjoy an exciting pirate adventure cruise. There are 4 adventures kids can choose from that leave from 4 different resorts: Grand Floridian, Beach and Yacht Club, Caribbean Beach and Port Orleans. Each guest will learn all about pirate history and traditions then search for pirate treasure. This is an experience your little pirate will never forget!
Bike Riding
One of our favorite Disney adventures outside the parks is taking a surrey bike ride. At Wilderness Lodge, Port Orleans, The Boardwalk and Saratoga Springs, families can rent 2, 4 or 6-person surrey bikes. Are your kids too small to pedal? No worries! Each bike has a section in the front where the little ones can sit and enjoy the ride too!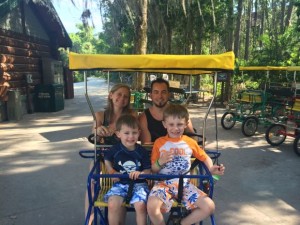 Build a Sand Castle
Pack those beach pails and shovels for your next Disney vacation because there are plenty of places where kids can play in the sand! You have to stay at Disney Beach Club Resort in order experience the sand bottom pool and beaches but ANYONE can play in the sand in front of the hotel by the water. In fact, there are several hotels that offer opportunities for kids to play in the sand. One fun idea is to bring personalized Disney beach pails with you. You can tell the kids Mickey left them!
Explore Animal Kingdom Lodge
Visiting Animal Kingdom Lodge should definitely be on your list of places to visit during your next Disney vacation. Families can enjoy a drum lesson, tour the restaurants and learn all about African culture. Head out back and you can also see animals walking about the safari. We especially loved seeing the zebras and giraffes.
Children's Activity Centers
There are 4 resorts that offer a children's activity centers each night: Beach Club, Wilderness Lodge, Dolphin Resort and Polynesian. Parents can drop off their kids ages 3-12 years old for a night full of magic and fun. Kids will meet characters, perform experiments, take cooking classes, make new friends and even enjoy a yummy dinner. Times and rates vary by location.
Resort Activities
Each Disney resort offers a wide array of family friendly activities. From Bingo to pool parties to arts and crafts, there is something for everyone to enjoy. My son had fun testing his Disney trivia skills at the Disney Junior Pool Party, and we love watching Disney movies at night outside. Resorts also offer fun events during the holidays. For example, during Easter kids can enjoy egg hunts and pictures with the Easter Bunny!
Dig for Fossils
Can't get a reservation to eat at T-Rex at Disney Springs? It's okay because the kids can still play inside. While waiting for your table or just stopping to see the dinos, kids can dig for fossils. My boys always feel like real scientists as they use special tools to look for dinosaur bones. This area also offers shade and a place for adults to relax.
Build, Create, Race
Right outside the Lego Store located at Disney Springs families will enjoy a fun interactive building experience. Builders of all ages are invited to use the provided Lego bricks to build their own race car. Then you can race your car against other builders. It's a fun and brain boosting experience your kids will LOVE!
Visit the Arcade
Most resorts offer a fun arcade the entire family can enjoy. The arcade is a great way to escape the heat or the rain while enhancing those hand-eye coordination skills. Another option is to visit Disney Quest, an indoor arcade adventure for all ages. For one set price, families can play games ALL DAY! From classic games like Pac-Man to 2-player games like air hockey to even virtual reality games, kids (and adults) will enjoy hours of gaming fun!
Ride the Monorail
There is no park ticket required to enjoy a ride on the monorail. You can park at one of the Magic Kingdom resorts or the ticket center and enjoy a ride around Bay Lake. If you hop on around 8:45pm, you can also enjoy the castle light show and fireworks from the monorail window. Make sure you explore each hotel along the route too. There is magic at every stop!
I hope you have enjoyed reading about the magical experiences families can enjoy outside the parks. Of course this list is in no way exhaustive, and in fact, you may want to check back on occasion because as my family experiences new adventures that we love, I will add them to this list! Have a magical Disney vacation!
You may also enjoy:
10 Educational Experiences at Epcot
10 Educational Experiences at Magic Kingdom
Tips for Traveling to Disney with an Infant: What to Bring and Making the Trip Successful