During our visit to the Tarantulas exhibit at Academy of Natural Sciences, the staff used an impressive microscope that allowed children to see specimens in detail as it was projected on a screen. My children were in awe seeing the object magnified and were amazed at all the details they could see.  They already know what a microscope is and think of this tool as an invitation to explore and learn about the world that surrounds them. That is why receiving the Science X SmartScope from Ravensburger to review was the perfect toy for our household as we work together to develop a growing appreciation of science.
SmartScope uses your smartphone or tablet to magnify objects! No app is needed since it uses the camera from the smart device. Since it uses your smart device, small children can easily view the specimens. As well, since no eyepiece is needed it allows everyone (adults and kids) to look at the object together at the same time. While it does take a few minutes to put together, once it is assembled your family will enjoy a scientific tool that enhances their understanding of the world around them. The objects can be magnified at two different levels which is fun for kids to explore. Once all done, the SmartScope can be put away in a travel bag and easily stored for the next invitation to explore.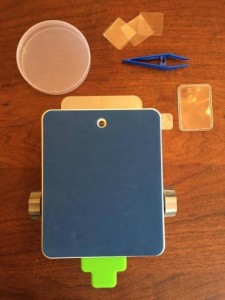 Mommy University Presents
3 Benefits of SmartScope
Sparks Curiosity
We want our children to follow their own curiosity and develop an enthusiasm for learning. As soon as we examined our first object, which was a quarter, my kids wanted to see more! We found ourselves running around the yard picking out objects to explore. Rocks, dandelions, creeping phlox, my children wanted to see it all magnified. Suddenly, the world was transformed as they literally saw that there are finer details to all objects. The conversation became "What will we see?" I was in awe as the SmartScope truly sparked my children's scientific curiosity!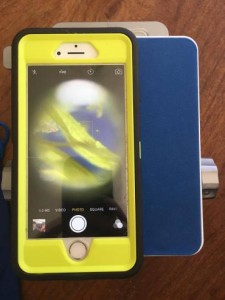 Increases Scientific Understanding
My children are in preschool so they are learning about bees. While they know that bees collect pollen, with the SmartScope we could actually see the pollen in detail on the petals of the flowers. Instead of hearing about pollination they have now observed what bees collect when they are in our garden. My son gets very excited to look at flowers so he can recount what bees do thus this conversation becomes "This is what I know…"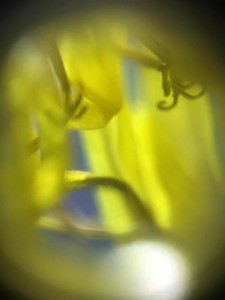 Enhances Problem Solving Skills
With all scientific tools there is a learning curve in how to best utilize it, and the SmartScope is no exception. Since the light can be moved to either below the object or above it, there is a lot of experimentation that occurs which my children tested on each object. We discussed how to place objects under the lens and what happens if that specimen doesn't fit. With each examination there were new problems and scenarios as well as conversations on how to resolve them.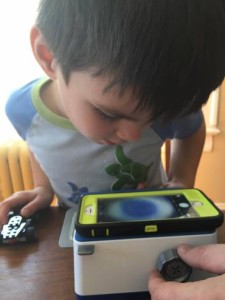 My children enjoy bringing objects to examine under the SmartScope. Each time we take a walk they are seeking out items to bring home to investigate like an acorn, rock or dandelion.  If you run out of ideas, the SmartScope comes with a handy manual and a poster providing suggestions. For example the cover graphic of this review consists of the images we photographed of flowers in our yard using our smartphone with the SmartScope. This toy is part imaginative as much as functional. It is a tool that helps children foster an interest in science. Although designed for children ages 8-12, the SmartScope is also wonderful for young children when guided by adults.
The SmartScope can be purchased on Amazon for $35 using our affiliate link.
Mommy University received the Ravensburger Science X SmartScope in exchange for an honest review.  All opinions expressed are honest and belong to Mommy University.