Who says you have to sit home on a rainy day? New Jersey offers so many fun and brain boosting indoor adventures that you never have to be bored when it rains again!
After researching what NJ has to offer along with places we have visited, I have put together a list of rainy day adventures that not only involve fun, they also involve learning. A rainy day is the perfect time to get those creative juices flowing and expand our knowledge. It's also perfect for boosting motor skills and learning a new skill. The possibilities are endless for learning fun!
10 Rainy Day Adventures in NJ
Liberty Science Center
The Liberty Science Center, located in Jersey City, is one of my favorite places to visit! There are so many amazing brain boosting exhibits, interactive activities and programs for kids and adults of all ages.  Families can spend hours exploring and playing which can brighten up any rainy day. Admission tickets cost $21.75/adult and $17.75/children ages 2-12; however, you can go for FREE during Bank of America Museums on Us weekends (when you show your Bank of America card)!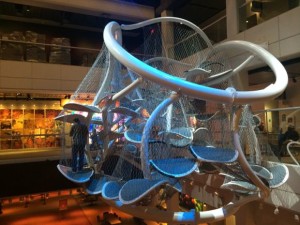 Sky Zone Trampoline Park
Bounce, jump, flip and fly at Sky Zone during your next rainy day. With locations in 7 NJ towns (and 2 more coming soon), Sky Zone offers hours of fun and excitement. While playing, kids will enhance gross motor skills, balance, coordination and motor planning. They will also boost their self-confidence as well as build social skills as they make new friends. Sky Zone offers open jump sessions along with special events, programs and even birthday parties!
Museums
Throughout NJ, families can explore, discover and learn at museums of all kinds. From science to history to art to even dinosaurs, there is something for everyone to enjoy at an NJ museum. Museums also offer events, programs and classes that are sure to brighten any rainy day. I recommend getting a museum membership so you always have a place to explore on a rainy day. Check your local library too as they often have museum passes you can borrow. Here are just a few of the many amazing museums in NJ:
Garden State Discovery Museum
Imagine That Museum
Stirling Hill Mine Museum
Montclair Art Museum
Insectropolis
Art Studios
I absolutely LOVE that NJ offers such a wide variety of art programs for kids and families. On any given day, you can find a unique art experience that will enhance your child's appreciation for art, increase fine motor skills and spark creativity. On the next rainy day, scope out your local art studio for a fun drop-in event or structured class. Learn about some great art studios in our article 10 Brain Boosting Places to Get Crafty.
Barnes and Noble
Not only is visiting Barnes and Noble on a rainy day perfect for kids, it is also perfect for parents. While sipping on an amazing cup of Starbucks coffee and indulging on a piece of cheesecake, parents can sit and watch their kids read books, explore toys and even play with Lego bricks. Most Barnes and Noble locations throughout NJ offer educational experiences all day, every day. There are kid areas in each store dedicated to young learners. My boys love playing with the trains in Morris Plains and building at the Lego table in the Livingston Mall location. Which one will you explore on the next rainy day?
Aquariums
Did you know that NJ has 3 amazing aquariums that families can explore? Adventure Aquarium is located in Camden, Jenkinson's Aquarium is in Pt. Pleasant and Atlantic City Aquarium is in Atlantic City. All three offer a unique underwater adventure which is perfect for a rainy day. Kids can also engage in fun hands-on activities and programs to enhance the experience. (Bonus: Some zoos also offer wonderful indoor aquariums that can be explored on a sunny or rainy day!)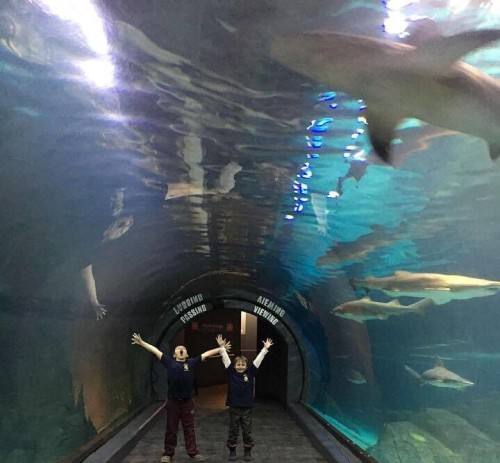 The Big Playhouse
Located in Westwood, NJ, The Big Playhouse is a child's dream play area. Children ages 6 and under will have a blast exploring this adorable mini indoor town geared for kids to enjoy "good old fashion indoor play." The Big Playhouse offers a space where kids can imagine, create and pretend. In addition to open play, The Big Playhouse also offers enrichment classes, birthday parties, special events, playgroup programs and more.
Northlandz
If your kids love trains, they will love Northlandz. Located in Flemington, Northlandz offers hours of fun as families see close to 100 trains chugging along 6 miles of track. It is a breathtaking sight for all ages. Guests will see replicas of current towns and cities along with historical sites and events. Another impressive part of this amazing museum is the 2000 pipe organ which guests can hear played during their visit.
Sahara Sam's Oasis
You don't have to travel to the Poconos for indoor water park fun! On your next rainy day (or any day), pack up the kids and head over to Sahara Sam's Oasis. Families will have a blast riding, sliding and splashing all day at this amazing indoor water park. There are exciting adventures for all ages from giant slides to a wave pool to splash areas to even The Flow Rider. They will also be introducing a new expansion called The Mirage set to open Memorial Day weekend. Located in W. Berlin, next to Diggerland, Sahara Sam's Oasis is your next must-do adventure!
Your Local Library
Don't forget about the adventure right nearby! Your library offers adventures through reading as well as a variety of special events such as story times, Lego groups, read to a dog programs, American Girl groups and so much more. Check with your local library for upcoming events in your area!
I hope you have enjoyed reading our list of rainy day adventures in NJ! Don't let the rain stop you from having fun with your family!
You may also enjoy: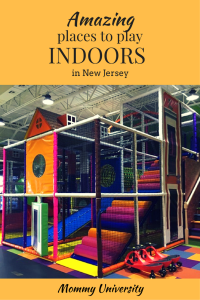 10 Brain Boosting Adventures with Dad
Brain Boosting Sleepovers in NJ