If you are a Disney fan or just a fan of the heartwarming movie Finding Nemo, then I am sure you are excited for the release of Disney Pixar Finding Dory. Scheduled to open in theaters June 17, 2016, Finding Dory will take us on a journey with our beloved character Dory as she searches for her family. To help celebrate this sure to be new Disney Pixar classic, our friends at Uncle Milton have designed some amazing toys your kids will love!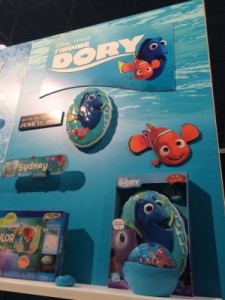 We were so excited to learn about some of Uncle Milton's Finding Dory line of toys at Toy Fair 2016, and we were even more excited when we received samples of their latest light-up products to review. The Finding Dory line will help kids create an underwater adventure right in their very own room! In this article, I am going to focus on the Finding Dory Light-Up Sign Activity Kit.
The Finding Dory Light-Up Sign Activity Kit not only provides a soft and colorful light show for your child's room, it also offers a fun learning experience. Before lighting up the night, kids will have a blast decorating and personalizing their sign. It is a wonderful learning experience for kids where the end result is a beautiful piece of art that is hung on their wall for all to see.
What Finding Dory Light-Up Sign Activity Kit comes with:
1 plastic frame
1 aquatic themed nameplate
1 light pod
4 frame supports to attach the light pod
2 letter sticker sheets
1 sheet of double-sided adhesive dots
1 sheet of transparent Finding Dory characters and under the sea plant life
An instruction sheet
*AA Batteries are needed but are not included.
How It Works:
The first step is to attach the nameplate to the frame which is a quick and easy process that does not require any tools! Next, use the letter stickers to adhere a name on the nameplate. Make sure you follow the directions for centering the name on the nameplate. Third, add the transparent characters and plant life using the adhesive dots. Kids can place the characters anywhere they want along the frame making the sign even more personal. Last, attach the light pod to the nameplate using the frame supports then hang it on the wall. It's that easy!
What I really love about this set is the educational value. Often times we find light-up products that we simply take out of the box, hang up and turn on. The Finding Dory Light-Up Sign allows kids to engage in a learning experience before lighting up their room with under the sea magic.
3 Benefits of Using the Finding Dory Light-Up Sign Activity Kit
Enhances Letter Recognition
The first thing I did with my son when we opened up the kit was identify the letters on the sticker sheet. We discussed which letters were upper case and which were lower case. Then, I had my son point out all the letters in his name. He then picked out each letter and placed them on the nameplate. It was a wonderful lesson in letter recognition and spelling.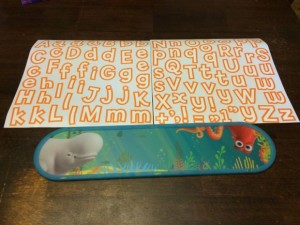 Improves Fine Motor Skills
Decorating the Finding Dory Light-Up Sign takes a great deal of fine motor skill. Kids need to use fine motor control to carefully peel off the letter stickers and pop out the transparent characters. Visual-motor integration skills and hand-eye coordination are needed to carefully apply the stickers onto the nameplate. My son had some trouble applying the stickers straight, but they easily peeled off for us to correct their placement. Centering the letters on the nameplate also took a careful combination of fine motor control and visual-spatial processing.
Sparks Creativity
My son had so much fun deciding where to place each transparent character and piece of plant life. Although there is a guide you can follow on the back of the box, the activity kit allows kids to use their own creativity and imagination to design the nameplate in their own unique way. Kids can use as many or as few of the transparent images as they would like. Although I wanted my son to use more, I allowed him to create his own masterpiece without giving him my own ideas (trust me, it was hard for me to keep to myself especially when he placed the fish upside down). In the end, he created a nameplate he is proud to hang on his wall!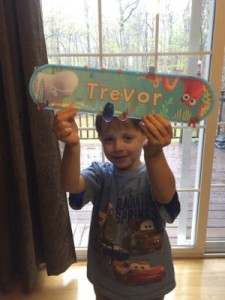 Who knew there were so many amazing educational and developmental benefits to a simple light-up sign? There are teachable moments everywhere. You just need to find them and introduce them to your kids. Uncle Milton does an amazing job of creating toys that allow kids to use their imaginations while expanding their knowledge.
You can purchase the Finding Dory Light-Up Sign Activity Kit for only $24. 99 using our Amazon affiliate link.
*In full disclosure, we received the Finding Dory Light-Up Sign Activity Kit in exchange for our honest review.
You may also enjoy: