What's the Buzz About Bees?
There has been a movement for a better understanding of the role bees play in our lives. Often times confused with other insects that are easily provoked and sting, bees caught a bad reputation for a long time. However, these hard workers are the reasons our flowers and gardens are able to prosper. In fact, bees are certainly catching the positive buzz from science centers and farms in New Jersey.
Children can be entranced with watching these diligent workers build their combs, fly around, and make honey. We love that children are offered the opportunities to learn about bees and in some cases from very safe distances (as we are aware that some children are severely allergic to stings). At Mommy University, we recognize the positive impact bees have on our lives. Developing an understanding of the importance of bees in our lives can start at a young age as well as encouraging a love of science.
Mommy University Presents
Amazing Places to Learn About Bees in New Jersey
Liberty Science Center (LSC)
On the second floor, the buzz about Liberty Science Center is loud as the worker bees diligently focus on their hive. For several years, LSC has maintained this project which enables visitors to develop an appreciation for these fascinating creatures. In fact, the bees have done so well they left. Actually, they have been thriving and outgrew their hive in 2015. LSC was well prepared and new bees have taken residency.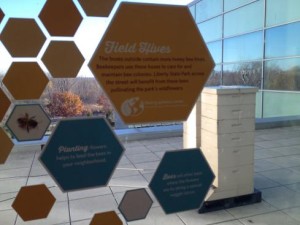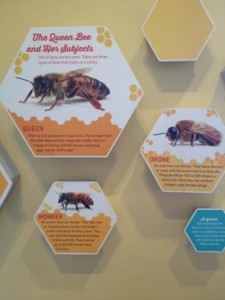 Tassot Apiaries, Inc.
Are you looking for a family friendly tour of a bee farm?  Well, in New Jersey everything is possible.  Tassot Apiaries, Inc. in Milford, offers seasonal tours that can last up to an hour.  There is no minimum number of participants to arrange a tour, however since this is a working farm it is recommended that you call them prior to heading over to ensure that this is an optimum time (bees don't follow our schedule) as well as there is a beekeeper available.  You may also love checking out all the honey products after the tour!
Heaven Hill Farm
Besides enjoying hayrides, feeding the farm animals and buying fresh produce, Heaven Hill Farm also has a wooden trailer that includes information about bees and beekeeping. Greeted by a beekeeper outfit, children can walk through the display and see a live bee hive.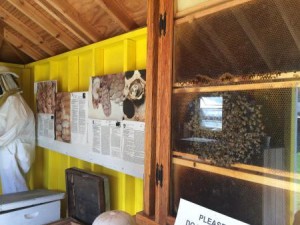 Essex County Environmental Center (ECEC)
Located in Roseland, the ECEC offers free major celebrations such as Earth Day and Octoberfest as well as a Butterfly Tent and educational programs for the entire family. Each time we have visited the ECEC, my children have been fascinated by the large bee hive. As bees travel in and out of the openings, my children have stood mesmerized. What I really like is that during their major programs they usually have beekeepers in attendance which serves as a wonderful opportunity to ask questions.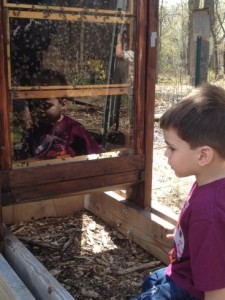 Insectropolis, Toms River
Insectropolis is dedicated to the understanding of insects!  Considered one of the top insect museums in the United States, they have set aside an exhibit space to Bees.  They have a colony that you can observe as well as learning about these fascinating creatures.
Sunflower Farms & Mazes
New Jersey loves sunflowers and there is a lot of options to see them in mazes or tours which is a great way to celebrate the outdoors. Starting in August, you can visit many of the options we have highlighted at Mommy University. As you walk through these massive flowers, you will encounter thousands of bees. Unlike the other selections on this list which have bees in an enclosure, you are on their terrain. We always emphasize respecting the pollinators to our children and spend a few minutes watching them to do their jobs. It should be said to be careful if a family member is allergic to bees as sunflower farms are large in size, and if visiting bring medication that you may need.

Local Gardens and Arboretums
A simple nature walk in one of the popular New Jersey arboretums will be great in developing an appreciation of nature including watching the many bees pollinating the flowers. Check out the websites of Frelinghuysen Arboretum or Van Vleck Gardens to name a few as they host several programs designed for children to engage them in fun and learning.
Newark Museum
Sadly, after each year of the bees leaving the hive at Newark Museum, they will be sharing information about Colony Collapse Disorder. Essentially, this is when the worker bees abandon the queen in the hive. It is unknown the exact reason for this, but there are many reasons that have been hypothesized which families can learn all about.
Bonus: Academy of Natural Sciences
Designed for children ages 3-8 years old, the Outside In permanent exhibit at the Academy is one of our favorite spots. As our children run around this space looking at the different turtles and frogs, they have also found a bee hive in the back corner. We usually save this as one of our last stops because we can sit down to watch our children explore all the phenomenal possibilities of this space.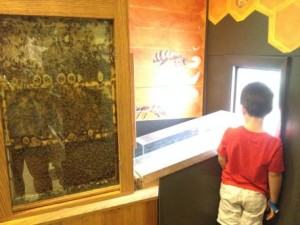 If you like this post, you may also enjoy: