We are so excited to partner with The Franklin Institute in Philadelphia to share with you their amazing exhibits where families can play, explore and learn.
Joy, Sully, Wall-E, Lightening McQueen, Woody, and the list goes on. We have fallen in love with the distinctive characters that have filled our memories as well as our children's. Since Pixar bursted onto the silver screen, it has been redefining how animated films are created and interpreted. With each film we have been taken on a new journey with a unique story and a tailored appearance that does not reflect the other movies.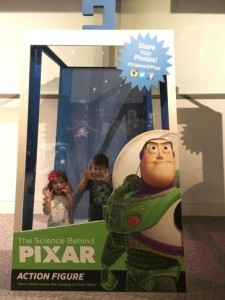 The Franklin Institute is offering a massive collection of spaces that provide insight and education on The Science Behind Pixar. From start to finish, there are multiple layers to making a Pixar film, and this exhibit exposes the care and detail that is given to the craft of animated movies. With so many interactive stations and elements, you can easily spend hours within this one exhibit as you learn about rigging, modeling or lighting and since the different workstations tap into our love of the Pixar characters we are more engaged and invested in learning the different concepts such as surfaces, simulation and rendering.
When you arrive you will select a time to enter the space which is one method that The Franklin Institute uses to manage crowd control. As you are challenged to learn about each step, you are rewarded with different photo props.  Do you love Buzz Lightyear, Mike and Sully, or Wall-E? Well you can take a selfie with them or my favorite which is pose inside a life-sized Buzz Lightyear box.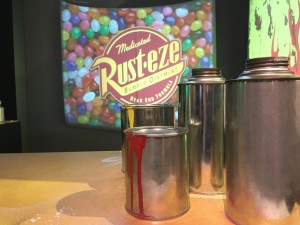 Mommy University Presents
3 Reasons to See The Science Behind Pixar
Understand the Process
Pixar doesn't take short cuts in creating films which is why each movie has a distinctive look and plot. Within this exhibit, you will be invited to visit the different steps and learn how they impact the overall appearance of the film. The Pixar Production Pipeline is presented but through over 40 interactive exhibit elements to highlight eight of the major components, you will have a full appreciation of the movies you love.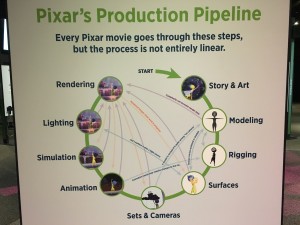 Hands-on Learning
When you first enter the exhibit at Franklin Institute, you will enter an overwhelming large space overflowing with workstations. For each space dedicated to one of the Pixar Production Pipeline steps, you are invited to learn through play.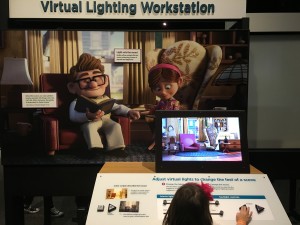 There is a workstation with a scene from Up! where you can manipulate indoor and outdoor lighting to see how it impacts mood. What is impressive is that many of the workstations are double-sided so more than one person can experiment.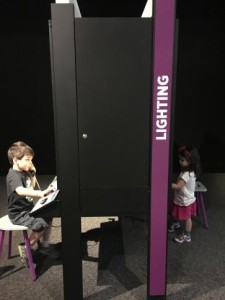 My favorite workstation involved changing the lighting on the photo prop of Dory to set the tone. After you are done playing you can then pose with her.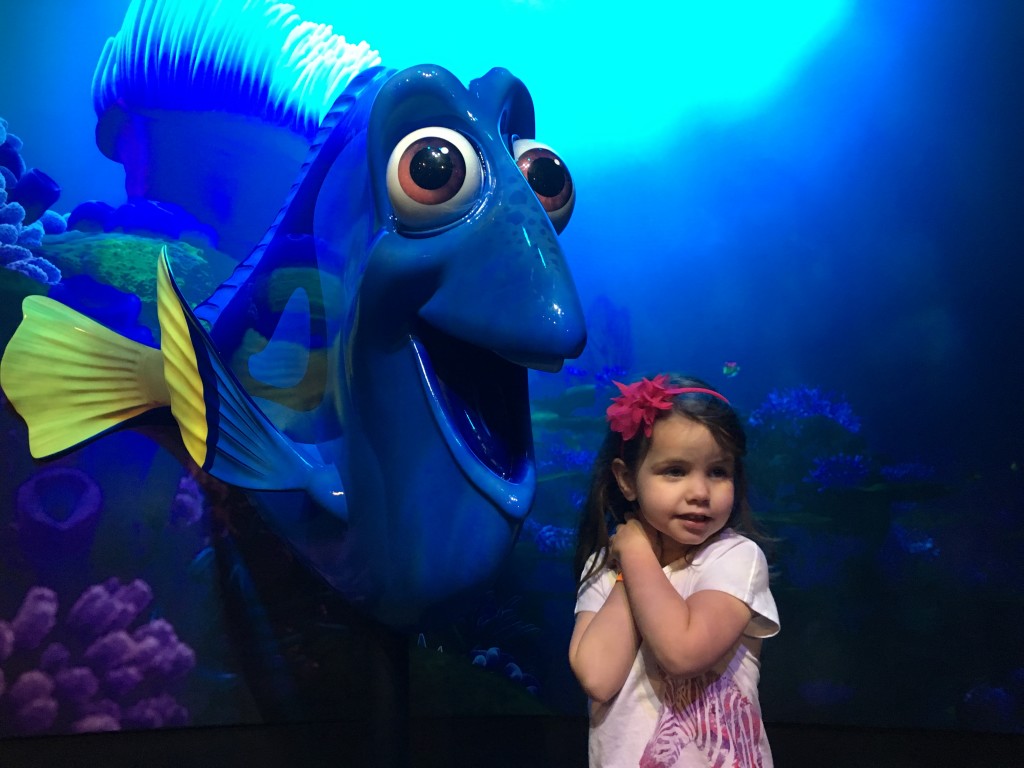 Math is Everywhere
As an individual who does not love math (or even like it), the massive quantity of math that surrounds these movies completely impressed me. From calculations of the parabolas of grass to the math formulas used to make 2-dimensional objects have a 3D appearance, math is everywhere at Pixar.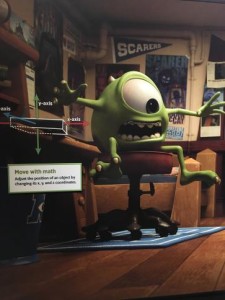 If you have a child that is resisting math bring them here! At almost every station is a math formula that reinforces how this subject is used everyday.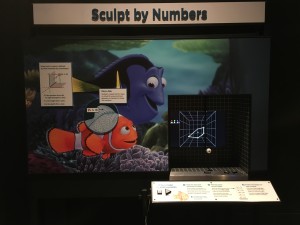 The Science Behind Pixar will be residing at The Franklin Institute until September 5, 2016. Mommy University readers can use discount promo code MBPIXAR* to receive $5.00 off up to 4 adult, daytime tickets to The Science Behind Pixar.  Coupon code must be used at FI.edu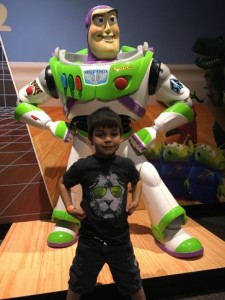 *$5 off Daytime Adult Admission tickets to The Science Behind Pixar. Limit 4 tickets per person. Includes General Admission to The Franklin Institute. Cannot be combined with any other offer or discount. Upgrades available on-site for IMAX and 3D Theater. Redeemable online or over the phone. Processing fees apply when ordering tickets in advance. Excludes holidays. Valid through 8/28/16