We are so excited to partner with WP Presents to bring you their amazing shows this season. We are especially excited to have been invited to attend their sensory friendly show, Seussical!
Our first sensory friendly theatre experience was amazing! Seussical was a very cute theatre production. The Cat in the Hat was our tour guide while we visited the adventures of Horton the Elephant, the Cat in the Hat and the Grinch. The show was well performed with a very bright and colorful set which kept a steady hold on the children's' attention.
The adventures of Horton was a definite favorite. He's such a tender and caring character who reminds us over and over that we need to consider the feelings of others. We all loved the Cat in the Hat as are tour guide. He would pop in from time to time to help keep the storylines straight.

Mommy University Presents
3 Inspiring Themes in Seussical
Acceptance
We loved the adventures of Horton because it reminds us to consider the feelings of others and be accepting. Despite all odds, Horton must try to save this small world. It shows us the power of being unique, and the importance accepting others for who they are.
Imagination
Told with lots of humor and heart, The Cat in the Hat takes us on a magical journey through the pages of Imagination. Through imaginary games and storytelling children are more likely to improve learning habits, develop their communication skills and enhance their vocabulary.
Friendship
Seussical shows a story of friendship. During our adventure to the invisible world of the Who's, we see friendship, loyalty, family and community all being challenged but they emerge triumphant. We learn that friendship can overcome anything.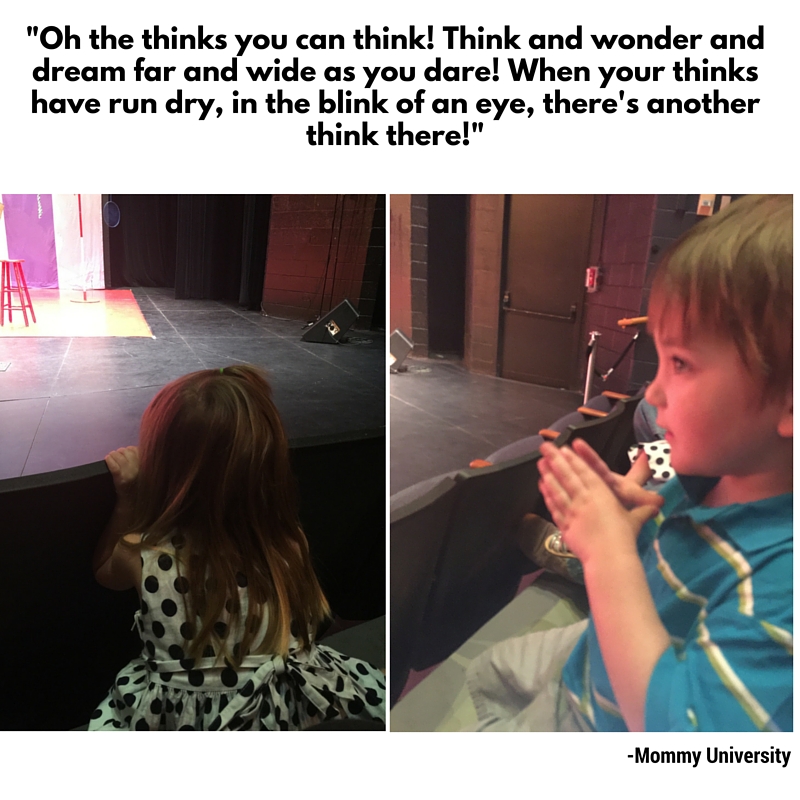 What made Seussical a sensory friendly production?
What made this show unique was that is was considered sensory friendly which opened up the theatre experience for children of all abilities and needs. WP Presents did a wonderful job offering a comfortable, friendly and welcoming environment for all families! Here is what made this performance extra special:
Lower sound level, especially for startling or loud sounds.
Lights remained on at a low level in the theater during the performance.
Patrons were free to talk and leave their seats during the performance.
Staff was on hand to help accommodate families' needs.
Their was a TV outside the theatre showing the live performances.
Space was provided in the theatre's lobby for standing and playing.
Puzzles and other sensory friendly toys were available.
Children were allowed to have their own snacks and bring their electronics.
Seussical was a great show and a nice experience for my kids to see those books coming to life for them. For more information on sensory friendly productions on Shea Center for Performing Arts please click here.
*In full disclosure, we received tickets to the show in exchange for our honest review.
You may also enjoy:
10 Benefits of Sensory Friendly Shows