Wings and wands are not just magical for Fairies!
Pretend play reinforces social skills, allows children to explore the world around them and helps them tap into their imagination to create unique worlds. One particular imaginary world that fascinates my daughter is the idea of fairies which I think may be attributed to her recent love of Tinkerbell. In her mind, fairies can fly and perform magic, which introduces amazing opportunities for her to maximize pretend play.
We had the pleasure of receiving the Rainbow Fairy Costume from Great Pretenders in exchange for an honest review. Great Pretenders is a small Canadian company that produces quality costumes. The fairy dress is handmade and the quality is apparent. It is very comfortable as well evident in the fact  that my daughter wore the costume all day. Additional coordinating accessories include a matching wand and stunning wings which complete the outfit. Putting on her wings and dress, and then holding her wand became an invitation to play ,and here are several reasons why I will continue to encourage her to do so.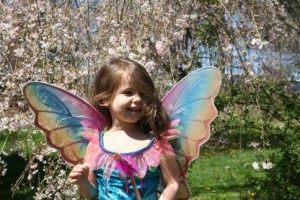 Mommy University Presents
3 Reasons We Love The Great Pretenders Fairy Costume
Invitation to Dream
When my daughter put on the bright and bold dress, she immediately began telling me how she is a fairy. She talked about what fairies do: fly and create magic. However, this is actually a deeper conversation. Where does she want to travel, what does she want to see, and how does she want to get there? All these questions begin to emerge from her dreams. What magic does a fairy do but more importantly what does she want magic to accomplish and thus how does she want to change the world? At three years old, these are not the conversations we are having now but rather laying down the foundation for larger questions in life which is accomplished by twirling in a fairy dress.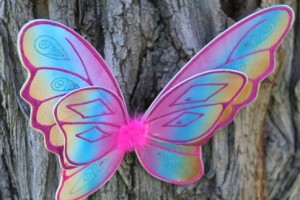 Invitation to Tell a Story
Wearing costumes is an invitation to play as my daughter begins to immediately dance around, practice her spells and pretend that she is changing the world. Each time she wears the costume there is a new story that she creates which helps build her imagination, language skills and confidence. My favorite component is that she is developing her ability to communicate with the wave of a wand.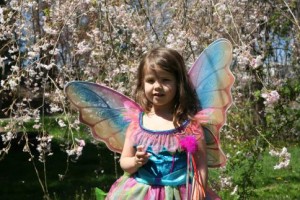 Invitation to Solve Problems
Within the frame of her playing and dreaming, she is invited to solve problems. Granted she is a three-year old wearing a rainbow dress with her wings flapping as she runs, she identifies problems exist and she is thinking about how to solve them in the realm of her pretend play. Her wings may not be real and neither are the problems she imagines as a fairy, but she is beginning to understand that problem solving is an important skill.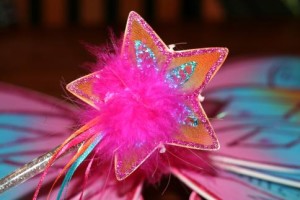 The Rainbow Fairy Costume from The Great Pretenders is made with meticulous detail and quality so it has lasted hours of play. Running around the park and our home, she has taken on a new role as a fairy but we understand all the benefits of pretend play. Mostly, as a parent I hope that she always believes in the magic that she dreamed she has as a child and remembers she does have power.
The Rainbow Fairy dress is available for $34.99 using our affiliate link on Amazon, and the Rainbow wings and wand are only $17.99 on Amazon.
*In full disclosure, we received this fairy costume in exchange for our honest review.
You may also enjoy:
10 Benefits of Pretend and Imaginary Play