Toys that are Shore Fun!
In NJ, we often think of comparing North and South Jersey, but there is a less discussed controversy which is whether you love the ocean (we call it the shore) or lakes. Admittedly, I rather hangout at the lake during my summer days; however, at Toy Fair 2016 there are many toys that scream shore fun! Upon review, we realized we have to highlight the obvious and subtle toys we saw that your ocean loving child will enjoy. I have included amazon affiliate links to make your shopping experience easier!
Mommy University Presents
5 Toys for Kids that Love the Ocean
Kinetic Limited Edition Beach Sand (Spin Master)
Let's be honest sifting our fingers through the sand is therapeutic which is why children love to play in the sand. The tactile feedback they get as they build castles, dig moats around the castle, or make different shapes is calming.  Spin Master, who brought us many variations of Kinetic Sand, have released a new variety called Beach Sand which carries the exact texture and weight that children would find at the shore. I find this is an amazing toy for sensory seeking children or even children who are craving the summer during a rainy day or the winter months.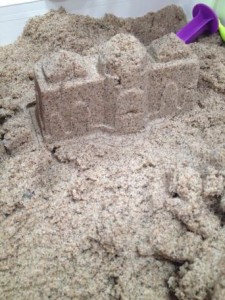 Marine Rescue Center (Build & Imagine)
Build & Imagine is a building toy that has merged a storytelling prompt with building fun which is an absolute reflection of how this toy stimulates imagination. To play, children connect magnetic pieces to form different buildings and scenes. With the Marine Rescue Center, they can design spaces to save ocean creatures' lives. I think this is the perfect toy if your child is addicted to Octonauts or fascinated by the aquarium.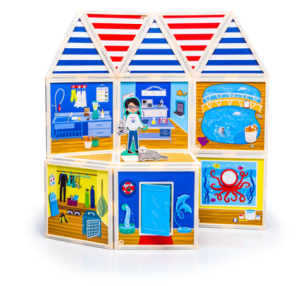 Mermaid Island (Peaceable Kingdom)
Cooperative games are wonderful for toddlers and preschoolers to learn taking turns and working together as a team. For the sea-loving child, Mermaid Island is a perfect offering as it combines games, mythology and the ocean. The family works together to save all three mermaids from the Sea Witch. Everyone works together towards a common goal thus introducing cooperation and teamwork.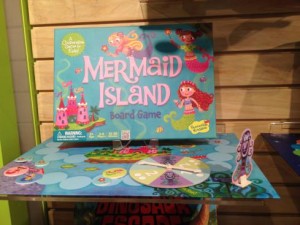 GeoSafari Jr. Subscope (Educational Insights)
No matter if you love the ocean or the lake, the Subscope will enable children to look underneath the water at 2x magnification. Since it is shaped like a submarine, don't be surprised if your children also engage in imaginative play. I think this would be perfect to see fish, shells and other sea creatures in the water.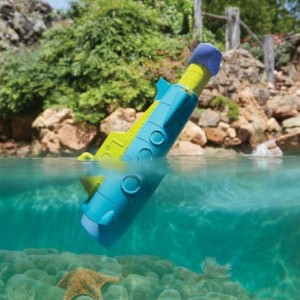 Sea Creature Figurines (Safari Ltd.)
Figurines from Safari Ltd. inspire pretend play as children imagine a shark is swimming in the water or a crab crawling on the sand. This toy, however, can also encourage academic learning as my son found a Big Blue Whale and insists on reading about this creature every time he is done playing with it. If your child loves Shark Week, they have lots of shark figurines from Basking Shark to Great White to the Thresher Shark which is pictured below. If your child insists on watching YouTube videos about the ocean they have the Giant Pacific Octopus or Blue Whale too.
I hope you have enjoyed learning about this brain boosting toys for kids who love the ocean!
You may also enjoy:
5 Toys that Inspire Kids to Tinker