When my daughter was diagnosed with autism I always wondered how I would tell her big brother. As my son grew older, he heard words such as "autism" and "special needs" and began to ask questions. I always tried to simplify everything by saying, "Your sister has special needs." I did not really focus on anything else or go into greater detail.
One day my son began to ask the harder questions, and I felt we needed to have a heart-to-heart conversation about autism and what it meant for him and our family. I explained that his sister was autistic which meant her brain worked differently from his and mine. I told him it was our job to try to see the world from her point of view. We always needed to be more flexible, focused and understanding with her. I explained that not all autistic kids are the same, just like how he is different from all his friends. My son loves his little sister and is learning to make accommodations for her in order for them to have fun together.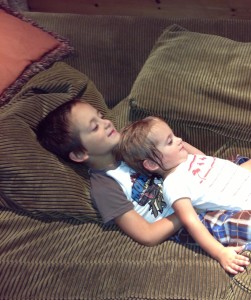 Here our some tips for telling your child about autism:
It's important to help children understand differences.
It's Ok to ask a lot of questions.
You don't have to use the word "autism," it's the explanation that really matters.
Teach them that every child with autism is unique.
Let them know you can't catch autism.
Read children's books about autism and with autistic characters.
Let them know it's nobody's fault.
Autism isn't going to go away and it's our responsibility to make sure she is loved and safe.
April is Autism Awareness Month, let's try to spread some awareness and acceptance!
Mommy University Presents
Children's Books on Autism
Sometimes books are a wonderful way for kids to learn about topics that may be difficult to explain through conversations. I have put together a list of few books that I have found to be helpful with my kids. I have included Amazon affiliate links to make your shopping experience faster and easier.
Different Like Me: My Book of Autism Heroes: This book introduces children ages 8 to 12 years old to famous and inspirational people from the world of science, art, literature, philosophy and comedy who sometimes found it difficult to fit in.
In My Mind: The World through the Eyes of Autism: With this book, you can look closely at a child with autism and see how he views the world. It is a great book to teach about autism, destigmatize it and promote positive autism awareness.
Leah's Voice: This is a nice story from the point of view of a girl whose sister has autism. The picture book is simple and the message can be understood by young kids. The book is based on two real-life sisters too.
Since We're Friends: An Autism Picture Book: This book is a story of one boy with autism and his best friend who does not have autism. It focuses on compassion, understanding and friendship.
Tacos Anyone? An Autism Story: Siblings of children with autism often struggle with understanding what autism is and why they don't have the same sibling relationship that their friends have with their brothers or sisters. Tacos Anyone (and Marvie Ellis' Keisha's Doors) offer a glimpse into the autistic child's world that a sibling can understand. Both books are available in English and Spanish!
Remember, autism is a journey that is not just taken by the child, but by the entire family!
You may also enjoy:
8 Possible Signs Your Child Has Autism
10 Benefits of Sensory Friendly Shows