Mommy University is so unbelievably excited to partner with Field Station: Dinosaurs. We have been invited to visit and attend events in order to share with you all their learning adventures this season.
When Field Station: Dinosaurs announced last year that it was closing its iconic park, I was devastated. In only a few short years, this park became a must-do NJ adventure that offered a wonderful learning experience for all ages. Unfortunately, I never had the opportunity to bring my boys so I felt a huge amount of guilt and sadness when they closed their doors. So you can imagine my excitement when I saw the announcement on Facebook that the park was returning to NJ. I patiently waited (I mean I stalked their page every day) for the location announcement.
On April 7, dinosaur lovers across the tri-state area gave out a collective cheer when Field Station announced their new location in North Jersey. The new home for these life-like prehistoric creatures is Overpeck Park located in Leonia in Bergen County. It is easily accessible from major highways and only minutes from NYC. The park is set to open on May 28 in their 14 acre temporary location at the Henry Hoebel section then move to their permanent location at the Teaneck section which will offer 35 acres of prehistoric fun. The new location is expected to open in 2018.
Field Station is the home to over 30 life-sized dinosaurs that will take you back millions of years in time. Not only does this park introduce guests to the worlds of history and paleontology, it also exposes families to the STEM/STEAM world. Developing these breathtaking creatures takes hours of scientific and technological research along with amazing artistic talent and creativity. In addition, scientists from the New Jersey State Museum are working hard to make sure every facet of the park stays to true to current theories in paleontology, environmental studies and geology. For me, the dinosaurs created by the phenomenal engineers, robotocists and artists are true modern marvels!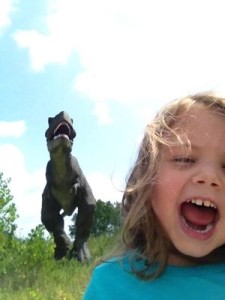 As guests explore Field Station, they enter a world they have only imagined. They step back in time millions of years and come face to face with creatures they have only read about in books or seen in movies. Besides taking a stroll back in time, families can also participate in hands-on activities and adventures to expand the learning process. From workshops to 3D movies to fossil digs, there is enough for a new adventure every visit.
County Executive James J. Tedesco III said it best when he shared his thoughts at the press conference: "Field Station: Dinosaurs is a world-class attraction that will bring their successful mix of education and fun to our children and offer something that no park in the State of New Jersey or region can."  Bergen County Parks Director James Koth also focused on the educational value of the park when he said, "The arrival of Field Station: Dinosaurs will bring much needed educational programming and experiences focused around science based themes such as ecology, paleontology, archaeology, and the environment."
Field Station: Dinosaurs is scheduled to open on May 28 and will be open every weekend through June 26. From June 27 through September 4, it will be open every Tuesday through Sunday. The hours are from 10am-6pm. A Day Pass is only $15/person with additional packages available. To learn more visit the Field Station: Dinosaurs website!
You may also enjoy:
10 Places to See Dinosaurs in NJ