We are very happy to work with Learning Resources as they offer amazing toys that inspire learning through play. We were provided the New Sprouts Puppy to review, but all opinions and ideas are original.
Sprouting Our Love for New Sprouts Puppy
In our household we love animals and the quantity of pets prove this, however not all children have nor will own pets for various reasons. Learning Resources recently added to the New Sprouts collection Puppy which is a six-item play set that includes an adorable soft puppy with purple ears, dog bed, brush, bowl, bone and dog food. This is not a stuffed animal but rather an entire toy that promotes responsibility through pretend play, language development as well as social skills.
Immediately our puppy found its owner in our daughter who named hers "Cookie." Cookie has traveled with us to Disney World and back, the Adventure Aquarium, and to daycare.  She is never left alone. If my daughter needs to leave her she does with an adult supervising the stuffed canine. Cookie has become my daughter's dog as she has cared for it, provides it snacks, and affection. We are big fans of this particular toy which has encouraged my daughter to play in new and imaginative ways.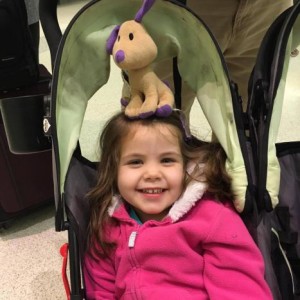 Mommy University Presents
Benefits of New Sprouts Puppy
Encourages Pretend Play
Immediately, my daughter found that this puppy was hers and it is no surprise since it is not a large dog sitting at six inches. She introduces Cookie to other people and toys, hosts tea parties, but ultimately in all her interactions with Cookie her imagination is reenacting social skills. Not only is my daughter improving her social language through pretend play with Cookie, but she is also enhancing her story telling skills and expanding her imagination.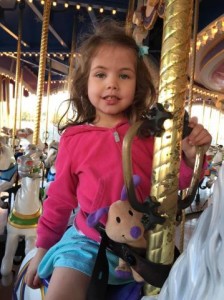 Understanding Responsibility
This is a great toy to introduce to children if the family is preparing for a pet. Through pretend play, my daughter has been practicing to become a responsible pet owner. She brushes Cookie, feeds her, and makes sure that she is sleeping in her own bed. While she is simply too young to own a pet, she is practicing important skills. The durability and texture of the accessories makes caring for Cookie fun and easy for little ones. The bright colors also make this set even more engaging.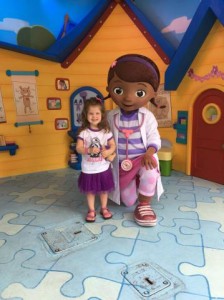 Language Development
New Sprouts Puppy is appropriate for children ages 2 and older so the opportunities to boost language development are numerous. While there will be some barking, children will begin to acquire new vocabulary words by playing with New Sprouts Puppy. Kids will learn action words such as brushing and eating as well as descriptive words such as soft, hard and colorful. You can help your child expand their vocabulary even more by asking them to describe their dog. Have them state what the dog likes to eat, what he wants to play with and where he wants to go on his next adventure.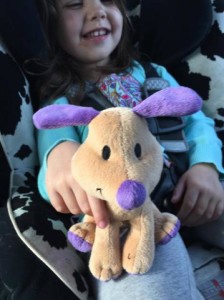 New Sprouts Puppy is available on Amazon for $24.99 and doesn't shed or bark. It is pint sized which is the perfect size for travel. This rugged little canine is machine washable so if he takes a spill or gets spilled on, you can throw him in the washing machine. Personally, I really like that Puppy is fabric while the accessories are plastic which is easy to clean.  As Cookie has become adopted by my daughter, we see the benefits expand as she plays with it everyday.
In exchange for this review, Mommy University  received the Learning Resources New Sprouts Puppy set.  All opinions expressed in this review belong to Mommy University.