We are so incredibly excited to partner with Crayola, a company with a long history of combining art, creativity and learning with their wonderful products. We were provided with some amazing new products in order to share them with you and encourage outdoor learning through play!
As soon as the warm weather hits and the sun is shining, my boys are asking to play outside. They love to ride their bikes, play baseball and, of course, draw and create using sidewalk chalk. This spring and summer, get your kids outdoors and having fun with the amazing outdoor line from Crayola!
Playing outside has amazing benefits for kids. It improves their mood, gets them active and keeps them healthy. It also gets them away from the television, iPad and video games. As a parent and an educator, I find sidewalk chalk to be one of the best outdoor learning tools for kids. It allows for hours of outdoor fun while sparking creativity, encouraging the use of their imagination and building fine motor skills. Sidewalk chalk is also a fun way to enhance language development and build academic knowledge. Did I mention it is really pretty too?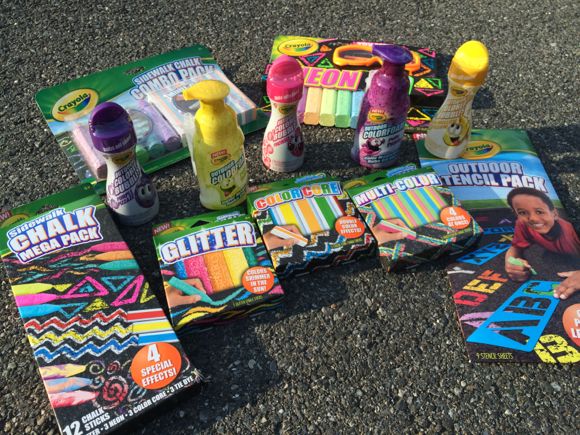 Mommy University is so excited to partner with Crayola again this year to bring you their latest line of outdoor art supplies. We were provided a variety of products to play with and share with our readers. There are so many options to choose from to make a beautiful spring or summer day even brighter! (Amazon affiliate links are included to make your shopping experience faster and easier!)
Learning Activities Using Crayola Sidewalk Chalk
Color Recognition
Crayola is known for its beautiful and vibrant colors. For years, teachers and parents have relied on Crayola to teach their kids to recognize and label colors. Their sidewalk chalk is no different. With the options such as glitter, color core and multi-color, kids can learn a ton of new colors while playing!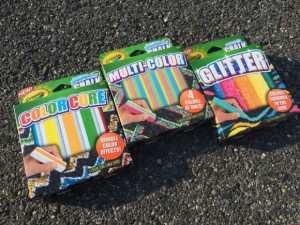 Learn the Alphabet
Sidewalk chalk is a wonderful tool to help kids learn their letters. You can start by drawing the letters and having your kids name them. Then have them copy the letters. When ready, let your kids write the alphabet themselves. Let them get creative by using all different colors. They can make a pattern, draw the vowels in one color and consonants in another or make each row a new color. The creative possibilities are endless!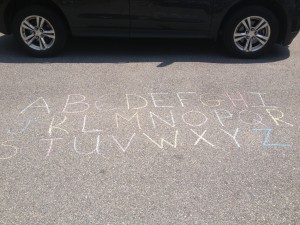 Learn to Write Their Name
Sidewalk chalk is perfect for teaching kids to write their name. They can copy it from another source and then learn to write it independently. Kids can also have fun writing their names in creative ways. With the Crayola stencils kids can write their name in a fun new way!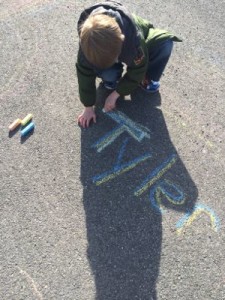 Hop Scotch
My kids were recently introduced to the game of hop scotch and they LOVE it! Parents (or kids) can use their Crayola chalk to draw a hop scotch board. Kids can get creative by making each box a different color. The game of hop scotch is a fun way to enhance problem solving, motor and visual skills while also improving balance and coordination.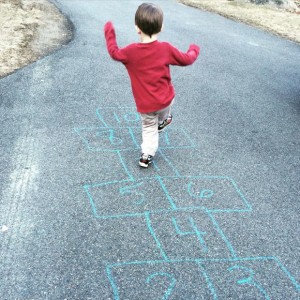 Tic-Tac-Toe
Who doesn't love a good game of tic-tac-toe? It's a classic game that teaches kids to use thinking and reasoning skills. It is also promotes healthy competition between family and friends. With the wide variety of colors, kids will have a blast deciding what color to make the grid and what colors will represent the X and the O.
3D Art
Crayola has released an amazing new product that will expand the artistic experience. The 3D chalk set comes with colorful chalk along with 3D glasses to encourage a new play of coloring, designing and creating. This fun new way to play opens kids eyes to new and unique ways of drawing which is the precursor to architecture and design.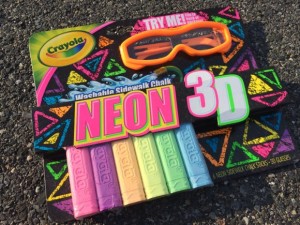 Sensory Learning
Did you know that Crayola also offers sensory learning tools that kids will love? The outdoor colorfoam is a fun way to engage the senses while also encouraging learning. Foam is a fun way to learn to write letters, draw pictures and just get creative.
Outdoor Color Bubbles are another sensory tool perfect for developing important skills such as visual scanning, oral motor and hand-eye coordination. Who knew bubbles were so educational? Kids won't even know they are enhancing their language skills by blowing bubbles or improving visual skills as they track and pop bubbles.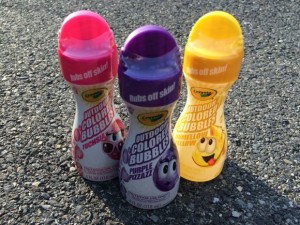 So what are you waiting for? Pick up some (or all) of these Crayola art supplies and have fun playing outside!
*In full disclosure, we were provided these products in exchange for writing this article. All opinions expressed are my own.