We are so unbelievably excited and honored to partner with the Academy of Natural Sciences in Philadelphia. Mommy University was provided a membership in exchange for sharing with our readers all the amazing Academy adventures for the entire year including brain boosting exhibits, events and programs. I hope you will follow us along this incredible journey!
During a recent trip to the Academy of Natural Sciences for an adult overnight, I was shown a world I never knew existed! We all visit museums. We walk around, take in the sights, learn through play and gain new-found knowledge. BUT did you know that behind those exhibit rooms full of dinosaurs, dioramas and science experiments, there are millions (yes millions) of creatures, ideas and research results most of which you may have never seen or heard of before?
I was lucky enough to be invited to the adult overnight at the Academy of Natural Sciences. As part of this amazing experience, my husband and I went on two behind the scenes tours that forever changed my views on museums. I will never again think of a museum as just the contents that can be seen, touched and smelled by guests. For me, a museum represents years of research, countless hours of experimenting and millions of new and old ideas coming together to solve mysteries and make the world a better place.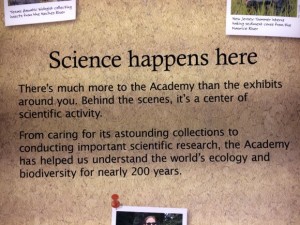 Did you know that the Academy of Natural Sciences has over 17 million specimens that have been collected since 1812? From strange animals in jars to 60 million year old dinosaur bones to rare and exotic fish, there are endless wonders from around the world behind the scenes at this iconic museum. I had no idea so many intelligent and innovative people from all scientific fields worked together to develop and maintain this breathtaking collection.
During my stay overnight, I experienced two behind the scenes collections tours: Mammalogy and Ichthyology. Both offered an amazing and memorable learning experience!
Ichthyology Collection Tour
The Academy of Natural Sciences has long been a leader in ichthyology research (the branch of zoology that studies fish). In fact, in 2003, ichthyologists from the Academy started a worldwide research project called "The All Catfish Species Inventory." The mission is to discover, identify and classify every species of catfish in the world. Now that's quite a mission!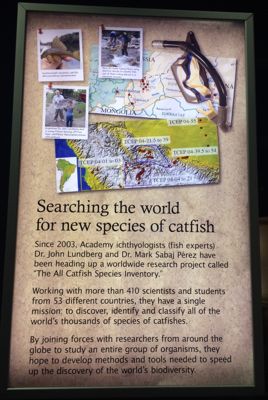 At the start of our tour, we were provided a little history about the museum then brought to the x-ray room. The Academy uses technology to learn as much as they can about the fish that have been found all around the world. We were able to see firsthand how this machine x-rays a fish then sends the x-ray right to the computer. This system is used to help decipher what type of fish it is.
Next, we were brought to a room full of fish in jars! If that wasn't cool enough, the tour leader opened a giant container full of fish specimens found around the world. We were introduced to an electric eel, piranha, stingray, alligator and giant catfish. I was even able to feel the skin of the eel and touch the sharp teeth of the piranha. It was an amazing hands-on learning experience.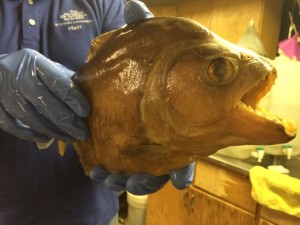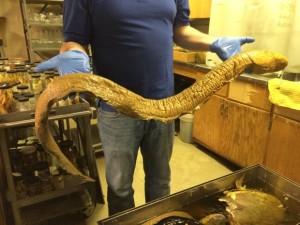 At the end of the tour, we were brought to another room that had a massive collection of fish specimens and skeletons. Did you know the Academy has over 1.5 million ichthyology specimens? The highlight of this adventure; however, was not only seeing but touching a skeleton of a shark's mouth. It was extraordinary!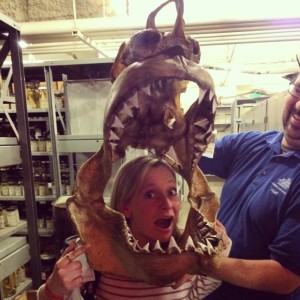 Mammalogy Collection Tour
The second tour we enjoyed was the Mammaology Collection Tour. I didn't think I could be amazed any more than I was during the first tour, but I was! The tour started with a history of the building the Academy is housed in which was built in 1876. We were then walked through the collections floor allowing us to see the bones of gorillas, a hippopotamus, a rhinoceros, dolphins, polar bears, hyenas, a walrus and many more.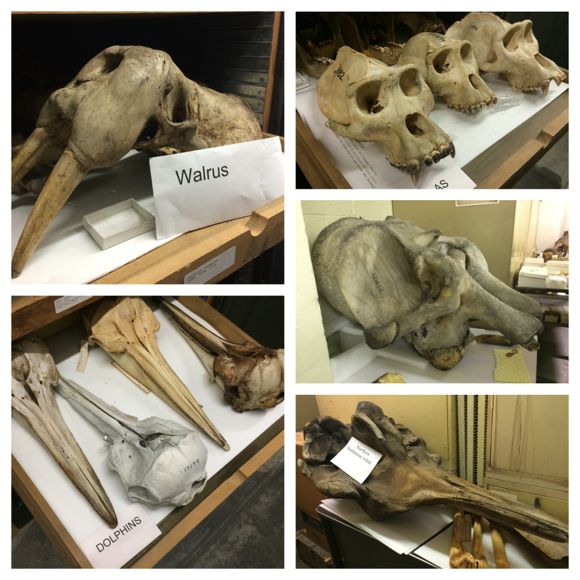 We were also introduced to various species and families of animals such as the squirrel. I had no idea there are so many varieties of squirrels including a giant flying squirrel found in other parts of the world. Did you know that a gofer is in the squirrel family too?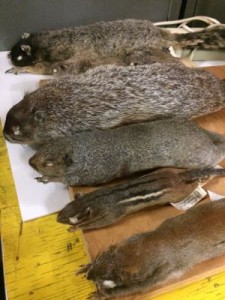 The tour moved to another large collections room that housed the skull of a famous Philadelphia circus elephant that died in 1908.  This room also had the skull of a killer whale that was found in NJ! I was even able to hold the tusk of an elephant.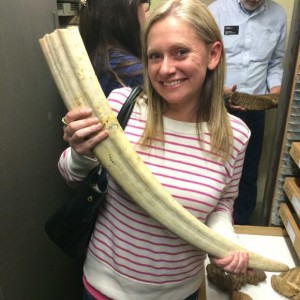 Besides all the amazing specimens and skeletons we were introduced to, we were also able to explore parts of the museum I never knew existed. It was amazing to see all the rooms and even travel to the top floor that used to be a botany room equipped with skylights! Down each hall and in each room brought new and exciting learning adventures.
Just like the Ichthyology Tour, the Mammalogy Tour also provided us with a look at countless specimens in jars. From monkeys to naked rats to alligators, there were so many amazing creatures to discover. One lucky tour goer was even invited to take a bat out of one of the jars which was fascinating!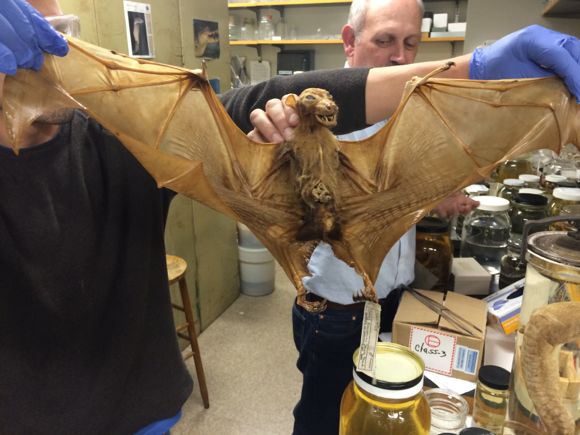 Our last stop was in the paleontology area. It was so exciting to see the REAL bones of the famous Hadrosaurus. This was the first nearly complete dinosaur ever found, and it was discovered right here in NJ!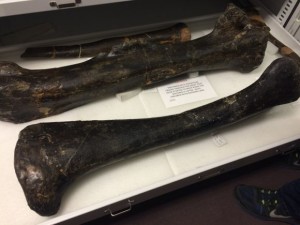 These behind the scenes tours were two of the most amazing, insightful and extraordinary adventures I have ever experienced. I hope this information has helped expand your views on museums too!
You may also enjoy:
Upcoming Spring and Summer Events at The Academy of Natural Sciences
Learning Through Exploration and Discovery at The Academy of Natural Sciences
10 Educational Benefits of Visiting a Museum