Building toys have been a favorite of Mommy University for the massive benefits that it provides children. Since we published our post on 10 Building Toys, new toys have emerged that are unique and attractive to children. We were lucky enough to be provided a free sample from a new line of building toys called Build & Imagine so we can share our learning experience with you. Build & Imagine was launched in 2014 and was backed through a successful Kickstarter campaign. This unique product combines a building toy with background for imaginative play all wrapped into a storytelling prompt. What does all this mean?  Playing with Build & Imagine toys offers children more than one platform for play.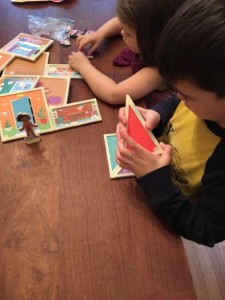 How do you play?
Malia's Beach House, the building set we were provided, comes with the dolls Malia and her best friend Skyler as well as a sheet of magnetic accessories. There are ten large magnetic square pieces, two small rectangle pieces, and four triangle pieces which are called story walls. The magnetic pieces are double-sided with different images which offer children more design configurations and backgrounds for their imaginations to soar. Once children open the box, they can connect the Build & Imagine pieces to design their own buildings. Then, you let your children play.
Mommy University Presents
Educational Benefits of Build & Imagine
Encourages Problem Solving
Essentially, children are invited to play and explore this toy to create whatever buildings or creations they would like. The pieces easily snap together which means the learning curve on this toy is quick. Immediately, my daughter and son were fighting over their own creations. It was fascinating to witness their unique imaginations unfold before my eyes. The pieces are not strongly held together which means that some pressure can quickly collapse the building. I don't think of this as a bad thing rather my children are encouraged to redesign their buildings in different formations which helps them build problem solving skills.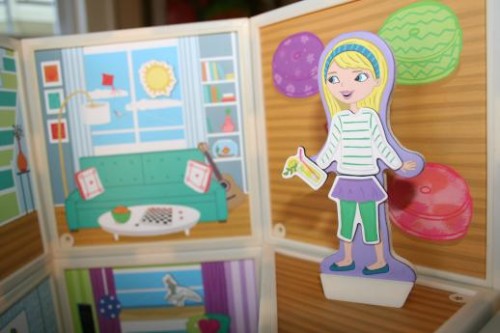 Promotes Creativity
The Build & Imagine set offers many double-sided pieces which means that there are many possible configurations for this set. Children can have the two friends playing by the pool scene and focus on the outside design or they might be more interested on how the interior structure of the home will appear. Don't be surprised if you find your children bringing in their own dolls or figurines into the house as it makes a phenomenal dollhouse. Since Build & Imagine also sells other sets that all work well together the play can be expanded. Right now, I am fascinated with the Marine Rescue Set as my son loves ocean creatures. However, combining different sets opens the door for even more possible creations. They are learning through play as they find out which designs work and which ones require more tinkering.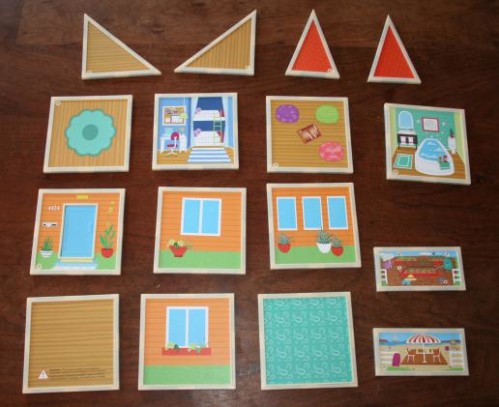 Child-Led Story Time
As soon as the magnetic accessories were placed on the table, my daughter picked them up and began telling me a story using them to help decorate the house and change Malia and Skyler's clothes. As I watched my daughter and son argue over how the pieces should be placed in each room, I realized they are beginning to create a plot, a scene, and a narrative for their stories. The creative thread between building and imagination is remarkable.
While my daughter is playing with Build & Imagine, she is happily telling stories and constructing her own customized dollhouse, but what I love is that she is developing quality STEAM skills. You can purchase your Malia's Beach House for $59.99 on Amazon using our affiliate link. Build & Imagine has many other sets such as Pet Portrait Studio, Fairytale Theater, or Day at the Beach to name a few. For more information, visit the Build & Imagine website.

If you liked this post, you might like the following posts: