It is time to build across America!
Watching a child play with random Lego bricks with no set of instructions is hypnotizing. From spaceships to castles to cars, they invent some incredible things. While at Mommy University we have a long history of advocating for children to play with building toys, there are some builds that open a child's imagination (and an adult's as well) to a whole new platform. The recent interactive experience Lego Americana Roadshow is traveling different locations throughout the United States and this is one of those moments that will transcend what opportunities are offered by Lego.
We were so excited when we received an invitation to preview the new Lego Americana Roadshow on display at Bridgewater Commons. Disbursed across all 3 floors of the mall are six Brickscapes which demonstrate complex scenes using Lego bricks and even Duplos. While your children can play, look and find different characters and events in each Brickscape, what will cause you to pause are the historic buildings spread throughout the mall. By each build is a map to help you locate the remaining architectural structures as well as historical information on the building. The Lego proficiency required to complete each individual project is also available to read about. There are plenty of reasons to make the trek to Lego Americana Roadshow, but here are five reasons we insist on making the visit.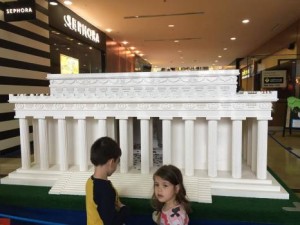 Mommy University Presents
Five Reasons to Visit Lego Americana Roadshow
Introduction to US History
At each structure is brief information about the building as well as the time it is required to make each structure. While some historical buildings will be more easily identifiable others may not be as well-known. However, each stop offers parents and children the opportunity to discuss the significance these buildings represent in American history.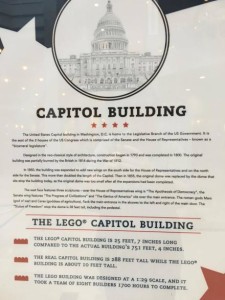 Don't forget to offer your children those open-ended questions to get their input. For example, when stopping by the Statue of Liberty you can ask your child, "What do you know about the Statue of Liberty?" You might be surprised how much information your children recall.
Look and Find
Throughout the Lego Americana Roadshow are multiple opportunities for your children to find things. Children love a puzzle and this particular experience invites them to the wonder that is hidden. Within the Brickscapes children can find characters or hidden items in each scene. In addition, when they are equipped with the map of Lego Americana they will be challenged to answer a question on each building. Children who answer all the questions can collect a poster at the Lego store when they return the completed answer sheet. To encourage critical thinking skills, discuss the complexity of each building and guess which one requires the largest quantity of time or difficulty.
Invitation to Play
On the first floor of the mall, children are invited to play with Lego bricks and Duplos within an interactive space. There are several tables set up so that children can build. No instructions are included rather just the offer for open-ended play. As well, children can build their own vehicles and then race them down a ramp. Children can also have their creations displayed on the book shelves which uses positive reinforcement to help support children's passion to create.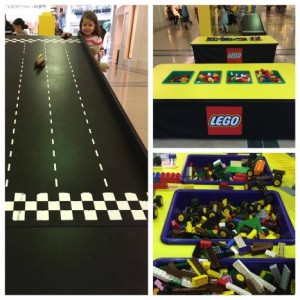 Learn Through Play
As children are racing their vehicles or recreating one of the buildings they just saw, they are experimenting. It is not uncommon that each time their truck goes down the ramp, your child takes it back to the table to modify their design. It will be difficult to get your children to leave, but I think this is one of the coolest activities. Trust me, they will be tired after playing as they are using their brains for problem solving and creativity as well as their hands which enhances fine motor skills.
Accessible to Everyone
I think my favorite aspect of this experience is that the Lego Americana Roadshow is displayed in a mall which means that this creativity is accessible to everyone. It is FREE! Families are being exposed to art, architecture and United States History through these massive creations. You can't touch the Liberty Bell in Philadelphia but the one located in Lego Americana is not roped off so you can touch this one! Families that have not yet visited the Jefferson Memorial can now see a replication of it so that now when they make that visit they will have a new appreciation.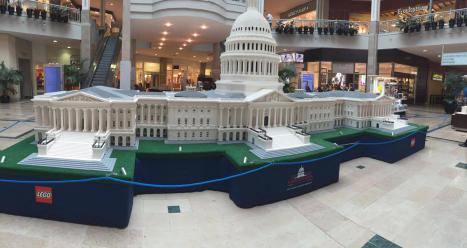 Lego Americana is on exhibit at Bridgewater Commons from April 2-17, 2016.
On April 9 and 10, there will be a FREE Make and Take where children can make a mini Independence Hall. It is a fun experience for the entire family!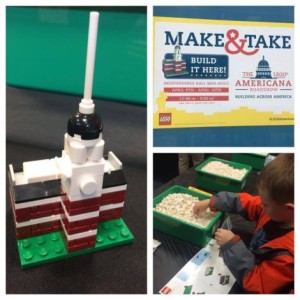 If you don't live near Bridgewater Commons (or NJ), here is the upcoming schedule of where Lego Americana Roadshow will be:
Mommy University was invited to attend a private tour hosted by Lego.  We were not paid to write this post but did receive a bag of Lego bricks.  All opinions expressed in this post are honest and belong to Mommy University.