I am so unbelievable excited to partner with Walt Disney World and MomSelect to host a Disney Kids Preschool Playdate. I have been provided with free products to host this event but all opinions expressed are completely my own.
When I found out that I was chosen to host a Disney Kids Preschool Playdate, I began planning right away. (Read my tips for planning your own party here.)I had a ton of ideas for activities but it wasnt until I received my box full of party supplies that I began to think more about the menu and party favors. When thinking about the menu, I knew I wanted it to be kid friendly but also easy to make. I wanted the focus to be on having a fun experience and incorporating our love of Disney into everything.
As I walked through the supermarket looking for snacks, I found several Disney themed items that I knew would be perfect for our playdate. I picked up Finding Dory mac-n-cheese along with dinosaur shaped chicken nuggets to represent the dinosaur area of Animal Kingdom. A giant box of pigs in a blanket (hot diggity dogs) were also going to be a great addition to the menu. Last, I found Frozen themed cookies and Jake fruit snacks that would be perfect to include in the party favor bag.
In our box of goodies, we received 2 items that made my creative wheels spin: Nesquick mix and Frozen themed Glad sandwich bags. When looking at the bags, I immediately thought about trail mix. For our playdate, I asked each family to bring one item to make trail mix. I set up the ingredients along my table and had the kids line up. Each child chose a bag then filled it with the items. Trail mix is not only a great party snack, it's also the perfect snack to bring to Disney Parks!
For the Nesquick, I enlisted Monica's help. She had a brilliant idea of rimming the glasses with melted chocolate and yellow sprinkles then adding a red and white polka dot straw. This was a fun way to pull in the Disney theme. Plus it looked really pretty!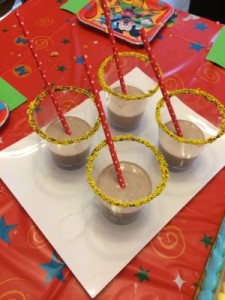 At the end of the party, I wanted to celebrate my son's 7th birthday by having a cake. I ordered a pirate themed cake at BJs but instead of using their figurines, I added my own. On top of the cake, I added Mickey, Minnie, Pluto and Stitch all dressed as pirates. It was a big hit!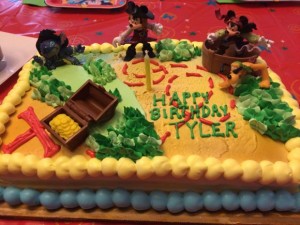 For my kids, the most exciting items in our Disney Kids party box were the favors. They LOVED the Disney Junior drawstring bag which we can't wait to take to Disney World. They also loved the Lion Guard poster since it is their new favorite Disney Junior show. The crowns and pirate hats were a big hit too!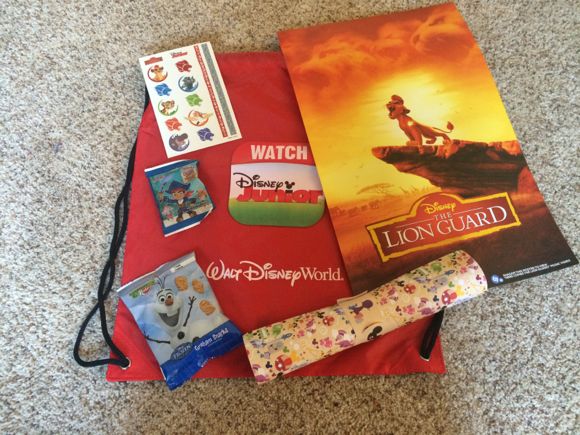 My favorite favor was the preschool Walt Disney World map. Besides the adorable Disney pictures on the outside, the inside was a wonderful map perfect for little ones. It highlighted experiences at each park as well as Disney Springs and the resorts that would be perfect for a preschooler to enjoy while on a Disney vacation. I think this map would look perfect framed and hung on the wall of a kid's bedroom!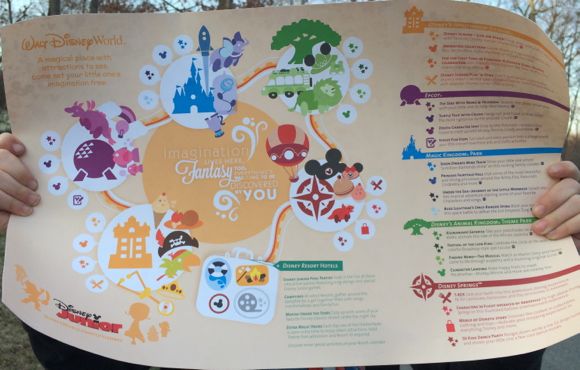 I hope you have enjoyed following along with our Disney Kids Preschool Playdate adventure. Make sure you also check out my articles on tips for planning your own party and magical activities. I am truly honored to have been chosen to host this magical event!
*In full disclosure, I was provided products in order the host this playdate. All opinions are my own.