I am so unbelievable excited to partner with Walt Disney World and MomSelect to host a Disney Kids Preschool Playdate. I have been provided with free products to host this event but all opinions expressed are completely my own.
We are Disney fans in our house. Let me rephrase that, we are very big, huge, ginormous Disney fans in our house. We are going on our 6th trip as a family and have been proud Disney Vacation Club owners since 2013. My son's nursery was Winnie the Pooh themed and his first birthday party was all about Mickey Mouse. Have I convinced you of our love for Disney? So when I heard about Disney Side @Home Celebrations, I just knew it was an experience I had to apply for.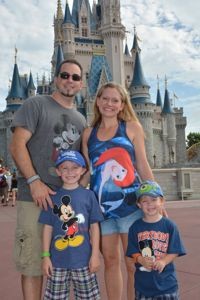 When I received the email that I had been chosen, a giant smile came across my face and I nearly started crying. The email stated that I was invited to hold a Disney Kids Preschool Playdate which features Disney Junior and Walt Disney World. Since we were going to Disney for spring break, this could not have come at a better time. What a fun way to plan and celebrate our latest magical Disney adventure!
When chosen to host a party, you are provided with a box full of magical goodies. I anxiously awaited the UPS delivery and was ecstatic when my husband sent me a picture of the box while I was at work. When I got home, I gathered up the kids in the living room and told them I had a big surprise for them. I explained that Mickey had sent them a big package in the mail. Their eyes lit up and smiles took over their faces. I placed the box on the floor in front of them and let the magic happen.
Our magical box of Disney goodies came with the following:
A packet full of activities, games and recipes.
Sophia the First suitcase perfect for our next trip to Disney World.
Frozen Glad snack bags.
Nesquick Mix.
Party supplies: cups, napkins, plates, tablecloth and foil swirl decorations.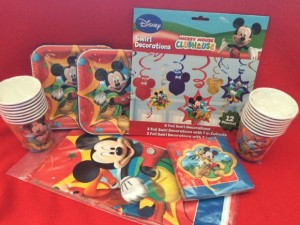 All laundry detergent samples.
My Very, Very Smelly Breath book from Banfield Pet Hospital.
Craft supplies: White paper bags to make puppets, glue and paint from I Love to Create.
Party Favors: red drawstring Disney Junior/Walt Disney World bags, Sophia crowns/Jake pirate hats, Animal Kingdom safari animals, Lion Guard posters, Lion Guard tattoos and preschool Walt Disney World park maps.
Now that I knew what I had, I started to analyze my personal inventory to see what we could use. From stuffed animals to stickers to magic bands from past trips, I had so many things to add to the playdate magic. I knew that I couldn't do EVERYTHING I wanted, they are preschoolers remember, so I had to narrow down the hundreds of ideas running through my mind. While deciding what to do, I came up with some tips for planning the perfect Disney themed playdate or party!
Tips for Planning the Perfect Disney Kids Party or Playdate
Know Your Audience: Once you decide on  your guest list, keep in mind the needs and interests of the kids. If you have only boys, then stick with Mickey, Miles and Jake, but if you have girls, you may want to focus on Doc, Sophia and Minnie. Have both? Do a mix of all characters so all kids feel engaged. Also, keep in mind the attention span of a preschooler. Long and extravagant activities may sound fun but could lose their appeal quickly as kids get distracted and want to move on to something else. Having stations can sometimes be a great option as kids can move around and choose what they want to do.
Be Flexible: I have always found that having a variety of ideas ready is the best way to plan a party. Some ideas work and some don't. For example, you may think every kid will love "Pin the nose on Mickey," but then when you set it up only one kid runs over in excitement. Being flexible and able to change up the activities or move on to the next one sooner than anticipated will help make the party more fun and engaging for everyone!
Use What You Have: Every time I host a party, I look around my house to see how I can use what I have. For instance, for our Mickey Mouse birthday party, I used various Mickey toys I already had as decorations and centerpieces. I did the same for other themed parties which not only made it more personal but also brought the cost down. This also allowed my kids to be involved as they loved finding the right toys and placing them around the house.
I was provided with some amazing party supplies for my Disney Kids Preschool Playdate such as cups, plates and napkins as well as several items to use as favors. I decided to combine these items with some things I already had like colored napkins, Disney toys, Disney World park maps and even our magic bands. (Don't worry, I will tell you how to use these items in my next article!)
Let the Kids Help: As soon as my son found out we were having a party, he started thinking of fun games he wanted to play with his friends. Letting the kids be involved in the planning of the party not only adds their personal spin on things, but it also helps them feel more engaged. It also builds self-confidence and independence!
Get Creative: Disney imagineers have to be some of the most creative people in the world so let them inspire you for your next Disney Kids Party or Playdate! Have fun searching Pinterest for some unique ideas then let your imagination run wild. A Disney party is not just for kids; it's for parents to get in touch with their Disney Side too!
I hope these tips have been helpful in planning your own magical Disney Kids party or playdate. Please follow along with our party on Instagram, Twitter and Facebook!
*In full disclosure, I received these supplies free of charge in order to host this party. All opinions are my own.
You may also enjoy: