Mommy University is so unbelievably excited to partner with Diggerland USA this season. Located in West Berlin, NJ, Diggerland offers amazing opportunities for kids to ride, play and learn. We are honored to be able to share with you their learning adventures all season long!
Ever want to ride in, better yet, drive your own construction vehicle? At Diggerland USA, kids (and adults) get to be construction workers for the day as they drive, ride and maneuver vehicles of all types and sizes. From diggers to dumper trucks to all terrain ARGOs, there is something for everyone to enjoy!
Diggerland USA is open March 19, 2016 through November 27, 2016. All ages are welcome, but you must be at least 36 inches tall to ride the construction vehicles. For some rides, you must be 42 inches tall. Don't worry though, there is still plenty for the little ones to explore such as The KidZone, arcade and the Barrel Train. Families can also enjoy thrilling Stunt Shows throughout the day.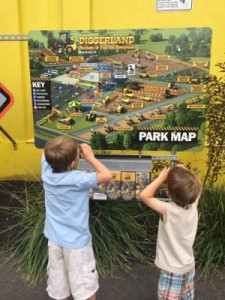 We have had the pleasure of visiting Diggerland USA twice since it has opened. Both trips brought about new and exciting adventures. This year, we are so excited to partner with Diggerland USA so Mommy University can bring you the learning fun all season long! To kick off the 2016 season of learning through play at Diggerland, I wanted to share some of the things my kids learned how to do during our last trip.
5 Things You Will Learn How To Do at Diggerland USA
Go Bowling with a Mini Digger
At Diggerland USA, there are three different adventures using the JCB 8018 CTS mini-excavator. Although we loved "fishing" in the duck pond and hunting for treasure, our favorite activity was bowling. My son had to not only learn how to properly operate the machine, he also had to use problem solving, visual and spatial skills to get the digger to knock over the 10 pins on the ground in front of it.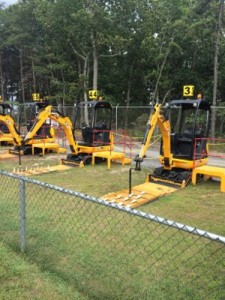 Scoop Up Dirt with the Big Digger
Once you have mastered the mini-diggers, it is time to move on to the big diggers! Kids (and adults) will have a blast operating the 7,092 pound JCB 8030 that has a powerful 26.8hp engine. It takes a great deal of motor planning and coordination to get the digger to move just right to scoop up the dirt and then dump it out.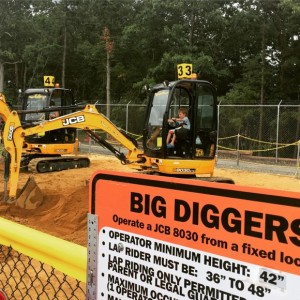 Drive a Dumper Truck
Diggerland USA doesn't just let you operate machinery, it also lets you drive it! My son and I had a blast learning how to drive a Terex TA1EH Dumper Truck. We worked together to maneuver it around a dirt track which was a fun learning experience for both of us. Driving this 1310 pound construction vehicle is an experience I won't soon forget!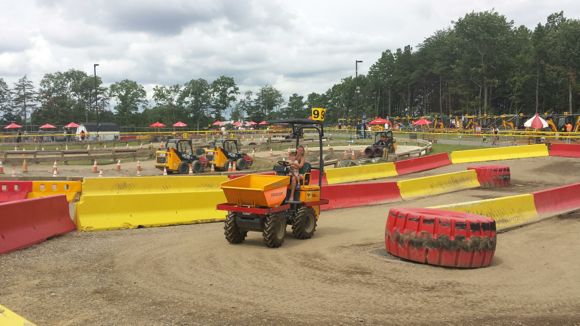 Drive a Mini-Land Rover
They may be too little to earn their driver's license, but at Diggerland USA, little ones that are at least 42 inches tall can drive their own little SUV! Have a younger sibling that is only 36 inches? Don't worry! They can ride in the passenger seat. This fun adventure teaches kids how to maneuver through a paved roadway which enhances their visual and problem solving skills. Plus, it's really fun!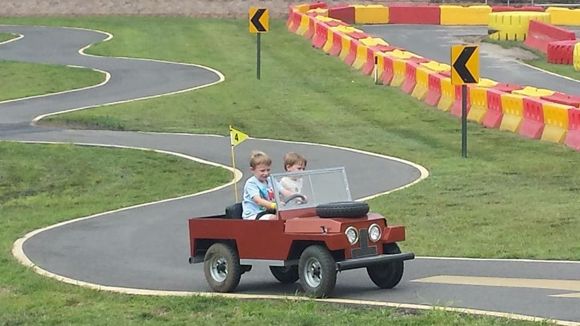 Soar to New Heights
Did you know that Diggerland USA is not just construction vehicles? This incredible and unique amusement park also offers two opportunities for guests to climb to new heights. At 32 feet tall, the Rock Wall offers an exciting climbing adventure for kids and adults. This was son's first time climbing a rock wall, and the Diggerland staff made it a really fun experience. He was so proud of himself as he went a little bit higher each turn he took. What a great way to enhance motor and problem solving skills!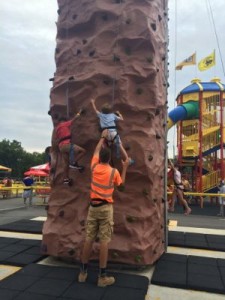 My son also faced his fears and soared to new heights when he (and his father) explored the Ropes Course. At 4-stories tall, this ropes course is a thrilling experience at any age. Brave climbers are equipped with safety harnesses and set off to explore the course. Climbers can choose which way they would like to go and how high they want to climb. It's a fun way to build confidence while enhancing motor skills, balance and coordination.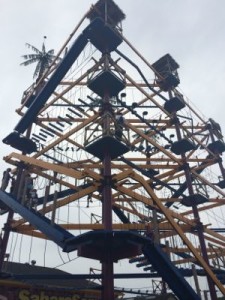 Diggerland is a unique experience for the entire family that you will not to try over and over again. Get your tickets now because there is so much to see, do and learn at Diggerland USA! You can also Mommy University's discount code DIGFEST5 which on full day admission for visits to the park during DiggerFest and saves $5 on full day Over 42" admission tickets purchased online.