Mommy University is so excited to partner with Little Kids Inc. to share with you their amazing products that encourage learning through play!
While exploring Toy Fair NY, I was elated when Little Kids Inc. showed us their amazing line of PAW Patrol bubbles. I knew it would be the perfect addition to my son's Easter basket. For those that don't already know, my son LOVES PAW Patrol. In fact, he requested a PAW Patrol party for his 4th birthday which was a blast. The Little Kids Inc. bubbles that feature these adorable pups will certainly put a big smile on the faces of all their fans this Easter including my son's!
At Mommy University, we love finding and playing with toys that offer a learning experience. For those who may not be aware, bubbles are an amazing sensory learning tool that can enhance so many skills such as language development and hand-eye coordination. In fact, bubbles are a big part of many speech and occupational therapy sessions. So, if therapists think bubbles are great for learning than why not use them at home too?
This Easter we recommend adding toys to your child's basket that spark creativity, enhance learning and encourage growth. Bubbles do all 3! As kids play with bubbles, they are using their imagination, building oral motor skills and enhancing visual scanning skills. In this article, I will highlight 4 adorable PAW Patrol bubble toys that will be perfect in any Easter basket. They are also perfect for birthday presents or even party favors! I have included Amazon affiliate links to make your shopping experience easier!
Bubblin' Bucket
I have been a very big fan of Little Kids Inc. bubble buckets for a long time. Not only are they the perfect size for kids to carry, they also DON'T SPILL! You heard me correctly! If your little one drops it, throws it or dumps it over, none of the bubble solution comes out. The PAW Patrol version comes with 3 wands perfect for playing with siblings and friends. This bucket can also be purchased with other designs such as Dora, Sponge Bob and Ninja Turtles.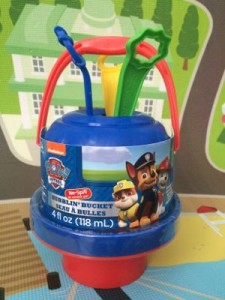 Motorized Bubble Machine
The PAW Patrol Motorized Bubble Machine is a great Easter, birthday or graduation present. It offers endless bubble popping fun. As kids run around popping bubbles, they are enhancing their visual scanning and tracking skills as well as building hand-eye coordination. You can also put out the motorized bubble machine at your next playdate or party and watch the fun and learning begin!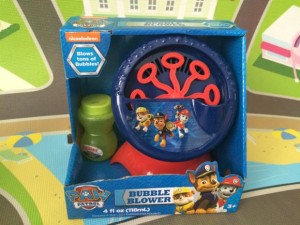 Action Bubble Blower
Kids will have a blast this spring and summer as they engage in pretend play with their good buddy Chase. By shooting bubbles out of Chase's blower, kids can catch the bad guys and save their friends from disaster. Pretend play such as the play encouraged by the Action Bubble Blower, helps kids build social, emotional and language skills.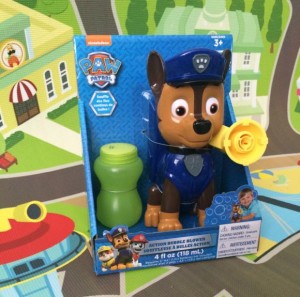 Bubble Head with Wand
The PAW Patrol Bubble Head with Wand sets are perfect for your child's Easter basket. They also make great party favors due to their perfect size and price point. The Bubble Head with Wand easily fits in your beach bag or diaper bag making it perfect for a family day at the park, beach or playground. Blowing bubbles from the wand helps build oral motor strength which will help with language development. These sets can be found with Chase and Marshall heads as well as Ninja Turtles!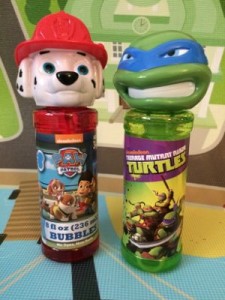 Bonus:
Since I mentioned Ninja Turtles a couple of times in this article, I thought it was only fair to share another amazing Little Kids Inc. product that your little ninja will love! Although the Teenage Mutant Ninja Turtles Frozen Treat Maker is not bubble related, it is still really cool and makes for a great Easter or birthday present. Kids can make their own yummy frozen treats using healthy ingredients such as fruit and yogurt. Your little chef will have a blast making dessert for his friends and family!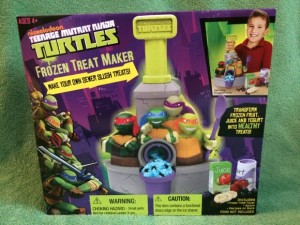 I hope you have enjoyed learning about these fun bubble options for your child's Easter basket! Happy popping!
*In full disclosure, we received these products in exchange for our honest review.