Books that will make you go wild about Zoos!
Zoos are a staple at Mommy University as we regularly visit these locations in our state as well as ones in Louisiana, Florida, and other states when on vacation.  Children are naturally curious and fascinated by nature.  They are intrigued by animals so of course zoos are a favorite place for us to visit. If you are getting ready to visit a zoo, want to extend that fun experience or if you simply love zoos like us, consider adding some of these books to your child's expanding library.
Whether it is to read in the morning, right after school or before bedtime , reading is an important part of any child's routine. We hope this list can make your story time even more exciting. We have included Amazon affiliate links to make your shopping experience easier and more convenient!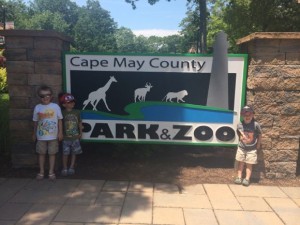 Mommy University Presents
10 Awesome Zoo Books
Fraidy Zoo
Fraidy Zoo  is the first book published by Thyra Heder and my kids love it.  A family creates different animals that can be encountered in the zoo using household items to help a family member overcome her fear.  I love the creativity demonstrated by the family as well as how each animals reinforces a letter of the alphabet. The closing of the book has photos of each animal which is a fun way to recite the alphabet.
Dear Zoo
Dear Zoo is a flap and lift book with a cute story which is great to have kids guess what is behind the door.  Peeling back the doors is great for fine motor skills and guessing what is behind the door helps build critical thinking skills.
Color Zoo
We were first exposed to Color Zoo at a workshop at The Turtle Back Zoo.  Children are exposed to different colors and shapes as they flip through the board books.
Chomp! Zoo
This sturdy board book is perfect for rough hands but the reason I love Chomp! Zoo is because it is a wonderful first book where toddlers can pull on the tabs to make different animal's mouths move.  Turning each page they encounter a new animal and kids enjoy mirroring the sounds that you make.
Goodnight Gorilla
Follow Gorilla as he follows the security guard at the zoo and enlists other animals at the zoo to  join in the late night stroll.  Goodnight Gorilla is a cute story that we find is a wonderful bedtime story with its mellow tempo.
Put Me in the Zoo
Follow Spot, a spotted creature, as he tells his two friends how badly he wants to be in the zoo.  This is a great story of finding what makes you special.  Written in the Dr. Seuss tradition, Put Me in the Zoo moves quickly with surreal imagery with fun rhymes.
1,2,3, to the Zoo
There are certain writers that always make our lists and Eric Carle is one of them.  Introducing numbers in this board book with Carle's iconic collage imagery is a wonderful book for a young child's library.
Clifford Visits the Zoo
Clifford is a favorite character as he is the dog that grew so big due to how much Emily Elizabeth, his owner, loved him.  in this book, Clifford visits the zoo and is compared to the different animals.  Clifford Visits the Zoo introduces the concepts of opposites.
Curious George Goes to the Zoo
Another favorite character in our household, Curious George, heads to a zoo where animals can roam free.  Children will enjoy accompanying George as he embarks on another adventure and befriends a rhinoceros.
If I Ran the Zoo
Considered one of the Dr. Seuss classic stories If I Ran the Zoo follows Gerald McGrew as he imagines the animals he would have in his zoo and what he would need to do to acquire them.
We will continue to compile lists in our Awesome Book Series which will be organized by theme.
What is your favorite book on zoos?
If you like this post, you might like: