Reading has always been an important part of our daily routine. Although it has changed from me reading bedtime stories and board books to my kids to my son reading dinosaur and weather books to me, reading is still a fixture in our house. Encouraging a love of reading is important to begin at a young age. Reading to kids helps build vocabulary, comprehension and listening skills. Story time also offers a wonderful way to bond as a family.
We have a wide array of books in our house from nursery rhymes to Dr. Seuss to nonfiction stories about animals, geography and even the Titanic. My boys and I love finding new and interesting stories so when I was offered personalized books from I See Me books, I immediately said "YES!" I See Me personalized children's books offer a unique and engaging story time experience. With an array of options to choose from, kids can become the star in their own story. From pirates to princesses to dinosaurs, kids can be a part of their own fairy tale or swashbuckling adventure.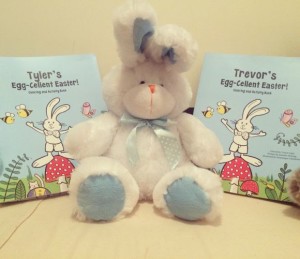 To celebrate the Easter season, I received 2 copies of the Egg-cellent Easter Coloring and Activity Book. This book is the perfect addition to any Easter basket or to use as a countdown to the big day. The fun begins right from the start as the cover of the book has your child's name on it. This immediately makes your child feel special and ready to see what's inside. Grasping a child's attention is the first step to learning and encouraging a love of reading.
The book starts with a note from the Easter Bunny addressed to your child which asks him/her to help him get ready for the big day. Throughout the book, the Easter bunny encourages your child to complete a variety of activities that invoke the Easter spirit. These fun activities spark creativity, enhance reading skills and increase academic knowledge. Kids also learn to read and follow directions which is an important skill needed for school.
The EGG-cellent Easter Coloring and Activity Book contains tasks such as coloring, searching for Easter eggs, a maze, reading (of course) and tracing. These activities help kids enhance visual scanning, fine motor, visual-motor integration and hand-eye coordination. What's even more fun is that each activity is written directly to your child which makes them even more excited to participate. My boys are so excited to countdown to Easter by completing all the activities in their special books!
I See Me also offers personalized story books that make a great addition to any Easter basket. They are also perfect birthday and graduation presents. I received the My Very Own Pirate Tale book for my 6-year-old son. Although my son is an excellent reader, sometimes it can be a struggle to get him to read at night. I have found that he is most engaged with subjects that interest him. This book was a perfect choice for my son because not only does he love pirates, he also gets to be the star in his own storybook adventure.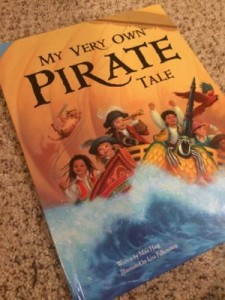 My Very Own Pirate Tale is a swashbuckling adventure where the reader is the lead character. Our book began with a special message I wrote to my son. This makes this gift even more special and something that can be treasured for years to come.  The story takes the reader on a journey where each page focuses on one letter in their name. As each page is read aloud (or silently), your child will gain important decoding and comprehension skills as well as gain academic knowledge. They will also get excited seeing their name uniquely spelled out throughout the duration of the story which in turn encourages a love of reading!
The fun and learning do not end when the story is over! At the end of the story is a list of sea creatures starting with each letter of the alphabet. There is a picture and description of each one which enhances my son's academic and scientific knowledge. In addition, kids are invited to look back through the book to find coins that are hidden within each letter of your child's name. My Very Own Pirate Tale was a fun adventure that I know my son will continue to read happily!
This was my first time trying I See Me Personalized Books and I am now a big fan! I love how exciting it made my boys and how engaged they were in learning. I can't wait to try some of their other personalized books and products such as puzzles, placemats, stickers and growth charts. You can learn more about their Easter products on their website. (For Easter delivery, you must order by March 14, 2016!)
You can also follow I See Me Personalized Children's Books on social media: Facebook, Twitter, Instagram, Pinterest and Google +. You can also join their email list to learn about new products and specials!
*In full disclosure, we received these books in exchange for our honest review.